Vital grazing land protected through the scale up of CGIAR's joint village land use planning approach in Tanzania
From

CGIAR Initiative on Livestock and Climate

Published on

12.10.23

Impact Area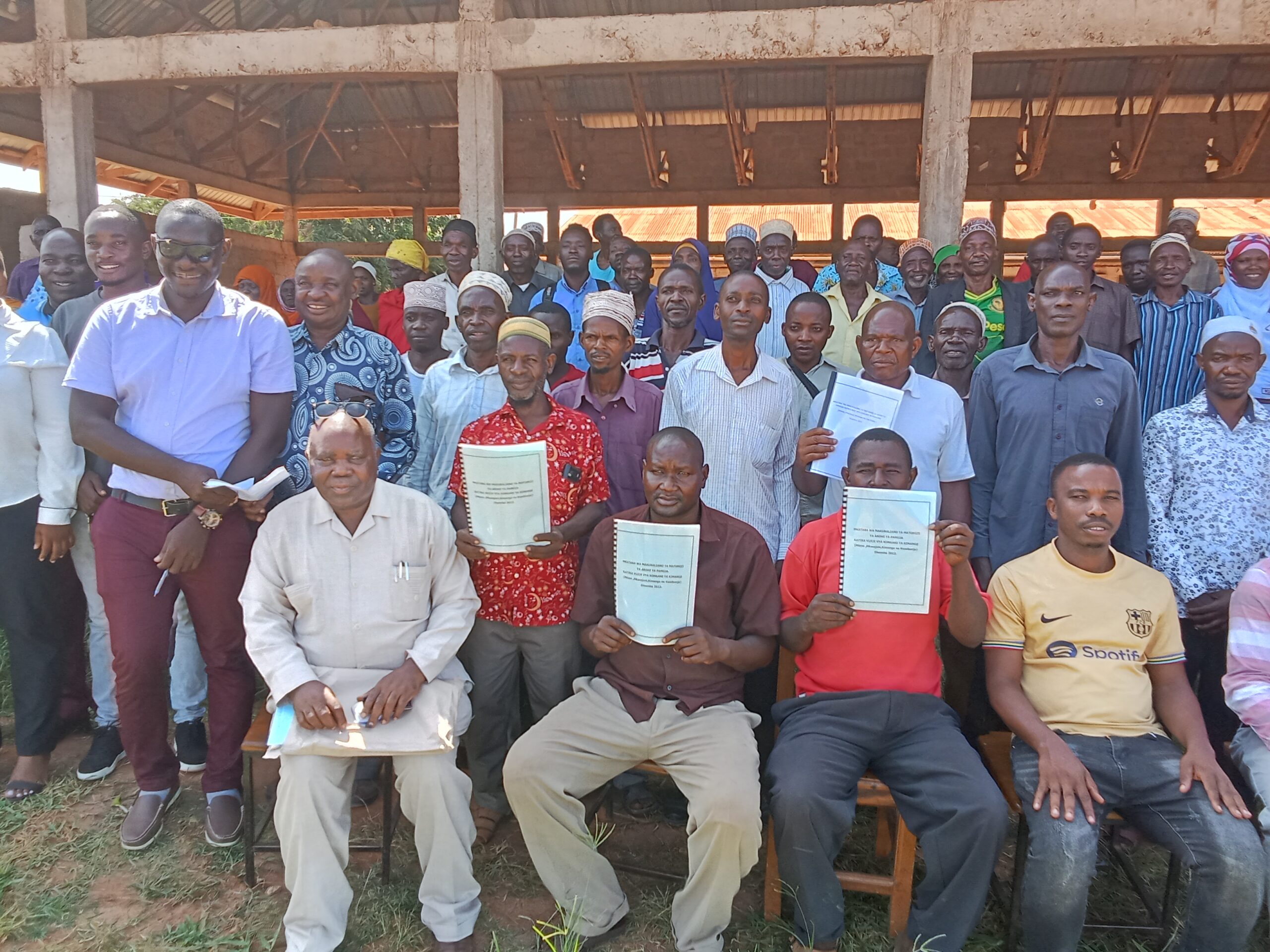 Participatory land use planning in pastoral areas and its application as joint village land use planning in Tanzania is a key innovation of the CGIAR Livestock and Climate Research Initiative that has clear benefits for local communities. With more secure rights to their land pastoralists have greater incentive to invest in raising the productivity of the land and restoring it where needed.  
In December 2022, a significant milestone was achieved with three village assemblies in Chalinze district forming the KIMANGE village cluster unanimously approving a joint village land use agreement (JVLUA). This agreement safeguards the shared grazing land utilized by village pastoralists and other livestock keepers, outlining present and future land use priorities. The JVLUA materialized after more than a year of negotiations between villagers to resolve land use conflicts, building on individual land use plans that contributed to the final JVLUA. 
Building on progress achieved under the Sustainable Rangeland Management Project funded by IFAD, international donors and the International Land Coalition, local NGO KINNAPA Development Programme has been working with communities, district participatory land use management teams, the National Land Use Planning Commission, the Ministry of Livestock and Fisheries, other local NGOs and ILRI to develop and improve the joint village land use planning process. After four clusters of grazing lands covering over 150,000 hectares were secured in Kiteto district, it was time to expand the approach to new locations.  
Under Tanzanian land policy and legislation, every village in the country should produce a village land use plan. However, a lack of funds and expertise, land use conflicts and other challenges had delayed the roll-out of the process, meaning that only a small percentage of Tanzania's villages have plans.  
Additionally, in pastoral regions, administrative borders of individual land use plans often intersect, meaning that they can potentially divide shared grazing lands. As borders are hardened through the planning process, this can fragment the lands, prevent mobility and compromise the multifunctional use of the land.  
The joint village land use planning process is an innovation that overcomes these challenges by bringing several villages together to plan and protect their shared resources, thereby reducing the chances of the pastoral system being comprised and leading to more productive and conflict-free land use for pastoralists and other land users (see video below). 
With this process in mind, and through a district-level land use mapping and decision-making tool, shared grazing lands in Chalinze district were identified as having potential for joint village land use planning. Chalinze stakeholder consultations then confirmed the readiness of several clusters for undertaking JVLUP as well as the willingness of the district government and communities to support the process. The KIMANGE cluster—made up of the Kimange, Miono, Kweikonje and Mkwajuni villages—was chosen due to a lack of village boundary conflicts, strong villager commitment to the process and high numbers of livestock.   
The KIMANGE cluster has come under significant land pressures since the neighbouring Bagamoyo district was designated as an industrial development zone which has led to rampant land speculation. Pastoralists, many of whom ended up in the Chalinze district after being dispossessed of their lands in the 1970s by large-scale wheat farm investments (most of which failed), no longer have anywhere else to go.  
For this reason, community members in KIMANGE cluster were delighted when the plans and agreement were endorsed by the respective village councils on 10 December 2022. This was followed by a joint village council meeting on 12 December 2022 which allowed the village councils to harmonize plans and deliberate on the use of shared resources. Finally, the four individual VLUPs, by-laws and JVLUA were approved by each village assembly on 15 December 2022 and signed on 17 December 2022 in an event presided over by district officials.  
Banner photo: Group photo after signing the joint village land use agreement. Photo KINNAPA
Story by Elliot Carleton and Fiona Flintan