Using atmospheric satellite data to monitor unfolding economic impacts of conflict in Sudan
From
Published on

28.06.23

Impact Area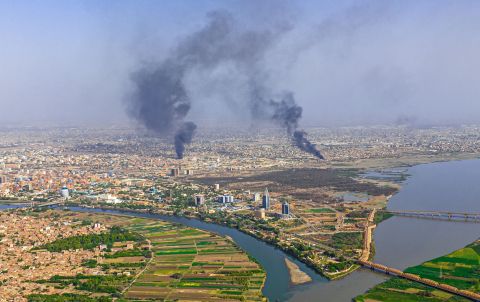 OPEN ACCESS | CC-BY-4.0
The armed conflict that erupted in Sudan in April 2023 has had severe implications for the country's economy. With disruptions in infrastructure, trade, and agricultural activities, the conflict has led to scarcity of goods, increased food prices, and reduced economic growth.
These disruptions have reduced the availability of essential food items and triggered a surge in food prices. Agricultural and industrial production in conflict-affected areas has significantly dropped, and the movement of production inputs and goods has been constrained. Smallholder farmers, who rely on access to inputs and functioning institutions, have been heavily affected. The conflict has also led to the displacement of people, putting additional pressure on food resources and public healthcare systems in other states across Sudan.
In a recent working paper, we outline the use of satellite data, specifically tropospheric nitrogen dioxide (NO2) emissions, to monitor and analyze the impact of the conflict on economic activities in Sudan, showing how it can provide detailed insights on the unfolding effects of conflicts and other shocks.