Uniting Forces for Sustainable Agriculture: Highlights from the 8th CGIAR Advisory Committee (CAC) Meeting in Bangladesh
From

Nur-A-Mahajabin Khan

Published on

03.07.23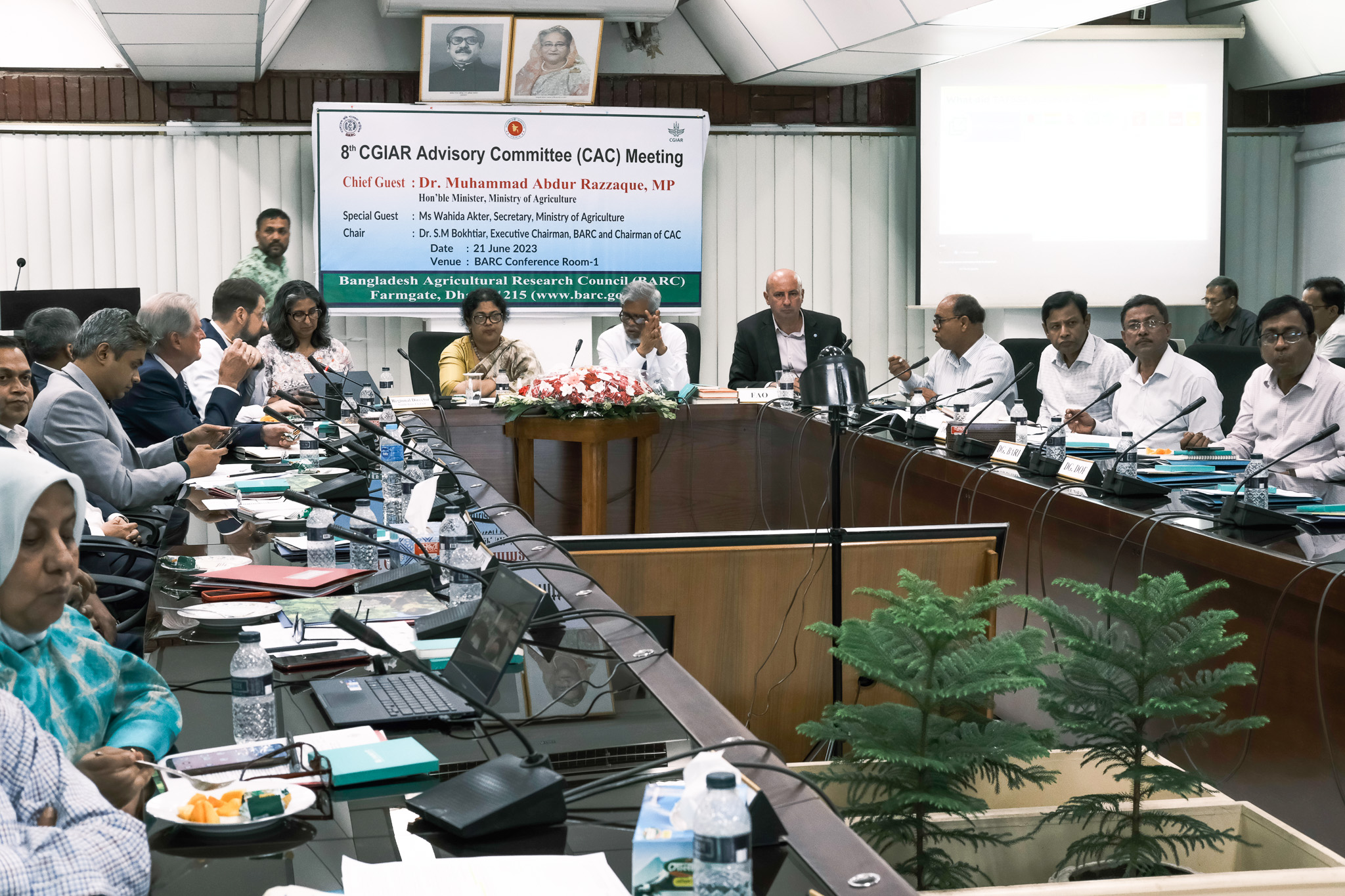 The 8th CGIAR Advisory Committee (CAC) Meeting, co-hosted by the Bangladesh Agricultural Research Council (BARC) and the CGIAR  was held on June 21 in Dhaka. The gathering had a significant goal: to demonstrate the joint work of CGIAR centers and to explore various topics linked to collaboration – and with emphasis on CGIAR Initiatives – under the CAC platform. Their goal was to make significant contributions to national food and nutrition security while also improving livelihoods, all while aligning with the Sustainable Development Goals (SDGs). Temina Lalani-Shariff, Regional Director for South Asia, CGIAR  talked about CGIAR in the region in her opening remarks.
The event featured talks from widely recognized CGIAR institutions such as IRRI, CIMMYT, WorldFish, IFPRI, CIP, and ILRI highlighting their agricultural research and development programs in Bangladesh. Also, the following initiatives presented their work briefly in the forum – Transforming Agrifood Systems in South Asia (TAFSSA), Asian Mega-Delta (AMD), Sustainable Intensification of Mixed-farming System (SI-MFS), Plant Health, Sustainable Healthy Diets, Foresight and Metrics to Accelerate Inclusive and Sustainable Agrifood System Transformation, Resilient Aquatic Food Systems for Healthy People and Planet, Resilient Cities Through Sustainable Urban and Peri-Urban Agrifood Systems.
Director Generals from different departments under Bangladesh's Ministry of Agriculture contributed unique insights and perspectives to the discussions. The meeting was chaired by Dr. S.M. Bokhtiar, Chairman of BARC, and CGIAR Regional Director Temina Lalani Sharif. The chief guest, Wahida Akter, Secretary of the Ministry of Agriculture, added a sense of dedication and authority to the proceedings.
Dr. Timothy J. Krupnik, CGIAR Country Convenor in Bangladesh, discussed s key CGIAR effort in South Asia during the meeting. In addition to highlighting the integrative power of the CGIAR centers and their support for the Government of Bangladesh, he explained how Transforming Agrifood Systems in South Asia (TAFSSA), in collaboration with the Ministry of Agriculture's departments, is striving to improve Bangladesh's food system. This initiative attempted to utilize collective efforts to effect positive change.
Dr. SM Bokhtiar emphasized the vital importance of technology in tackling Bangladesh's difficulties, particularly as one of the most affected countries by climate change due to its geographical location. He emphacizedCGIAR's potential contributions in assisting the country in overcoming these challenges. Working together, CGIAR and local scientists could empower each other to discover effective solutions.
The honorable chief guest, Wahida Akter, Secretary of Agriculture, highlighted numerous obstacles in agriculture, including limited resources and the impact of climate change, in her final remarks. She acknowledged her appreciation for the CGIAR centers' active assistance in tackling these difficulties. The CGIAR centers actively contributed to the research centers' work through scientific support, collaborative research, capacity building for scientists, and farmer participation. Wahida Akter also asked CGIAR to continue pushing the boundaries of technology and science to help Bangladesh overcome existing agricultural difficulties.
Overall, the 8th CAC Meeting provided a forum for fruitful discussions, emphasizing the combined efforts and achievements of CGIAR centers and displaying the continuous commitment to tackling agricultural difficulties in Bangladesh.