UNFSS+ 2 takeaway: how can we step up implementation for food systems transformation?
From
Published on

07.08.23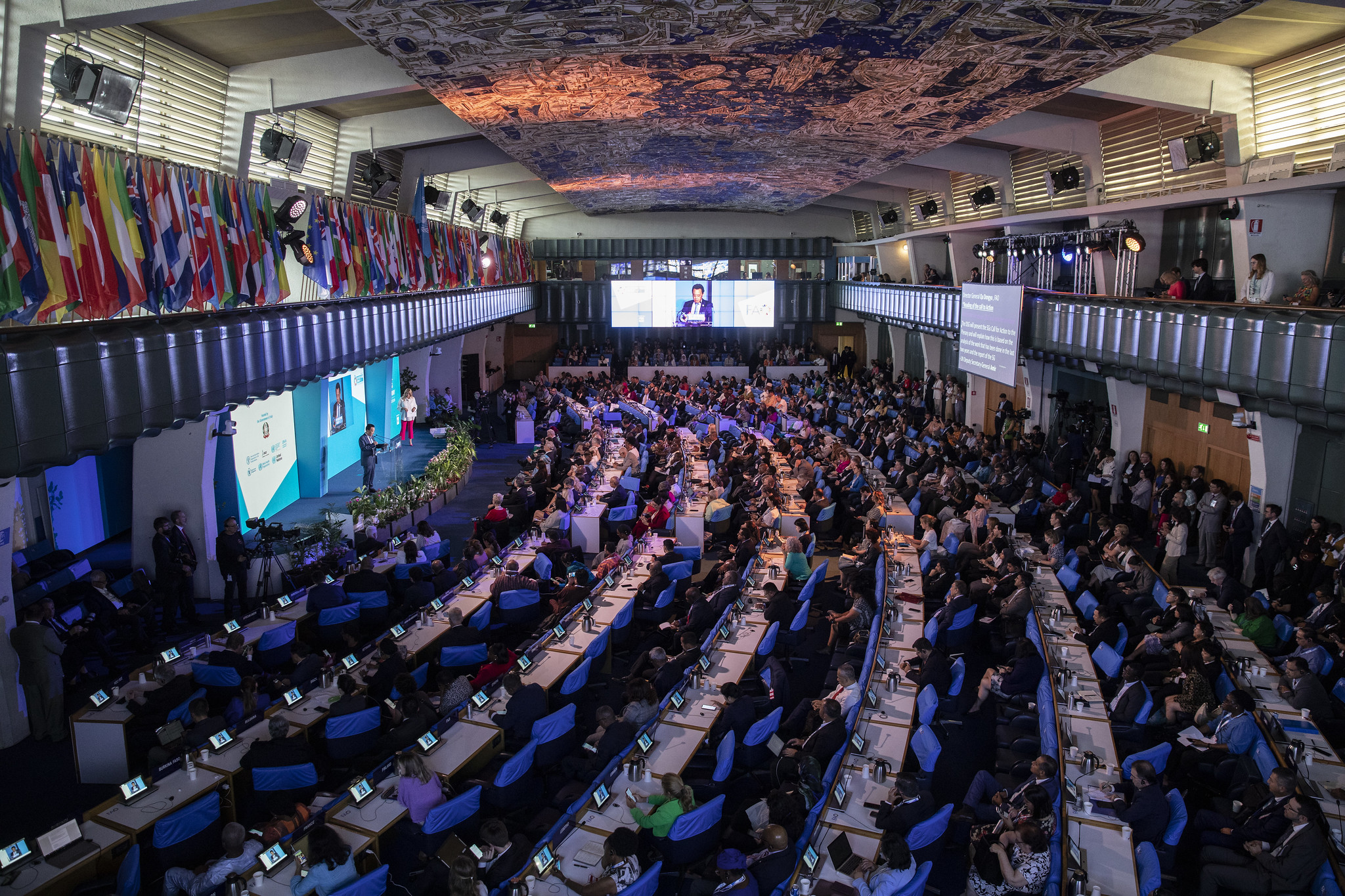 Photo credit: ©FAO/Giulio Napolitano 
By Carlotta Ferrero, Digital Comms and Events Assistant at the Alliance of Bioversity International and CIAT 
Two years on from the 2021 UN Food Systems Summit, more than 2000 participants from 161 countries attended a "stocktaking" event to review progress and address implementation gaps towards the achievement of Agenda 2030. Yet, crucial questions persist around how we can efficiently scale up action, ensuring that financial resources reach the right people. 
On the last day of the UN Food Systems Summit +2, a dedicated session on means of implementation highlighted the crucial role of finance, governance, capacity building – among others – as enablers of this urgent food systems transformation. 
"The focus should not be on the amount of invested resources, but rather on the quality and the proper targeting of those investments" said Donald Brown, Associate Vice President of IFAD's Programme Management Department. 
This approach holds great promise, especially for low-income countries.  
Lovelyn Nnenna Ejim Nat, National Vice-President of the Rice Farmers Association of Nigeria, emphasized the necessity of targeting rural smallholder farmers who play a vital role in food systems, being responsible for over 35% of global food production while family farms produce roughly 80% of the world's food in value terms. The link between financial flows to country agrifood sectors and the empowerment of small-scale farmers paves the way for enhancing food security and sustainable food systems. Nevertheless, ensuring the long-term viability of investments necessitates strong collaboration with governments and institutions, so that resources are aligned with local visions and give priority to context-specific needs.
Indeed, in some countries such as Bangladesh, only a small percentage of farmers have a formal contract, highlighting the necessity to support their integration into the market. Considering the nature of agriculture, subject to climate and other risks throughout the production cycle, it is essential to formalize smallholders as viable and sustainable business entities. Essential components facilitating this transformation include innovative technology adoption, research, youth engagement, and extensive partnerships with the private sector. 
However, there is no one-size-fits-all solution. Trade-offs must be addressed to optimize the best combination of solutions that work in different places for different populations. Juan Lucas Restrepo – Global Director for Partnerships & Advocacy of CGIAR and Director General of the Alliance of Bioversity International and CIAT – states:

Photo credit: ©FAO/Alessandra Benedetti
Juan Lucas Restrepo, Global Director for Partnerships and Advocacy, CGIAR  
Director General, Alliance of Bioversity International and CIAT  
"Only a coherent multi-stakeholder approach and evidence-based decision making will enable resilient agrifood systems […]. For innovations to matter, we must include all food systems partners in meaningful ways to make approaches as transdisciplinary as possible. Knowledge must be embedded into support strategies, policies, and programs devised by countries.". 
Adopting a holistic view is essential to achieving the desired outcomes, which include nutrition improvement, environmental sustainability, climate change adaptation and increased resilience.  
The pathways for achieving SDGs must encompass a combination of business strategies, cooperative efforts, partnerships, innovative solutions, institutional arrangements, research investment programs, and public policy sector instruments – among others. By embracing a systemic approach, we can transform food systems leading to diverse, healthy, safe, and affordable diets which will improve livelihoods and promote social equality, while operating within our planet's boundaries. 
Considering this complexity, Maximo Toreiro, FAO's Chief Economist, highlights the interconnected nature of the "system" concept, where agriculture both impacts and is impacted by all other sectors. To achieve the desired transformation of food systems, proactive leadership by countries is crucial in implementing the necessary pathways for progress. In this regard, governance plays a crucial role as a means of implementation.  
"Governance should adopt a holistic approach that encompasses various sectors, including health, trade, energy, environment, and agriculture" suggests Agnes Kalibata, President of the Alliance for a Green Revolution in Africa (AGRA) since 2014. Fostering dialogue between actors and different sectors, coordinating efforts, and avoiding fragmentation are the essential elements for a concrete and a long-term sustainable change in food systems. By building coalitions, corridors, and other collaborative models, countries can effectively harness capacity and the necessary information to achieve their objectives, respect their commitments towards Agenda 2030 and ensure a secure food future for all. 
In this regard, Shakuntala Haraksingh Thilsted, Director of Nutrition, Health & Food Security Impact Area Platform of CGIAR points out that indeed many more diverse voices are gaining prominence at the table, indicating a significant shift towards the democratization of the debate around food systems. As we are faced with a progressively complex puzzle demanding immediate attention, the call to act for food systems transformation goes beyond individual choice. It becomes an urgent necessity for the globe as a whole. 

Photo credit: ©FAO/Alessandra Benedetti 
Learn more of all our activities at UNFSS+2 Stocktaking Moment