Two women-led food processing units opened in India
From
Published on

09.02.21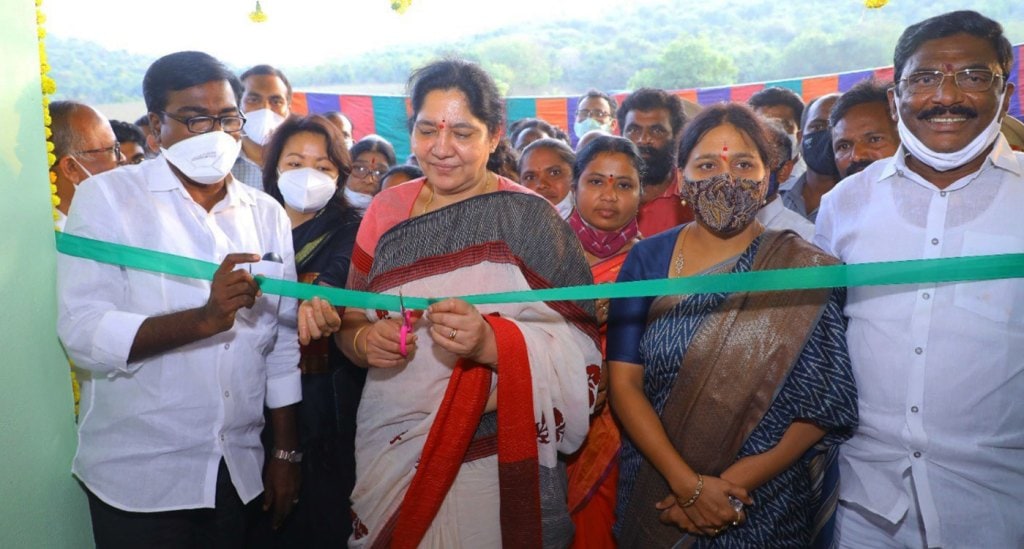 ICRISAT's training and capacity building program empowers women from tribal communities of Telangana state to start their entrepreneurial ventures.
Ms Satyavathi Rathod, Minister for Scheduled Tribes, Women and Child Welfare of India's Telangana state, recently inaugurated a moringa (drumstick) processing unit in the state's Khammam district and a dry mix (ready-to-cook foods) unit in Bhadrachalam. Both the units are wholly owned by tribal women, who were trained in food processing and entrepreneurship at ICRISAT. Sri Lakshmi Ganapathy Dry Mix Unit will supply ready-to-cook Jowar meal (Upma mix) and ready-to-cook multigrain meal (Khichidi mix) to government nutrition programs and anganwadis in the tribal region. Sri Rama Moringa Processing Industry will sell moringa powder in markets.
"The food products being produced in these units have very good nutritive values. Both children and adults can consume them. These will be supplied to children in schools, ashram schools and anganwadi* centres to keep them healthy and help them grow. Plus, the units are providing employment to tribal women," the minister said during the inauguration.
ICRISAT's Agribusiness and Innovation Platform (AIP) established the unit in collaboration with partners and has implemented two other programs as part of the collaboration – Nutri-Food Basket program (March 2017) and Giri Poshana (September 2018). The collaboration aims to transform tribal women into entrepreneurs, localize production and address malnutrition. Accordingly, 80 tribal women farmers from Bhadrachalam, Utnoor and Eturnagaram in Telangana were trained by ICRISAT in Hyderabad. After training, ICRISAT helped the women form Joint Liability Groups (JLGs) to manage the food processing units. With the latest opening, four food processing units of this type have been opened in Telangana.
The women will produce hygienically packed, safe and nutritious foods in the units, which are designed and equipped with machinery as per guidelines of Food Safety and Standards Authority of India (FSSAI). The food products will be sold under the Girijan Co-operative Corporation (GCC) brand as well as in the open market.