Transforming herd health into an integrated package for smallholder dairy farmers in Kenya 
From
Published on

17.08.23

Impact Area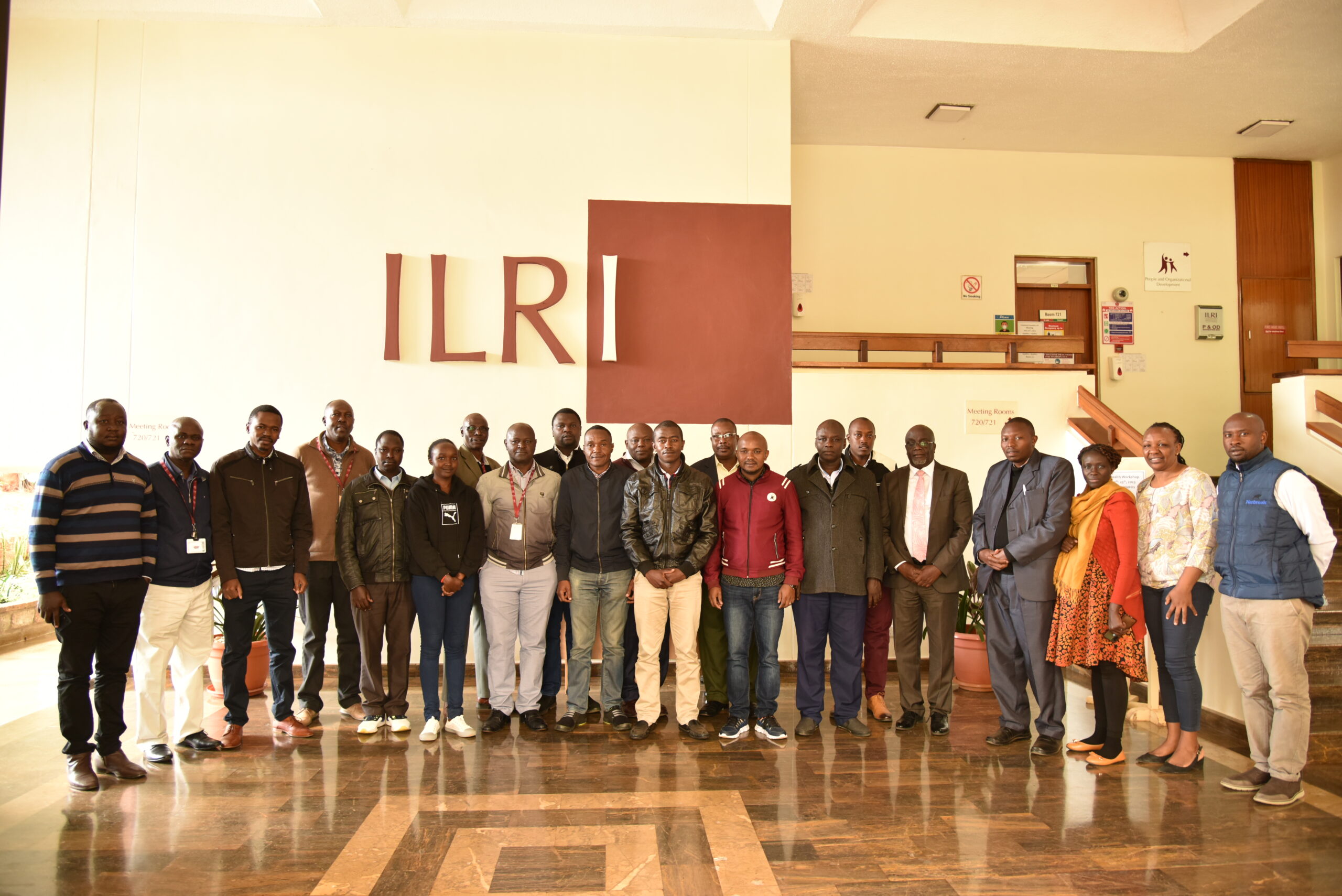 On 24–25 July 2023, the International Livestock Research Institute (ILRI) held a consultation, Exploring opportunities for improving uptake of integrated herd health plans by smallholder dairy farmers in Kenya, in Nairobi, Kenya.
Representatives from the national and county government, pharmaceutical companies and last mile animal healthcare providers gathered to co-design a herd health plan under the CGIAR initiative on Sustainable Animal Productivity (SAPLING) that aims to attract private sector investment to enhance the productivity and profitability of dairy value chains while promoting healthy consumption of animal-sourced foods in Kenya.
>At the end of the consultation, the various stakeholders agreed that a sustainable herd health plan should package animal health services, digital tools for surveillance and a business model for herd health delivery.
In Kenya, public and private sector stakeholders have different perspectives on who should take responsibility for the implementation of herd health.
Workshop participants expressed different opinions when asked whether farmers should bear the cost of routine herd health visits, considering the direct benefits they receive from the improved health of their animals.
Kenya's dairy sector also faces diverse challenges that span infertility, disease, nutrition, biosecurity, farmer purchasing power and drug delivery and regulations.
James Rao, agricultural economist at ILRI, described how a collaborative herd health plan could be the solution to Kenya's fragmented livestock system.
He said: Applying single technologies such as breed improvement without the complementary inputs and services will not deliver the much-needed productivity improvement. We, therefore, need to work across individual technologies and package innovations that integrate technologies in feeds, animal health and improved breeds to deliver synergy in productivity. Moreover, the focus should go beyond improved productivity to include enterprise profitability, putting money in the pockets of farmers. Can we do this here with our partners?

The consultation drew valuable insights from the experiences of ILRI scientists with herd health delivery for small ruminant value chains in Ethiopia and pig value chains in Uganda.
For the long-term sustainability of increased dairy productivity, incentives that guarantee ongoing project participation are important for farmers and service providers.
Experiences from Uganda and Ethiopia underscored the need for co-creating solutions with farmers that address their most immediate and visible challenges to enhance buy-in.
Both projects further emphasised recording and data collection for Kenya, which would enable the evaluation of implemented HH packages and comparison across different counties and countries.
Workshop participants were also introduced to ILRI's Asia and Africa Dairy Genetic Gains platform and the DigiCow app, two existing digital farm-level data collection tools.
Participants reflected on the two platforms and identified beneficial features that should be adapted for SAPLING's herd health plan in Kenya.
Data sharing was recognised as a key element for improving livestock management, with the need for a robust and secure national database and animal identification system.
Easy-to-understand data collection and output visualisation empowers farmers to make their own informed animal management decisions.
Access to farm data can also allow other value chain actors to conduct risk assessments, inform financing and insurance to create more competitive markets.
After addressing the challenges within cattle production systems in Kenya, participants recommended a herd health package that includes advisory services, breeding and reproduction management, biosecurity measures, routine practices such as dehorning and deworming, disease control strategies and calf and heifer management.
Drawing upon ILRI's experiences of herd health delivery in other countries and the available digital data collection tools shared, workshop participants agreed to prioritise a reliable digital data collection platform and sensitisation on the value of herd health across the whole value chain to ensure successful implementation of the co-created herd health plan.

In conclusion, collaboration between stakeholders is vital for designing a comprehensive HH plan that benefits farmers and service providers, improves animal welfare and ensures long-term profitability of dairy enterprises.
By embracing innovative digital tools and integrating farmer input, SAPLING aims to ultimately contribute to a productive and sustainable dairy sector in Kenya.
Harry Oyas, deputy director in charge of disease control at the Directorate of Veterinary Services, Ministry of Agriculture and Livestock Development, shared his thoughts on the SAPLING initiative and herd health approach.
'This initiative will track what is happening at farm level to see whether we are contributing to farmers' livelihoods or just doing the same things over and over again. Herd health is a multidisciplinary approach, and in the end, the farmer will benefit. The farmer will really appreciate it if you can make his bank balance and profit and loss sheet improve,' he said.
The director prompted ILRI to work with the government and drug and pharmaceutical companies to develop guidelines for implementing the co-created herd health plan. These guidelines will allow for a robust database that will open markets for farmers and service providers, a win-win for all the stakeholders involved.
Going forward, a smaller team from ILRI and veterinary pharmaceuticals will convene to finalise the herd health package and roll out pilot implementation in selected cooperatives where the SAPLING initiative is being implemented.
Further debriefing workshops will be held to share experiences on the adoption of the herd health plan in three counties to inform new strategies within the counties and for scale-out.
Regular monitoring and final evaluation of the program will generate lessons for scaling herd health plans across smallholder dairy systems in Kenya.