Towards a sustainable future for cocoa: Conserving and celebrating cacao diversity
From
Published on

07.11.19

Impact Area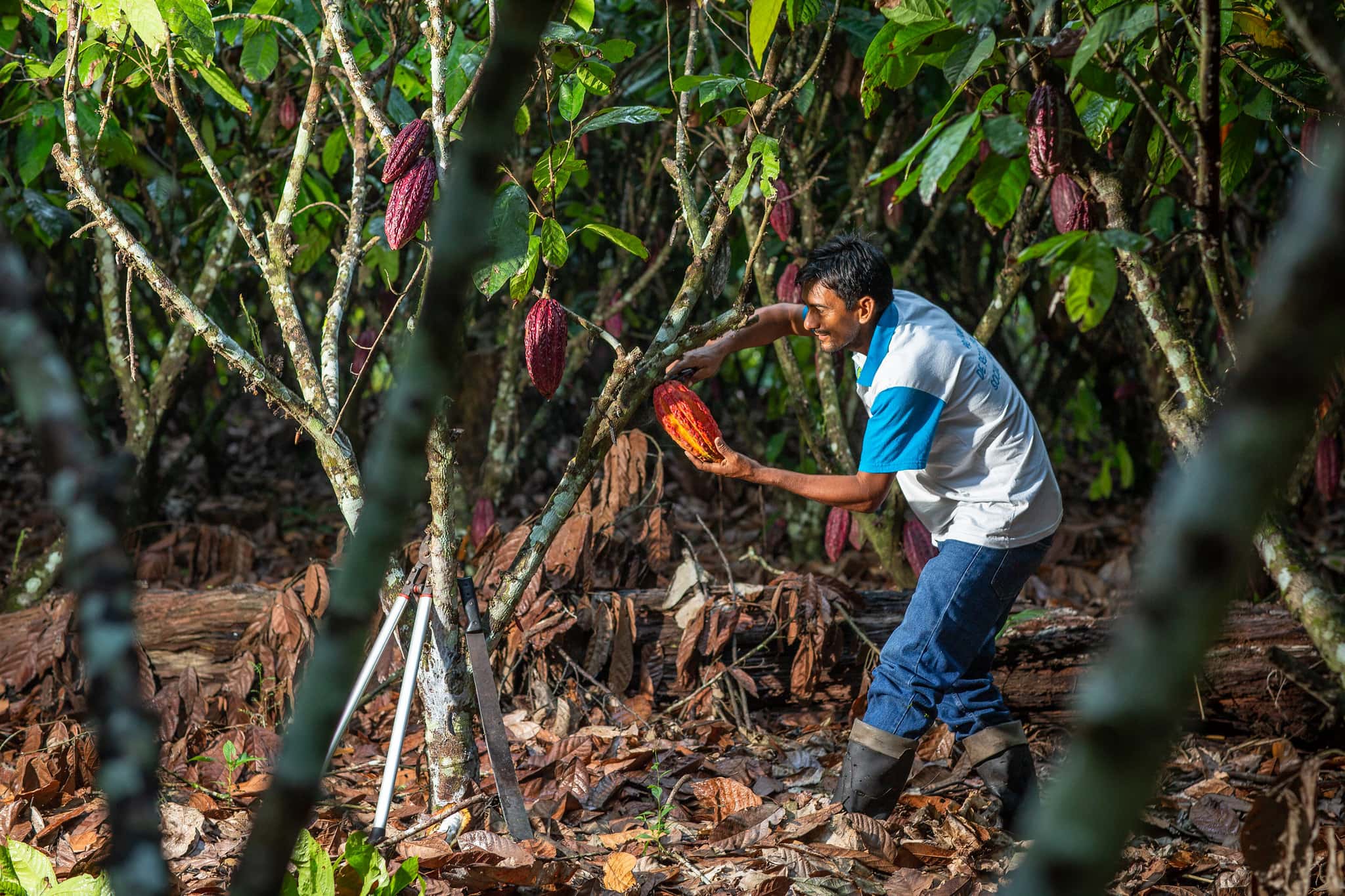 Global efforts are underway to secure a sustainable future for a much-loved but highly vulnerable commodity. 
Despite growing demand for chocolate globally, production of its core ingredient – cocoa – remains critically unsustainable. 
Low quality planting material with decreasing genetic diversity is limiting crop productivity, placing pressure on forests and water, and increasing the risk of threats from pests, diseases, and climate change. 
With up to 95 percent of the world's cocoa supply coming from small-scale farmers working on cropland of three hectares or less, production is largely not professionalized, and is currently projected to be unable to keep pace with global demand.
Importantly, underdeveloped value chains are failing to deliver cocoa's six million farmers and their families a living wage, perpetuating poverty and creating the conditions for child labor. 
"This is the tragedy of cocoa," says Brigitte Laliberté, an expert in cacao genetic resources and diversity at Bioversity International, a CGIAR Research Center.
"Chocolate is one of the so-called essential pleasures of our lifestyle – like wine, beer, or coffee – but for some farmers, cacao is a crop of desperation, a last resort."
But while it is right to raise the alarm, it is not useful for consumers to boycott cocoa, which remains a source of livelihoods, Laliberté says. 
As part of collaborative efforts by the scientific community, she is now working to secure a sustainable future for the crop, including by facilitating conservation and use of diverse cacao genetic resources, and promoting fair compensation and recognition for farmers.
The Cacao Network (CacaoNet), a group involving science, industry and other partners coordinated by Bioversity International and integrated in the CGIAR Research Program on Forests, Trees and Agroforestry (FTA), aims to safeguard the genetic diversity of cacao and secure access to cacao genetic resources for breeders. The network has already produced a global strategy to promote sustainable conservation and use of the resources.
Another initiative, the Cocoa of Excellence Programme (CoEx), celebrates the diversity of cocoa and the work of its farmers via the International Cocoa Awards, coordinated by Bioversity International and Event International, organizer of the Salon du Chocolat trade fair in Paris.
With a focus on the needs of farmers and the quality and diversity of the product, these efforts and more aim to lay the foundations for a more sustainable future.
Know your cocoa
Most coffee-drinkers have some knowledge about the different beans and blends that go into their brew, but the same cannot generally be said for chocolate-lovers, or even its producers.
The first thing to know is that 'cocoa' is the name for the basic commodity – the fermented and dried beans – while 'cacao' is the name for the plant and its unprocessed seeds. 
Originating from the tropical regions of the Americas, the evergreen tree Theobroma cacao is just one of the 22 known species of the genus Theobroma, and is the source of chocolate's core ingredient. Today, it is grown across the tropical regions of Asia, Africa and Latin America.
Chocolate as we know it is a truly globalized invention, combining cocoa produced in a tropical climate with sugar, milk and other ingredients to create a product originally intended for the colder climes of Europe. 
As chocolate easily melts, it was generally not sold in tropical countries until fairly recently, and remains for many a luxury. Most cacao producers tend not to be consumers of the end product, leading to low knowledge of product quality and low bargaining power.
On top of this, cacao is not an easy crop to grow. With low branches spreading at eye level, cacao orchards are tricky to navigate, and labor-intensive to harvest. Newly planted trees take years to bear fruit, and farmers have little choice of what to plant, making each tree a risky long-term investment.
A long value chain including several stages of processing means that value is not added at the point of production, and producers miss out on profits. Ultimately, cacao tends to be grown alongside other crops, barely able to support the 40 to 50 million people who depend on it for their livelihoods.
Yet globally, demand for chocolate continues to grow, with new markets opening up in developing economies like China, Brazil, India and Eastern Europe. To meet this demand, cocoa production needs to be at least trebled in the coming years – a target requiring investment in research, breeding, and value chain development to deliver fairer returns to growers.
Making connections for diversity 
Scientific breeding of cacao has been carried out for at least 70 years, but only one-quarter of farmers today plant improved varieties. Low-quality, low-yielding crops with low genetic diversity deliver only small returns to farmers, and are at high risk of damage from pests, diseases, and effects of climate change such as heat and drought.
Cacao genetic material is stored in more than 40 collections worldwide, but most are not accessible for research and breeding, and only a few are safety duplicated to guard against losses from natural disasters. Only two of these collections are made freely available for the long term under the International Treaty on Plant Genetic Resources for Food and Agriculture – one maintained by the Cocoa Research Centre in Trinidad and Tobago, and the other by CATIE in Costa Rica. All international exchange of genetic material passes through the International Cocoa Quarantine Centre in Reading in the United Kingdom. 
Until recently, the lack of a clear legal and policy framework for this system of exchange meant that few growers and breeders could access it. The result was that cacao genetic diversity was actually decreasing globally, threatening the sustainability of the crop.
CacaoNet was established to meet these challenges, bringing together public and private stakeholders from the chocolate and cocoa industries, governments, farmers' associations, research institutions and more. 
The network updated safe movement guidelines and quarantine measures for cacao in 2011, 2014 and again in 2017. Then in 2012, a global strategy was released to improve overall conservation and use of cacao genetic material, and to benefit the livelihoods of its growers.
"It's like a 'bible' for the cacao genetic diversity research community," Laliberté says of the strategy, adding that a handy booklet version has been prepared to make the information accessible for a range of stakeholders.
The global strategy aims to safeguard the genetic diversity of cacao and its wild relatives by strengthening genebank collections, supporting access by breeders and other users, and facilitating their conservation and use.
In response to the strategy, CacaoNet partners have already committed to ongoing funding for the collections in Costa Rica and Trinidad and Tobago, and have strengthened the global system of genetic material exchange.
Awarding cocoa excellence
To gain a better negotiating position, growers need better knowledge of the value of their product. At the end of a long value chain, small-scale growers receive very little feedback about the quality of their cacao, with buyers giving only brief, subjective reasons to set their desired price.
The biennial International Cocoa Awards, as part of the Cocoa of Excellence Programme, invite producers to enter their best samples for objective analysis, bringing the winners to the world's attention at the Salon du Chocolat trade fair in Paris. 
"It is the only award that recognizes the work of cocoa producers – rather than chefs, chocolate makers, and so on," Laliberté says.
For the 2019 edition, 225 samples were entered by 55 cocoa-producing countries in  February, with the winners to be announced on 30 October this year.
The awards committee has developed a rigorous process for analyzing cacao quality, drawing on methods used to assess other products like wine, cheese or coffee. It is the first time that producers, industry, chocolatiers and consumers have agreed on what goes into making a good block of chocolate.
Entries are given a blind code for anonymous appraisal and are assessed in various forms. First, the raw beans themselves undergo physical examination for their size, moisture, butter content and other characteristics. Next, samples are prepared through roasting, grinding, and refining. 
Finally, the samples – in the form of cocoa liquor, and dark chocolate with a cocoa content of around 70 percent – undergo sensory evaluation based on quantitative scoring. Tasting notes list flavors ranging from fresh fruit to floral, woody or nutty, containing hints of sweetness or spice. Each sample is attributed a Global Quality score based on its market potential, according to professional experience and judgement.
The best 50 chocolate samples are showcased at the Salon du Chocolat, raising the profile of the growers, as well as the diversity and quality of cacao grown worldwide. At this global event, the 15 to 18 winners of the International Cocoa Awards are announced.
Building from this experience, efforts are now underway to develop international standards for the assessment of cocoa quality and flavor. These will be used to conduct training in sensory evaluation and to establish competitions in cocoa-producing countries, giving local stakeholders the knowledge to improve crops and bargain for a fair price for their produce.
By conserving and celebrating cacao diversity, efforts by CacaoNet and CoEx aim to secure a more sustainable future for cocoa, and for the livelihoods of its growers.
The CacaoNet Global Strategy was supported by financial and in-kind contributions from the Cocoa Research Association Ltd., UK (CRA Ltd.); Mars Inc.; the US Department of Agriculture, Agricultural Research Service (USDA/ARS); the World Cocoa Foundation (WCF); Bioversity International and the CGIAR Research Program on Forests, Trees and Agroforestry, with the support of contributors to the CGIAR Trust Fund. 
The Cocoa of Excellence Programme was founded in 2008 by Bioversity International, Event International and CIRAD with support from the Common Fund for Commodities (CFC), the International Cocoa Organization (ICCO), Guittard, Barry Callebaut and Puratos/Belcolade. It is now coordinated by Bioversity International and jointly organized by Event International in partnership with Guittard Chocolate; Seguine Cacao, Cocoa and Chocolate; Barry Callebaut; Puratos/Belcolade; the Cocoa Research Centre of the University of the West Indies (CRC/UWI); Valrhona; and in-kind contributions from CocoaTown. 
Photo: Farmer Pablo Granda harvests cacao pods from his orchard in San Martin, Peru. Cacao harvesting is difficult to mechanize, making it a labor-intensive process for farmers. Photo by CIFOR/M. del Aguila Guerrero