Towards a shared common vision on the relationship between climate, conflict, and human security in Guatemala
From

CGIAR Initiative on Climate Resilience

Published on

28.03.23

Impact Area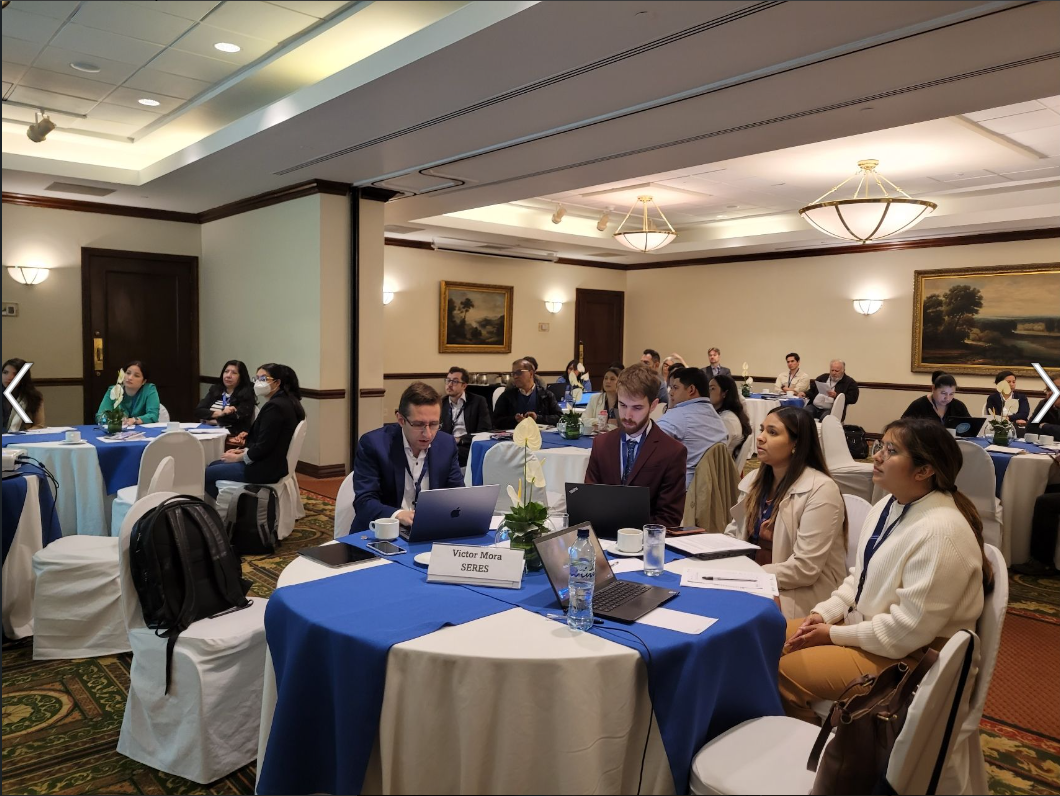 By Ignacio Madurga-Lopez, Leonardo Medina, and Grazia Pacillo
Guatemala is among the most vulnerable countries to the effects of climate change in Latin America, and it is already experiencing severe consequences, especially in the agriculture sector. In recent years, an increase in the average temperature of 0.8°C has been observed, as well as a concentration of rainfall in fewer days (MARN et al., 2021). At the same time, Guatemala and its Central American neighbors suffer from one of the highest levels of violence in the world. It is affected by various security-related risks such as organized crime, gang violence, and land- and water-based conflicts. Despite reaching almost 30 years since the signing of the 1996 peace agreement that ended a bloody civil war, Guatemala has the world's third-highest homicide rate and one of the highest femicide rates (Godoy, 2006; Knowlton, 2017; UNICEF, 2014). 
Climate change has undeniable economic and social impacts, including food and water insecurity, the loss of agricultural livelihoods and subsequently increased inequities, and competition over access to scarce natural resources – all considered drivers of conflict and insecurity (IPCC, 2022). The interaction between climatic and non-climatic factors can result in compounding risks that exacerbate insecurity and fragility, for example, through different types of human mobility, including both migration and forced displacement or under contexts of uncertain land tenure. Meanwhile, high levels of insecurity and fragility undermine the capacity of governments and communities to cope with the effects of climate change. 
Despite the increasingly recognized interconnections between climate change and conflict (IPCC, 2022), there is a lack of a clear understanding of how these complex climate security dynamics operate in Guatemala, including a nuanced comprehension of where the most vulnerable places are and who are the most affected people. Understanding the intricate and dynamic connection between climate and conflict demands an interdisciplinary assessment at a granular level on multiple livelihood domains – one that also accounts for local-level perceptions of insecurity and vulnerability.  
CGIAR's Climate Resilience Initiative, also known as ClimBeR, is working to address these needs. On the 21st and 22nd of February, we ran the first climate security workshop in Guatemala City in Central America: Towards a common vision on the relationship between climate, conflict, and human security in Guatemala. The workshop was organized by the Alliance of Bioversity and CIAT along with the CGIAR's Climate Resilience Initiative; the Fragility, Conflict, and Migration Initiative; the regional integrated initiative AgriLAC Resiliente; and the CGIAR FOCUS Climate Security, and benefited from the participation of 45 individuals from 20 different organizations, including regional & local organizations, government institutions, UN agencies, and universities. 
The workshop's main goal was to develop a common vision and an action plan to strengthen climate adaptation efforts while contributing to peace and security efforts in Guatemala. Specifically, we aimed to: 
Understand the complex nature of climate-related security risks in Guatemala as perceived by practitioners from the climate, development, humanitarian, and peace sectors.

 

Explore how different stakeholders intervene over climate-related security risks and the multiple spaces where they collaborate.

 

Identify priority areas of action toward mainstreaming climate security in governance systems for resilience and peacebuilding.

The demand 
During the workshop, local stakeholders shared their vision of how the dynamics of climate and conflict risks interconnect in Guatemala. Climate change impacts lead to reduced agricultural productivity, making it difficult to sustain agriculture-based livelihood strategies. Under limited alternative income sources, inequality and poverty increase, associated with increased crime and illegal activities. Losing livelihoods is also linked to unassisted human mobility, which is associated with security risks, as migrants become further exposed to crime and extortion.
Under conditions of poverty and marginalization, natural resource degradation through extractivist activities, and insecure land tenure, food insecurity fueled by climate impacts can exacerbate discontent and social mobilization, mainly against the State. Furthermore, reduced availability of natural resources, on which rural populations depend, can increase the risk of conflict over access to resources within and between communities.
It is important to note that while insecurity variables (such as natural resource conflicts, crime, and the risks associated with human mobility) feedback on each other, their presence also exacerbates various elements associated with climate vulnerability – such as environmental degradation, unequal access to natural resources, low institutional capacity, and different forms of poverty and marginalization – which in turn affect resilience capacities. 
In this regard, Guatemala has built an important climate change policy and intervention landscape, anchored by policies, plans, and mechanisms, including the 2009 Climate Change National Policy, the 2016 Climate Change National Action Plan, as well as platforms and interventions like the Local Technical Agroclimatic Committees (MTA in Spanish) in which the CGIAR Research Program on Climate Change, Agriculture and Food Security (CCAFS) and the Ministry of Agriculture, Livestock and Food have effectively cooperated with a wide range of stakeholders to deliver climate services that enhance climate adaptation. Nonetheless, a clear climate security agenda needs to be included.  
During the second day of the workshop, participants identified the requirements for developing such an agenda and achieving climate security impact at scale in Guatemala. According to the participants, specific innovative solutions co-designed and co-developed with CGIAR should:  
Develop specific and actionable data at a national and subnational level that addresses the current lack of evidence on climate security risks in Guatemala.

 

Integrate evidence on climate security risks into Guatemalan national and regional policies to address the need for coherence between climate and security policy sectors.

 

Advise stakeholders on programmatic strategies for conflict-sensitive climate adaptation efforts. 

 

Address the lack of financial instruments considering interconnected climate and security risks and promoting climate adaptation and sustainable peace.

 
The solutions 
ClimBeR, in partnership with AgriLAC Resiliente and the new Fragility, Conflict, and Migration Initiative, will co-design and co-develop innovative solutions with regional, national, and local actors to enhance the climate security action intelligence capabilities of climate governance actors in Guatemala. Several of them will contribute to the key components of context-specific, harmonized, collaborative solutions: 
Innovations and tools for navigating complexity: Since climate security dynamics are highly localized and context-specific, more than a one-size-fits-all approach to implementation will be needed.

To transfer this context-specific understanding into policies and effective policy implementation, we will develop a Climate Security Policy and Governance Toolkit to effectively integrate climate security risks in policy and planning processes and improve cross-sectoral coherence between sectors relevant to the climate, peace, migration, and security nexus. Jointly with AgriLAC and FCM, we will also assess how policy documents capture the interconnections between migration, climate change, food security, fragility, and conflict to inform policy advocacy and design efforts.

 

To gain an adequate understanding of intercommunal contexts and identify appropriate implementation strategies for climate adaptation and peacebuilding approaches in agricultural programming project cycles, ClimBeR and their partners will co-produce the Climate Security Sensitiveness Tool (CSST), which aims to identify gaps and produce recommendations on how to increase the peace potential of climate action.

 

Policy-relevant evidence: Achieving and maintaining climate security requires synchronized actions that make use of robust evidence and data that will help policymakers understand i) How climate is exacerbating root causes of conflict; ii) Where this is happening; iii) for Whom; and iv) What can be done to break the cycle between climate and conflict. Building and leveraging existing data and evidence infrastructure in the country and the region, the Climate Resilience and the Fragility, Conflict, and Migration Initiatives and their partners are developing a

Climate Security Observatory.

This decision-support tool

will qualify and quantify the climate security nexus at regional, national, and sub-national levels based on local, national, and regional demands. It will include various qualitative and quantitative innovative analyses such as standardized actor and action typologies and maps, complementary indicators, and descriptors such as the

Climate Security Index

, social network analytics, dynamic-interactive dashboards, and auto-generated reports. By leveraging land, water, and food systems science, the Observatory will help address the root causes of conflict and crime and reduce or avoid the risk of climate-related insecurities.

 

Finance for addressing climate security risks: Although climate and human security risks are interrelated and often overlapping, public and private finance for climate action is rarely leveraged for peacebuilding or deployed in fragile contexts such as Guatemala. However, as increasing attention and finance are devoted to climate action, an opportunity exists to leverage these investments for building a sustainable and long-lasting peace that addresses the root causes of conflict and insecurity. For this purpose, we will help our partners to identify ways to mobilize climate adaptation finance for peacebuilding efforts, articulating a process of working with different actors to jointly develop

Climate Security Investment Plans

to build sustainable and long-lasting peace.

 
The way forward 
Conflict, violence, and fragility are already causing great suffering to millions of people worldwide, including in Guatemala, and the ongoing climate crisis will likely only worsen things. The need for countries to achieve and maintain climate security will only grow bigger against the backdrop of a climate crisis. However, this won't be achievable without collaborations, partnerships, and innovations. ClimBeR, the Fragility, Conflict, and Migration Initiative, the AgriLAC Initiative, and our local and national partners in Guatemala and other countries are devoted to meeting the urgent demand for climate security actions.
To attain national climate governance goals and promote sustainability and stability, all the parties involved will work together to co-develop intelligence capabilities for contextualized, coordinated, and collaborative climate security actions at scale. 
References:
Godoy, A. S. (2006). Popular Injustice: Violence, Community, and Law in Latin America.

IPCC, 2022: Climate Change 2022: Impacts, Adaptation, and Vulnerability. Contribution of Working Group II to the Sixth Assessment Report of the Intergovernmental Panel on Climate Change [H.-O. Pörtner, D.C. Roberts, M. Tignor, E.S. Poloczanska, K. Mintenbeck, A. Alegría, M. Craig, S. Langsdorf, S. Löschke, V. Möller, A. Okem, B. Rama (eds.)]. Cambridge University Press. Cambridge University Press, Cambridge, UK and New York, NY, USA, 3056 pp., doi:10.1017/9781009325844.

Knowlton, A. (2017). Q'eqchi' Mayas and the Myth of "Postconflict" Guatemala. Latin American Perspectives, 44(4).

MARN, SGCCC, & PNUD. (2021). Tercera Comunicación Nacional sobre Cambio Climático Guatemala 2021 (Vol. 59).

UNICEF (2014). Hidden in plain sight : a statistical analysis of violence against children
For more information, contact Grazia Pacillo (g.pacillo@cgiar.org) and Ignacio Madurga-Lopez (i.madurga@cgiar.org)  about Climate Security activities, Ana Maria Loboguerrero (a.m.loboguerrero@cgiar.org), lead of Climate Resilience Initiative; Deissy Martinez Barón (d.m.baron@cgiar.org) lead of  AgriLAC Resiliente Initiative.