To feed a world in crisis, scientists push for greater collaboration
From
Published on

16.06.20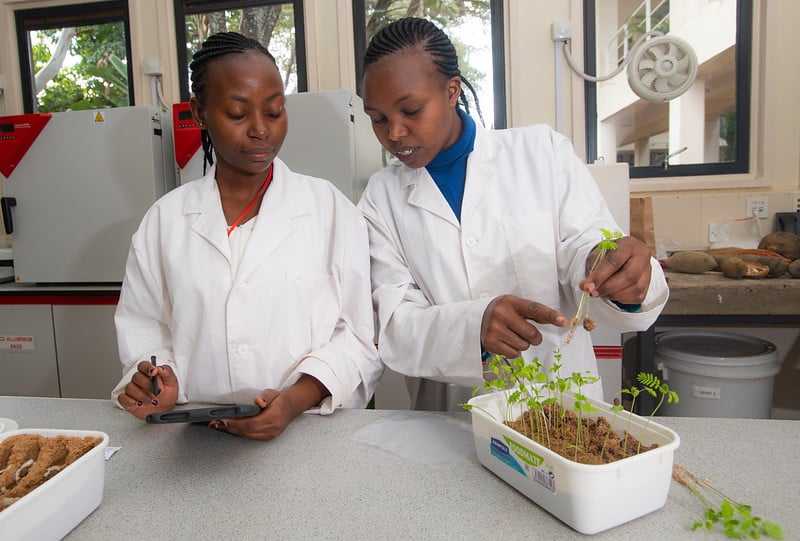 Collaboration among scientists to transform food, land and water systems will be key to feeding the world in the face of climate change, COVID-19 and other challenges, says the world's largest agricultural research network.
CGIAR, a global partnership with almost 50 years' experience in agricultural research for development, argues that fragmentation of the research agenda into single commodities and other pieces of the problem has limited the potential of science to holistically transform food systems, and advance global goals to end poverty and hunger by 2030.
Threats to food, nutrition and water security posed by climate change and other challenges are not new, but are becoming increasingly complex and pressing, requiring new approaches. The current COVID-19 pandemic risks further setbacks – without substantial emergency relief, 140 million people could fall into extreme poverty, potentially increasing hunger and malnutrition for millions.
In a virtual meeting of the CGIAR System Council this week (10-11 June), the organization moved ahead on plans to unify the governance and operations of its multiple research centers and programs under the umbrella of 'One CGIAR', with the aim of supporting collaborative science that can have the greatest impact on the world's most vulnerable.
"The COVID-19 pandemic has given rise to the most drastic economic consequences in living memory. CGIAR is at the forefront of assessing short-term shocks, recovery efforts, and then ways of building back better, says Marco Ferroni, Chair of the CGIAR System Management Board. "We are ready to deliver multi-dimensional, multi-sectoral research for development assistance to those most in need of innovation and transformative solutions on the ground."
As One CGIAR, scientific innovations for food, land and water systems – providing more sustainable ways to grow, catch, transport, process, trade and consume food – will be able to be deployed faster, at a larger scale, and at reduced cost, having greater impact where they are needed most.
Priority areas for collaboration identified by the network's revised research strategy include nutrition and food security; poverty reduction, livelihoods and jobs; gender equality, youth and social inclusion; climate adaptation and greenhouse gas reduction; and environmental health and biodiversity.
In addition, a united CGIAR has mounted a food systems response to COVID-19, recognizing the need for rapid and science-based efforts for response, recovery and resilience. Building back better – not returning to business as usual following the COVID-19 crisis – is a priority, with action already being taken to provide data that can guide donor investments, support health systems with testing facilities, and promote a One Health approach to prevent or contain future zoonosis outbreaks.
An inclusive and consultative process is ongoing to guide the continued transition to One CGIAR, with phased roll-out expected by 2021.
Header photo: Eliza King'ori (left), an intern, and Ludy Keino, a laboratory technician, evaluate the germination of seedlings at the ICRAF genebank in Nairobi, Kenya. Photo by Michael Major/CropTrust.