The birth of an impatient and optimistic breed of community seed producers in Mali
From
Published on

19.07.19

Impact Area
Funders

United States of America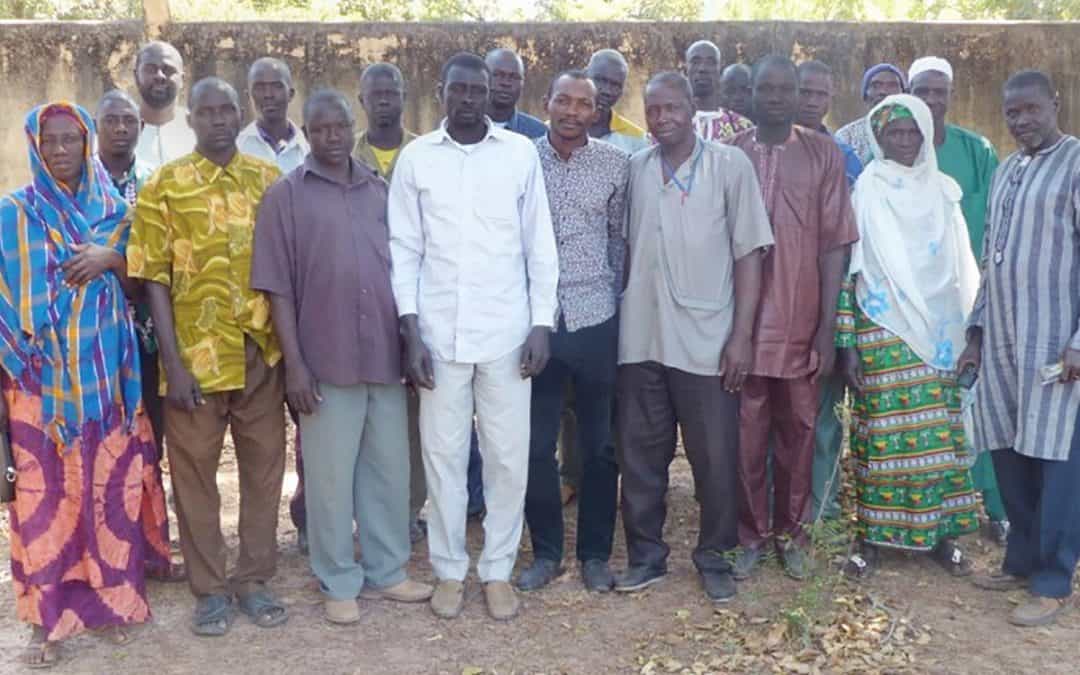 Jean Goita has come a long way since his days as a grain producer in his hometown of Yorosso. Today he is a respected seed producer covering nine communes of Yorosso district in Sikasso region of Southern Mali. Goita and 10 other members of his district were trained to produce improved seed under the ARDT_SMS project.
"There are many seed growers in the communes of Kiffoso, Karangana, Mahou and Yorosso. They are impatient to be trained," says Mr M Seydou Dao, President of an innovation platform established in Yorosso district in September 2018 with the support of Mali Agricultural Market Trust (Malimark), a national NGO and local partner in the project. The platform with 100 members is the place where farmers, input suppliers, grain processors, and traders meet to discuss their businesses.
"The innovation platform has been a good channel for actors involved in the agricultural value chain. Farmers get to know each other and they are now working together in a very cooperative way," explains Mr Mohamed Diawara, an extension officer with Malimark. Farmers of Yorosso district have built their reputation and industry on cotton. "Cotton used to be our first choice while sorghum and millet production were low on priority," says Mr Goita. "With poor soils, late maturing local varieties which yielded very poorly (500-800 kg/ha), and crops that were regularly attacked by all kinds of pests, we were looking for an alternative," adds Mr Hamadou Dembele, a seed producer from Karangana in the same district.
There seemed to be no end to the Sikasso Paradox, for Mali's most fertile region is also its least nourished. According to a 2016 report by the World Bank group, "cotton has not made it possible to limit migration, which remains a pillar of rural economies, including coping with the shocks of cotton growing." Goita and many more champions are now turning to sorghum, millet, cowpea and groundnut production.
With the intervention of the ARDT_SMS project in some districts of Sikasso, improved varieties and best agronomic practices for staple crops such as sorghum were made accessible to farmers. Once trained, many farmers were able to increase and often double the production of these staple crop and even turn away from the solely cotton-based production system. "In 2018, I grew an improved sorghum variety Pablo and harvested 2 tons on 1 ha. This was the first time as producer that I harvested so much of sorghum," says Amadou Dembélé, member of an innovation platform initiated with support of the project.
Mr Fousseini Mariko in the Solabougouda Commune in Koulikoro Region has a similar tale. Fousseini is one of the best trainees in seed production. He encourages women farmers to produce improved seed. "In 2018, three women were able to produce sorghum hybrid seeds in our Community," he says.
Among the other farmers who have started growing sorghum is Mrs Téa Mariko, who began growing two improved sorghum varieties, Grinkan Yerewolo and Soubatimi on 2 ha each in 2018. "I harvested 1.4 tons of Grinkan Yerewolo and 400 kg of Soubatimi," she says. ARDT_SMS is implemented in partnership with NGOs such as Malimark, EUCORD and CRS. Together, they have enabled a large number of farmers with seed production, some of them now registered as certified seed producers. This is a major breakthrough for agriculture in Mali in general and for small and marginal farmers.
For more success stories of the USAID Africa RISING's Large-scale Diffusion of Technologies for Millet and Sorghum Systems (ARDT_SMS), please click here
Project: USAID Africa RISING's Large-scale Diffusion of Technologies for Millet and Sorghum Systems (ARDT_SMS)
Funder: United States Agency for International Development
CRP: Grain Legumes and Dryland Cereals
The post The birth of an impatient and optimistic breed of community seed producers in Mali appeared first on Grain Legumes and Dryland Cereals.