Strong communities, compasses, and mentors: WIRES event shares how CGIAR women role model success
From
Published on

20.02.23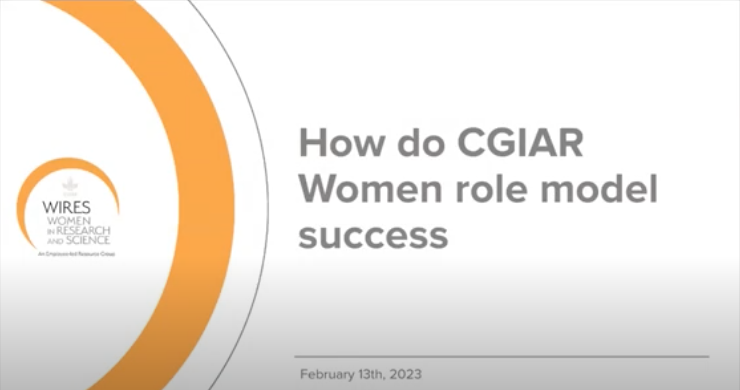 The importance of mentors, crafting your own definition of success, and being part of a strong community as a woman in science were some of the main topics of discussion during a lively online event hosted by the Women in Research and Science (WIRES) Employee Resource Group (ERG) earlier in February. 
Titled "How do women in science careers role model success?", the event was held to mark the International Day of Women and Girls in Science and provided valuable insights into the experiences of successful women at CGIAR. 
Khuloud Odeh, CGIAR's Global Director for Digital and Data and the interim Executive Director for the CGIAR System Organisation, kicked off the discussion with reflections on how her background in tech and computer science has been one of her most important "passports" to success:
"I have to say I maybe carry four passports, but for me my computer science degree is the passport that really took me to the entire world of opportunities," she said. 
Discussing the importance of defining success for yourself, Khuloud mentioned how a shift from the tech industry to international development helped her see that she was more than just a tech degree: 
"I realised that my lived experience, the languages I spoke, the communities I belonged to, the cultures that I was exposed to…all of that is of value and I needed to bring all of it to my work, to my leadership, to my philosophy in management and engagement." 
Khuloud also shared powerful insights into the importance of mentors and role models – in particular, how critical it is to be a role model, whether or not one is fortunate enough to have one:  
"You never really know who's around you, who's inspired by you," she said. "You don't know how you might be changing the life of a young girl or a student in early science studies." 
Wrapping up her portion of the event, Khuloud shared the huge impact building and maintaining communities and networks has had on her career: 
"I really owe it to my community of women in technology," she said. "They really [helped me] address many of the obstacles that I've come across"
"The networks we build are the most important thing for us to survive in this career," she said. "It's important not to give up and to really try to push our boundaries – but not by ourselves, because it can be very, very hard." 
Fireside chat: Maha Al-Zi'bi and Paula Andrea Espitia 
The International Water Management Institute's Maha Al-Zu'bi, co-leader of the CGIAR Regional Integrated Initiative from Fragility to Resilience in Central and West Asia and Northern Africa and Paula Andrea Espitia, who is an Agronomic Engineer, Research Associate of Tropical Forage Breeding with the Alliance of Bioversity and CIAT discussed their careers as women scientists during the second portion of the event. 
How each speaker measured success varied somewhat. Paula, who is in the early stages of her career, felt that success is having the freedom to choose and follow a path that makes you feel accomplished – a definition, she said, that hasn't changed very much. For Maha, the definition of success changed over time, especially when she started working in research and science: 
"I started paying more attention to the people around me, to the impact I could create," Maha said. "For me, [success] could be inspiring someone to keep going…or mentor an intern to help find the right path."
"But now [success] can be very simple, like seeing a smile on the face of someone who was struggling to write a paper, or finding a job," she added. 
When reflecting on their own biggest limiting belief when it comes to being successful as a woman in science, both speakers talked about the internalized bias and imposter syndrome they faced throughout their careers. They emphasized the importance of not being afraid to make mistakes and challenging these beliefs to overcome these barriers.
"We don't always have to be 100%," said Maha. "We are people, we are human. Sometimes we are subject to making mistakes. But we need to learn from our mistakes."
When asked to share situations where their attainment of success was compromised because they were a woman, and how they navigated it, both Maha and Paula reflected on the importance of speaking up and advocating for oneself, finding allies and mentors, and building a strong network of supportive colleagues, peers and family members.
Concluding the event, WIRES member and panel host Muzna Alvi asked both participants to offer women in research and science practical advice on role modelling success. 
Paula focused on the importance of collaboration and supporting others: 
"Science is a collaborative effort. So I would say try to be part of groups within your field of work and personal interests. But also create a better environment in your groups by supporting other people's work…you will get really great rewards from that." 
Maha focused on patience and determination: 
"The compass came before the clock, so keep your direction in mind. It doesn't matter when you get there. Because you know you will."
​​What else is happening at WIRES?
WIRES is a vibrant community of CGIAR women in science and their allies. To get involved: