Strengthening producer organizations is key to making finance inclusive and effective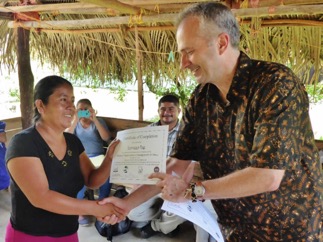 As part of the "Innovative finance for sustainable landscapes" interview series, the International Institute for Environment and Development's (IIED) Forest Team Leader Duncan Macqueen spoke with Tropenbos International's Nick Pasiecznik on increasing finance and investment in sustainable forestry and farming for smallholders.
"The challenge is to build strong producer organizations and change the perceptions of risk, return and transaction costs," Macqueen said. This highlights direct support for strengthening membership, management and business as a strategy to develop bankable businesses with investment returns that are attractive to potential financiers. This will, in turn, improve livelihoods and provide an incentive for sustainable forest management.
A training course for women enterprise groups in Belize: "something we should be doing more of". ©Macqueen/IIED