Steering the seed revolving fund initiative to meet growing farmers' demand for certified seed
From
Published on

04.10.19

Impact Area
Funders

Bill and Melinda Gates Foundation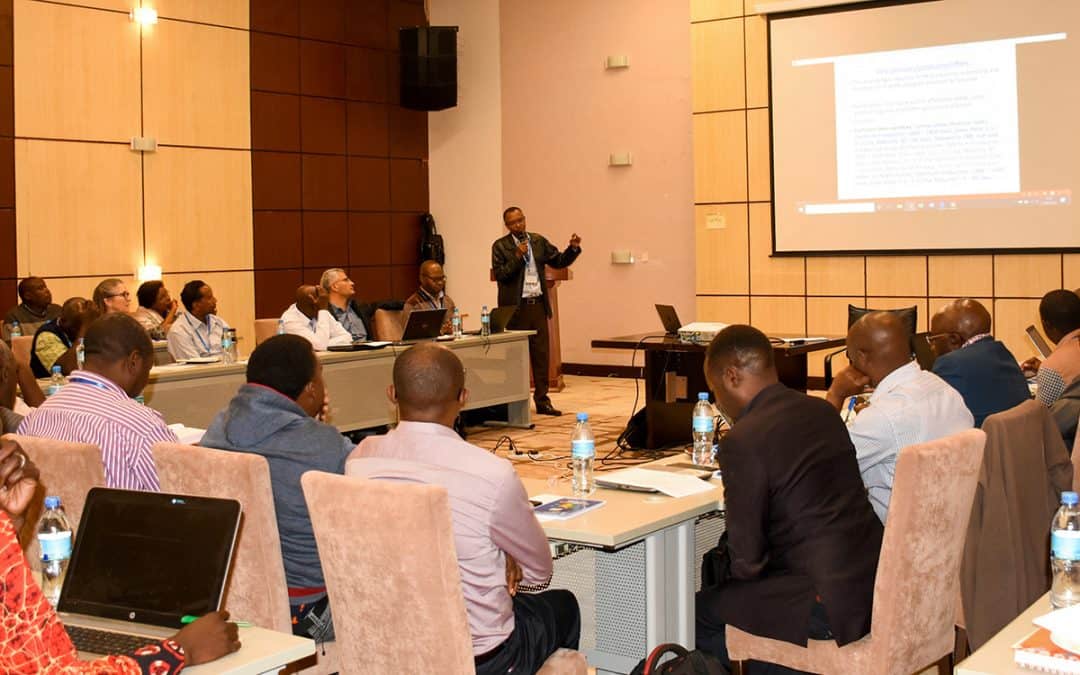 Adoption of new varieties can never be successful until efficient seed delivery systems are in place. To increase the efficacy and impact of the existing 'seed revolving fund initiative' for groundnut and sorghum crops a decision to form a steering committee was taken at a recent AVISA project meeting in Tanzania.
The Tanzanian seed sector comprises of a wide variety of stakeholders from the public and private sectors, as well as civil society actors involved in seed production, processing and marketing. Currently, there are more than 100 private seed companies operating in Tanzania. However, only 5.3% of the seed used in Tanzania is certified. When it comes to sorghum and groundnut seed production, very few seed companies are involved.
The proposed steering committee will comprise of representatives from various actors along groundnut and sorghum value chains to oversee the implementation of the initiative's activities, such as following up on the agreed action plan for 2019-2020; consulting other countries growing groundnuts; and preparing a market intelligence model for the crops to create sustainable and reliable market channels/systems among others.
According to Ms Aline O'Connor and Dr Emmarold Mneney from AgriExperience, a consulting firm focused on developing strong seed systems in sub-Saharan Africa, Tanzania's private sector seed market is among the fastest growing in East Africa and despite severe climate change effects on agriculture, the country is still relatively attractive as a seed production location. The two noted that there is need for increased efficiency, coordination, and performance of key public institutions in Tanzania to enable a healthy and sustainable private sector-oriented seed sector that delivers a wide range of high quality seed and varieties to farmers and other end users. AgriExperience is funded by the Bill & Melinda Gates Foundation for modernization of State Agencies to enhance the seed sector in Tanzania.
Tanzania's private sector seed market is among the fastest growing in East Africa and despite severe climate change effects on agriculture, the country is still relatively attractive as a seed production location. Ms Aline O'Connor and Dr Emmarold Mneney from AgriExperience, a consulting firm
Mr Joseph Nzunda, National Coordinator of Oil Seed Research Program, TARI, said the seed revolving fund initiative was started in 2016 under the Tropical Legumes III project with groundnut and later included sorghum. The Groundnut Seed Roadmap had over 400 farmer research groups, farmer associations, over 100 individual seed entrepreneurs, private seed companies, non-governmental organizations, and TARI Naliendele sister research institutes. Mr Nzunda expressed his wish to see the seed revolving fund initiative grow in the near future. D Justin Ringo, National Coordinator for Sorghum, TARI, emphasized on breeding sorghum for specific markets.
ICRISAT staff participating in the meeting shared their observations. Seed Systems Specialist, Dr Essegbemon Akpo said that the initiative provides room for seed companies to invest and grow their seed business to bridge the gap of farmers' access to seed. Principal Scientist-Breeding, Dr Ganga Rao, said that it was important to take up promotion activities to update farmers' knowledge on improved varieties.
At the meeting, participants reviewed the progress of the seed revolving fund initiative during 2018-2019, deliberated on the strategies to sustainably involve seed enterprises; and developed a joint work plan for 2019-2020. Recommendations included the strengthening of the ASA-TARI-Naliendele collaboration in basic seeds production and training of more ASA staff to supervise groundnut production.
The participants developed two joint work plans for 2019-2020 capturing the activities to be carried out and the timeline. One plan involves Agricultural Seed Agency (ASA), Tanzania Official Seed Certification Institute (TOSCI) and TARI as the stakeholders. According to the plan, the stakeholders will ensure there is supply of breeder seed and foundation seed, create awareness, facilitate training of ASA staff at TARI, develop seed business model with support from seed companies (contract growers), conduct field inspection during flowering and harvesting; and have a timeline for carrying out the activities. The other plan involves seed companies, NGOs, farmer organizations, ASA, agro-dealers, TARI Naliendele, district council and Tanzanian Seed Trade Association (TASTA). The stakeholders in this plan will carry out the following activities:
Streamline groundnut seed packaging to respond to seed regulation;
Seed packaging for commercialization;
Demonstration of variety and complementary technology;
Situation analysis of groundnut seed market;
Develop communication materials such as leaflets, posters, and factsheets for information dissemination;
Conduct field days;
Participate in agricultural shows and rural seed fairs;
Link seed companies to development partners for possible funding support;
Carry out radio advertisements – at least six per year;
Link major off-takers and farmers – development of at least one business contract between farmers and traders and creation of an inventory of the value
chain players.
The AVISA Seed Revolving Fund Review and Planning Meeting for Tanzania Groundnut and Sorghum Partners was held in Arusha in September.
Read more on Seed Systems and Online digital seed catalogue and seed roadmap tool.
Project: Accelerated Varietal Improvement and Seed Delivery of Legumes and Cereals in Africa (AVISA)
Funder: Bill & Melinda Gates Foundation
Partners: ICRISAT (lead), International Center for Tropical Agriculture (CIAT), International Institute of Tropical Agriculture (IITA) and National Agricultural Research Systems partners (NARS) from 7 African countries
CRP: Grain Legumes and Dryland Cereals
The post Steering the seed revolving fund initiative to meet growing farmers' demand for certified seed appeared first on Grain Legumes and Dryland Cereals.