Stakeholders meet discusses solutions to unshackle Myanmar's groundnut value chain
From
Published on

18.03.19

Impact Area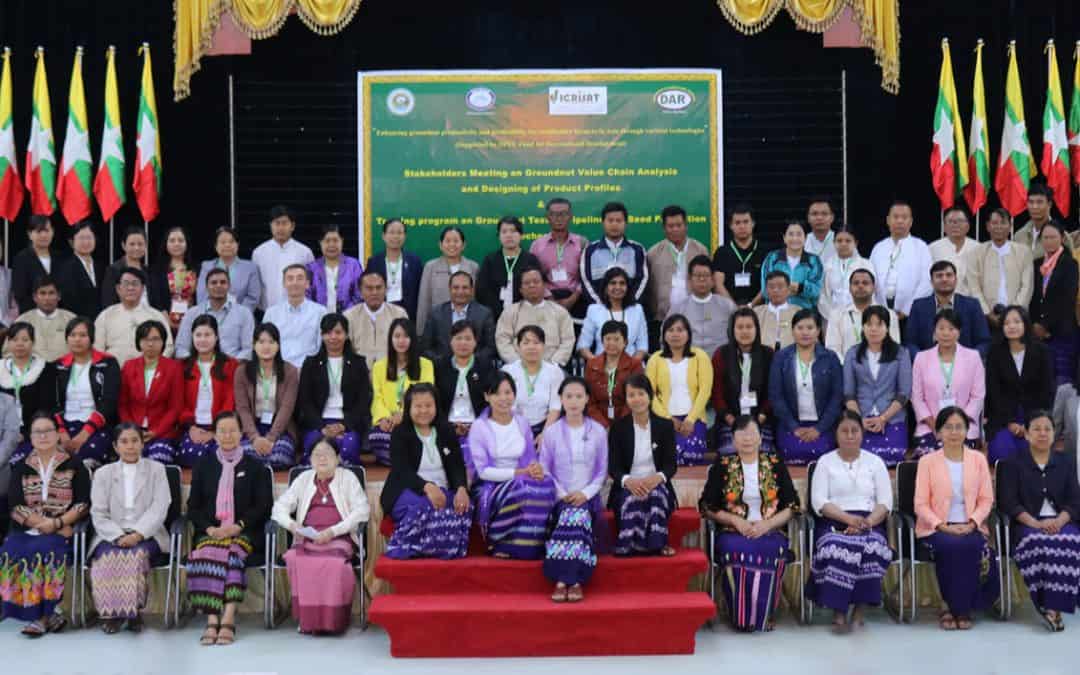 Why does an ageing variety command 20% of land under groundnut cultivation? How can existing seed systems be strengthened? What type of varieties do industries need? These and other key issues facing Myanmar's groundnut farming were discussed recently at a stakeholders meet organized to help develop market-desired varieties.
Improved varieties are restricted to 30% of groundnut cultivated area in Myanmar. The participants at the meeting called for development of new groundnut varieties with local adaptability, systematic seed multiplication systems, reduction in post-harvest losses through use of improved technology and efficient storage. The event was organized on 19 and 20 February in Nay Pi Daw, Myanmar.
Oil producers voiced preference for high oil varieties while food processors demanded uniform kernel size. Groundnut with high oleic acid content is seen as a future market segment of high value, as it can extend shelf-life of foods and promises significant health benefits. The untapped potential of groundnut oil as a cooking oil, owing to its higher cost compared to imported palm oil, was also discussed during the meeting.
Dr Naing Kyi Win, Director General, Myanmar's Department of Agricultural Research (DAR) recalled the four-decade-long collaboration of DAR with ICRISAT. Currently, the organizations are working together to support groundnut seed systems through an
OFID grant.
"Foliar disease resistance, adaptation to water deficit stress and early maturity are key production traits needed in groundnut varieties across the Central Dry Zone of Myanmar," Dr Pooran Gaur, Director, RP-Asia, ICRISAT, said after summarizing the feedback from the extension staff of Department of Agriculture who closely work with farmers.
The participants at the meet included representatives of oil processing industry, seed sector representatives, extension and seed division of Department of Agriculture (DoA). NGO representatives, including Center for Social Economic Development, and specialists from Network Agriculture Group (NAG), besides those from Syngenta Foundation participated in the meeting. A training program on groundnut testing and seed production technology for 36 trainees was also conducted during the two-day meet.
To know more about ICRISAT's groundnut research work, click here.
Project: Enhancing groundnut productivity and profitability for smallholder farmers in Asia through varietal technologies
Funder: OPEC Fund for International Development (OFID)
Partners: Department of Agricultural Research (DAR)
CGIAR Research Program: Grain Legumes and Dryland Cereals
The post Stakeholders meet discusses solutions to unshackle Myanmar's groundnut value chain appeared first on Grain Legumes and Dryland Cereals.