Spotlight on pearl millet – biofortification and drought tolerance
From
Published on

25.02.20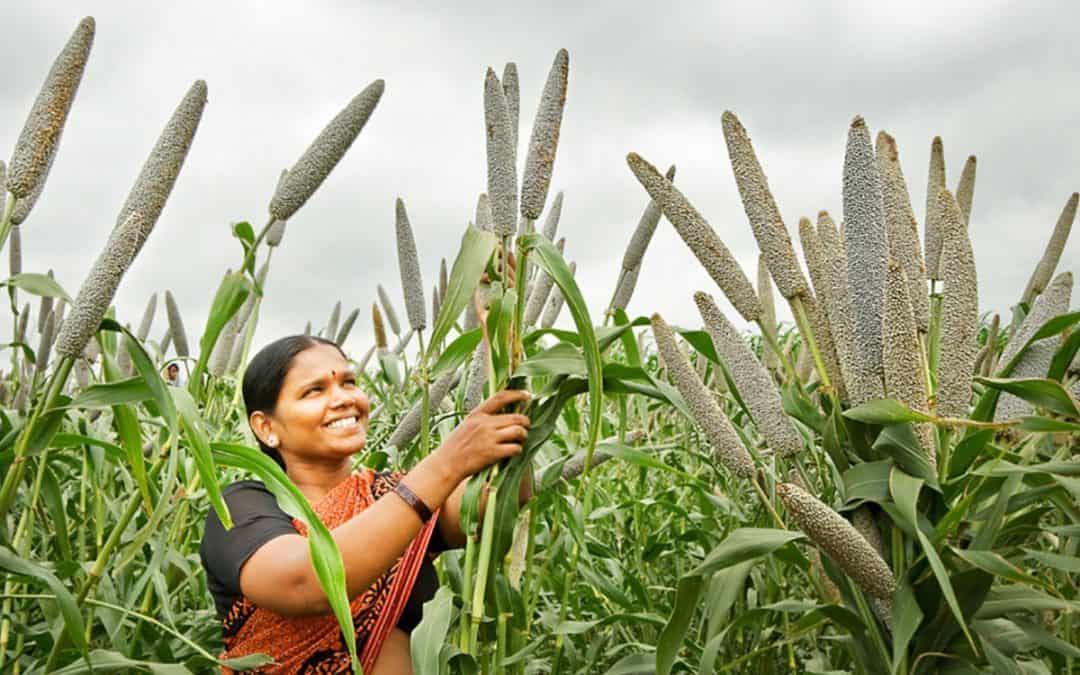 Biofortification
Pearl millet scientists discussed the 'Future micronutrient breeding strategy in pearl millet', and agreed that phenotyping for micronutrient trait was the most important component needed to strengthen and mainstream biofortification activity in pearl millet. This was at the HarvestPlus Pearl Millet Biofortification Review (2019) and Planning (2020) Meeting.
Dr Wolfgang Pfeiffer, Global Director, Product Development and Commercialization, HarvestPlus, commended the Indian Council of Agricultural Research (ICAR) and the All India Coordinated Pearl Millet Improvement Project (AICPMIP) for fixing the minimum levels of iron and zinc content as a criterion for cultivar release/promotion in pearl millet in India. "Crop development needs to ally with the public sector, the private sector and CGIAR centers for testing of products and commercialization," he said. He advocated harmonization of the seed systems across all of the targeted regions.
Dr KK Sharma, Deputy Director General – Research, mentioned that we need to better understand the bigger challenges which pearl millet crop will face when we enhance its utilization, and there is strong need to work on technologies related to processing and packaging. He briefed the group about some recent initiatives by ICRISAT in the area of processing and packaging technology, such as Smart Food and the ICAR-Nutri-Cereal campaigns which were creating awareness about the nutritional value of certain crops.
Dr SK Gupta, currently the Principal Investigator of the project, affirmed ICRISAT's efforts on mainstreaming of micronutrient traits in the pearl millet breeding program, along with continued efforts on targeted breeding for these traits. Dr Gupta presented a strategy to mainstream micronutrient traits into the main breeding program. Dr M Govindaraj, Senior Scientist, Sorghum Breeding, informed the partners that the online XRF facility of the biofortification lab was now available for phenotyping services.
Dr C Tara Satyavathi, Project Coordinator, AICPMIP, revealed that six hybrids and one open pollinated variety (OPV) with high iron content have been released so far at the national level through specially designed high-iron cultivar evaluation trials. She also explained that iron and zinc content and grain yield were the key targets for the immediate future breeding efforts.
Dr RS Mahala, Research Director, Seedworks International Pvt Ltd., emphasized the need for a negative selection protocol after F2 generation, saying that a marker panel that helps in screening the genotypes was very necessary at this juncture.
The HarvestPlus Pearl Millet Biofortification Review (2019) and Planning (2020) Meeting was held on 24 January 2020 at ICRISAT, Hyderabad.
Drought tolerance
Focusing on the drought-prone A1 Zone of pearl millet (India)
Pearl millet scientists brainstormed on breeding suitable material for the highly drought-prone, hot and less fertile A1 Zone, which comprises of West Rajasthan, South Haryana and North Gujarat which receives less than 400 mm of rainfall per annum.
Dr Tara Satyavathi recommended, "The A1 Zone should be re-classified into Arid, Highly arid and Hyper-arid zones and breeding strategies be developed accordingly," while Dr Jan Debaene, Global Head, Breeding, said, "The mechanism of drought tolerance needs to be better understood for implementation of effective breeding program for A1 Zone."
Dr Harish Gandhi, Regional Breeding Lead, mentioned the need to develop directional plans for A1 Zone and said, "Working in partnership with public and private sectors will be key to enhance cultivar diversity in this zone." Dr SK Gupta talked about the shuttle breeding approach which is underway with CAZRI to generate drought-tolerant breeding lines, with selection and evaluation of material done at CAZRI, followed by generation advancement at ICRISAT in the off season.
All attendees unanimously agreed that intensive genetic diversification of seed and restorer parental lines for
A1 Zone is the need of the hour. Target traits like earliness (D50%F <47 days), plant height, high tillering, high biomass, resistance to different diseases, seed size, seed shape, and grain color should be focused on while breeding for A1 Zone.
Dr Rakesh Srivastava, Principal Scientist, Trait Discovery and Genomics, informed that diagnostic markers were available for drought tolerance and that mapping of seedling stage heat tolerance was underway.
Other significant points such as standardizing procedures for thermo tolerance, screening for blast and downy mildew resistance, developing screening indices for drought tolerance, rancidity studies, extra-early material from West and Central Africa were discussed.
An action plan was developed on the key identified research areas which will now be jointly addressed by ICRISAT and ICAR centers.
The meeting "Enhancing pearl millet cultivar diversity to increase productivity in drought-prone A1 Zone through ICAR-ICRISAT collaborative activities" was held on 6 February 2020 at ICRISAT, Hyderabad.


Project: Genetically enhanced pearl millet with high grain iron density for improved human nutrition in India
Funder: HarvestPlus
Partners: CCS Haryana Agricultural University; Junagadh Agricultural University; Vasantrao Naik Marathwada Agricultural University; MPKV College of Agriculture; Prof. Jayashankar Telangana State Agricultural University; Sri Karan Narendra Agriculture University; Karnataka State Seeds Corporation Limited; Maharashtra State Seeds corporation Limited; Ajeet seeds Ltd.; Bayer BioScience Pvt. Ltd.; Bioseed Research India Pvt. Ltd.; Ganga Kaveri Seeds Pvt. Ltd.; Hi-Yield Agri Genetics Pvt. Ltd.; Hytech Seed India Pvt. Ltd.; JK Agri Genetics Ltd.; Kaveri Seeds Company Pvt. Ltd.; Metahelix Lifesciences Pvt. Ltd.; Nirmal Seeds Pvt. Ltd.; Nu Genes Pvt. Ltd.; Nuziveedu Seeds Pvt. Ltd.; Pioneer Overseas Corporation and ICRISAT
CGIAR Research Programs: Agriculture for Nutrition and Health (A4NH), Grain Legumes and Dryland Cereals (GLDC)
Project: Sub-project 1.5 (Pearl Millet) of ICAR-ICRISAT Collaborative Work Plan 2019-2023
Funder: Indian Council of Agricultural Research (ICAR)
Partners: ICAR-All India Coordinated Millet Improvement Project, Jodhpur; ICAR-Indian Institute of Millets Research, Hyderabad; ICAR-Central Arid Zone Research Institute, Jodhpur; Indian Grassland and Fodder Research Institute, Jhansi; ICAR-Indian Agricultural Research Institute; State Agricultural Universities and ICRISAT
CGIAR Research Program: Grain Legumes and Dryland Cereals