Showcasing the potential to build climate resilience in Asian Mega-Deltas
From

CGIAR Initiative on Asian Mega-Deltas

Published on

18.10.23

Impact Area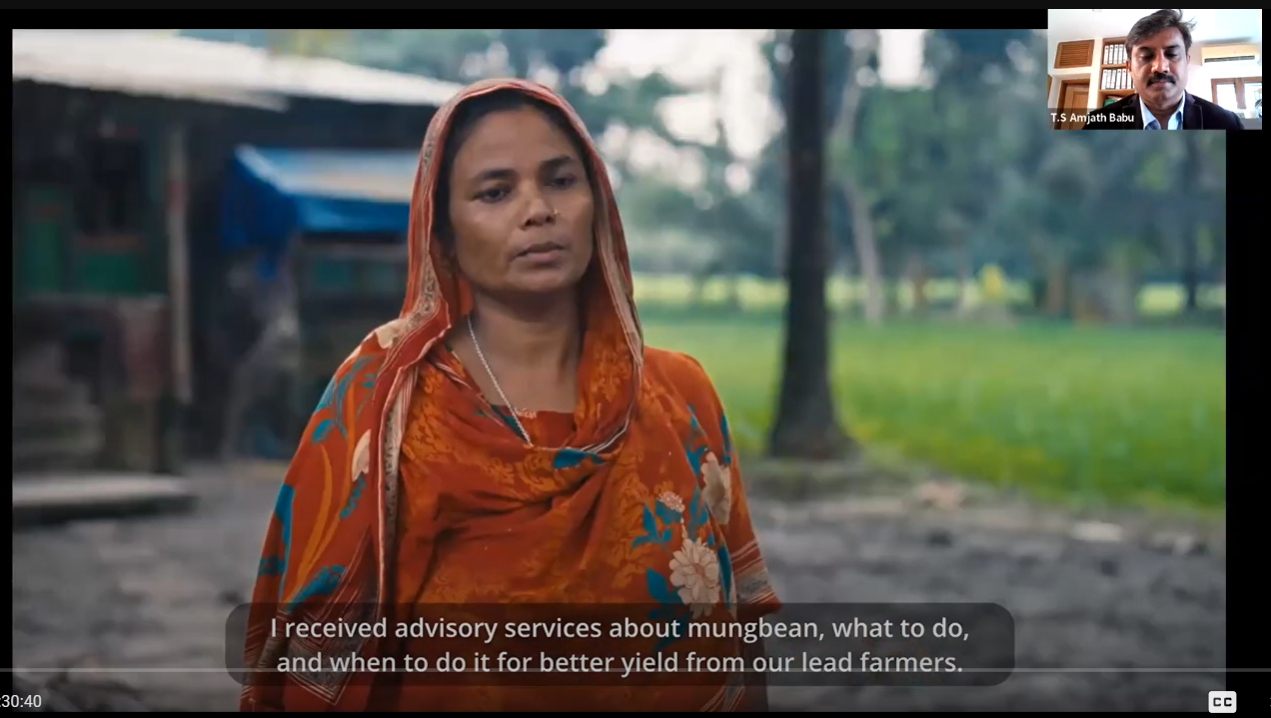 In a bid to combat the impact of climate change on farmers and other value chain actors in major deltas, the CGIAR Initiative on Asian Mega-Deltas (AMD) is working towards transforming the agri-food system and improving livelihoods for stakeholders. In a recent South Asia Resilience Hub Virtual Event titled Securing the Food and Agriculture System of Asian Mega-Deltas for Climate and Livelihoods Resilience, various activities of AMD were presented and discussed, showcasing the potential to build climate resilience across the different Asian Mega-Deltas.
The session focused on two parts: the Bangladesh session and a South-South exchange. In the Bangladesh session, experts from the International Maize and Wheat Improvement Center (CYMMIT) and International Rice Research Institute (IRRI) Bangladesh presented innovative models and strategies. Dr. Amjath Babu and Anisur Rahman Tipu of CYMMIT shared insights on the women-to-women climate information service model, which helps mitigate risks for smallholder farmers and microfinance. Dr. Manoranjan Mondal and Pinky Ray of IRRI presented on resilient production systems for ensuring food security in coastal communities of Bangladesh.
In the South-South exchange, Mr. Sok Sao of WorldFish (WF) Cambodia showcased a case study on water's role in improving fisheries and rice production in Boeng Ream, Kampong Thom. This was achieved through the collaboration between the Community Fish Refuge Committee and the Farmer Water User Community. Dr. Nozomi Kawarazuka of the International Potato Center (CIP) shared knowledge on saline-tolerant potato and sweet potato production in rice cropping systems in the Mekong Delta, Vietnam. Furthermore, Dr. Dhiman Burman of the Central Soil Salinity Research Institute (CSSRI) presented a farmer's story on land shaping technology for climate resilience in salt-affected coastal zones in West Bengal, India.
Each presenter showcased innovative adaptation technologies based on nature-based solutions and local potential. Additionally, they presented extension models that are best suited for disseminating and scaling up the technology, contributing to the development of a sustainable and resilient agricultural system. These approaches empower women and improve the resilience of the agrifood system in the Asian Mega-Deltas.
To learn more about the topic, watch the:
• Session summary by the moderator, Dr. Humnath Bhandari of IRRI
• Full session

The Resilience Hub is an important platform that connects various stakeholders to address the effects of climate change and increase the contribution of non-state actors to resilience building. Regional Resilience Hubs play a crucial role in amplifying the voices of the most vulnerable and driving the global resilience agenda, and the South Asia Resilience Hub is currently organized by International Centre for Climate Change and Development (ICCCAD).