Shinier cows, more and better milk, income increase: First results of co-designing silage technology with a women farmer group in Tunisia
From

CGIAR Initiative on Agroecology

Published on

17.07.23

Impact Area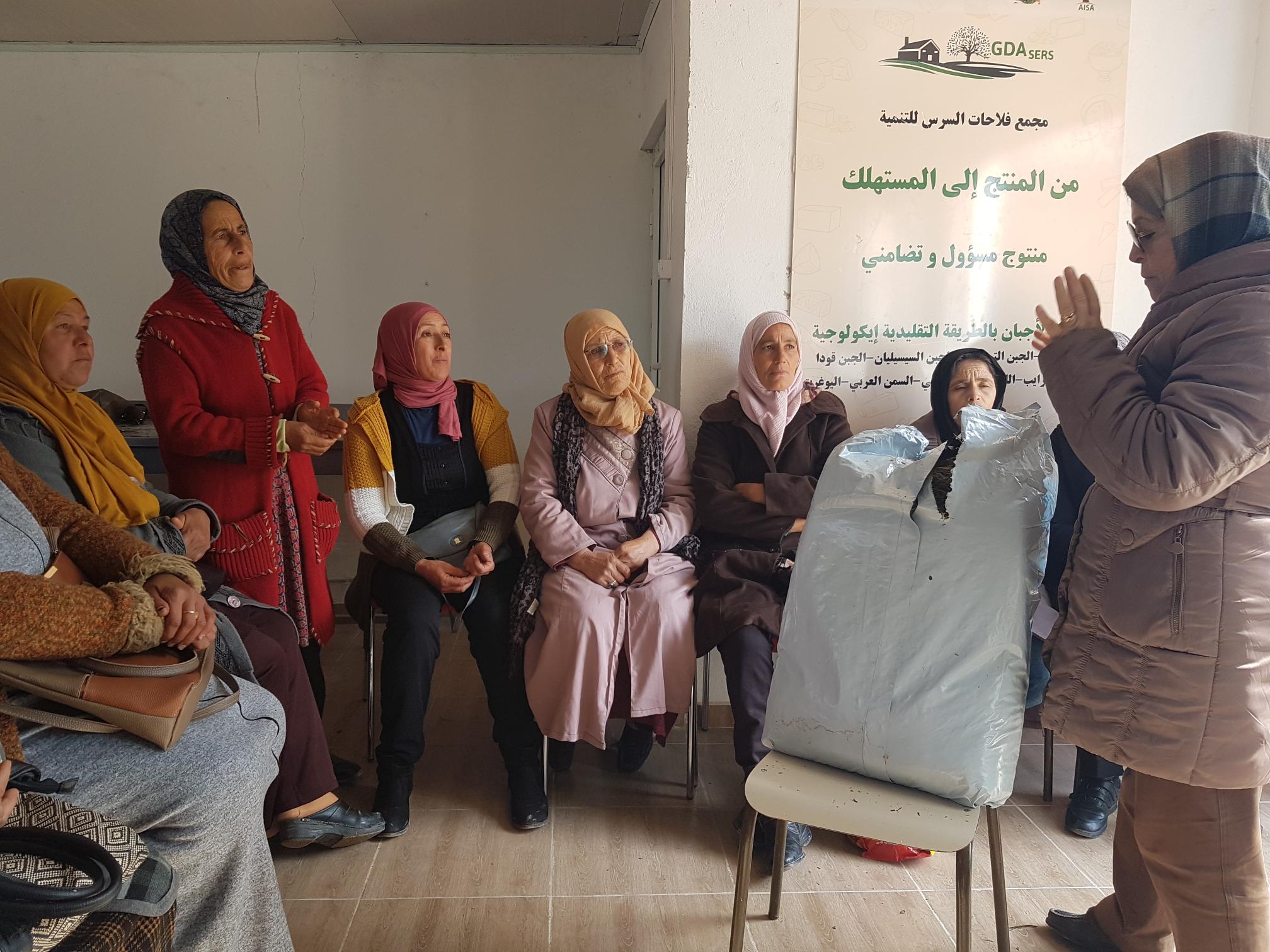 Author of this blog: Udo Rudiger, Agricultural Innovation Specialist, ICARDA – Tunisia
Small-scale livestock farmers in Central Tunisia are suffering from scarcity of feed resources and increasing feed prices. Since the beginning of the Ukraine war, prices for feed concentrates have significantly increased from about 350 $ / ton to almost 500 $ / ton. In addition, the extreme drought of the last agricultural season 2022-2023 has increased prices of other feed resources like straw and hay by 30% while milk prices, fixed by the Tunisian government, remain unchanged [1]. This situation has reduced profitability of dairy farmers to such an extent that some farmers abandon milk production leading to milk shortage in the Tunisian markets.
Silage is an alternative feed resource that is less expensive than feed concentrates and important for increasing milk quality and quantity. Silage is grass that has been 'pickled'. It is a method used  for conserving fresh grass, legumes or green forage for ruminants. The grasses are cut, compacted, and stored and fermented in anaerobic conditions. Silage could therefore be an interesting option for dairy farmers to keep forage in good conditions for a long time and provide high-quality ruminant feed for increasing profitability.
Co-designing silage technology
In Tunisia, the CGIAR initiative on Agroecology aims to co-design technical innovations with farmers within an Agroecological Living Landscape (ALL). One of the actors of the ALL is a women farmer group in the village of Sers in central Tunisia. The group is composed of about 50 women engaged in livestock and dairy production. During participatory visioning exercises, the issue of reduced profitability of milk production has been raised by the women farmers. ICARDA and its national partner organization OEP (livestock and pasture office) proposed silage technology, which was new to the farmers.
In February 2023, a first meeting with the women farmer group was organized to explain in detail the use of silage in dairy production and its advantages. Participating women were asked to touch and smell the processed grasses to learn about silage quality. The interest was created, and the beginning of a co-design process made.
| | |
| --- | --- |
| Fig 1: Demonstration of silage to female dairy farmers (U.Rudiger, 2023). | Fig 2: Farmers touching silage for the first time (U.Rudiger, 2023). |
Two female farmers of the group showed keen interest to test the silage feeding technology with their own cows and looking at its impact on milk quality, quantity, net benefit and overall performance of the cows. A very simple participatory protocol was developed together, with one control group (farmer practice) and two treatment groups (with silage in the feed ration). After two weeks of adjustement of quantity of the new feed, data were collected for five weeks. While the silage quantity in group 1 and 2 were increased steadily, the quantity of concentrates, hay and straw in group 2 were reduced progressively. On week five, results were as follows (Table 1).

Chadlia Noman, one of the trial participants states: "Already after three weeks I observed that the cowhide is much shinier, and more rumination is taking place, showing that the cow is in a better shape. Also the milk quality is improved when adding silage to the feed. It seems that fat content has increased. My kids really like the taste."
| | |
| --- | --- |
| Fig 3: Chabia's cows (U.Rudiger, 2023). | Fig 4: Mrs Chabia, OEP extension staff and silage bags (U.Rudiger 2023). |
"But what is equally important are the economic aspects of the trial. Average milk production has increased between seven and ten liters per day and cow. Although feeding costs are higher, at the end I can earn about 2 – 3 TD more per cow and day. With my eight cows, I can have a net income increase of up to 25 TD (1 TD = 0.33 US$) per day" states Mrs Raja Fiaji, the second lady participating in the trial.

The results of this co-designed technology have been shared with the other members of the women's dairy farmer group. Five of them have already purchased some silage in bags from the silage factory. The plastic bags are collected and recycled in a factory in the governorate's capital Siliana. Collectors pay 1 TD / kg of plastic bag; another small additional income for the innovative silage using farmers. And recycling is part of the agroecological principles.
This participatory trial with farmers has not respected all scientific requirements to draw general conclusions. Nevertheless, it has created awareness and demand for a technology that can significantly contribute to a better valorization of own biomass within the agroecological transition pathway in Tunisia. Moreover, silage improves animal health (4th AE principal), leads to economic diversification (7th AE principal), and reduces imported external inputs (2nd AE principal) as silage is produced in Tunisia unlike concentrates containing soybean and maize which are imported.
[1] Source : http://agridata.tn/dataset/d60af030-4f01-4641-b01a-85fc6ad23f4b/resource/2f974d26-e594-410b-9e61-b63e35e81912/download/evolution-du-prix-moyen-de-vente-de-laliment-concentre-pour-ruminant-en-dinar-la-tonne.xlsx