'Science of Discovery to Science of Delivery' discussed at University of Cambridge
From
Published on

18.12.19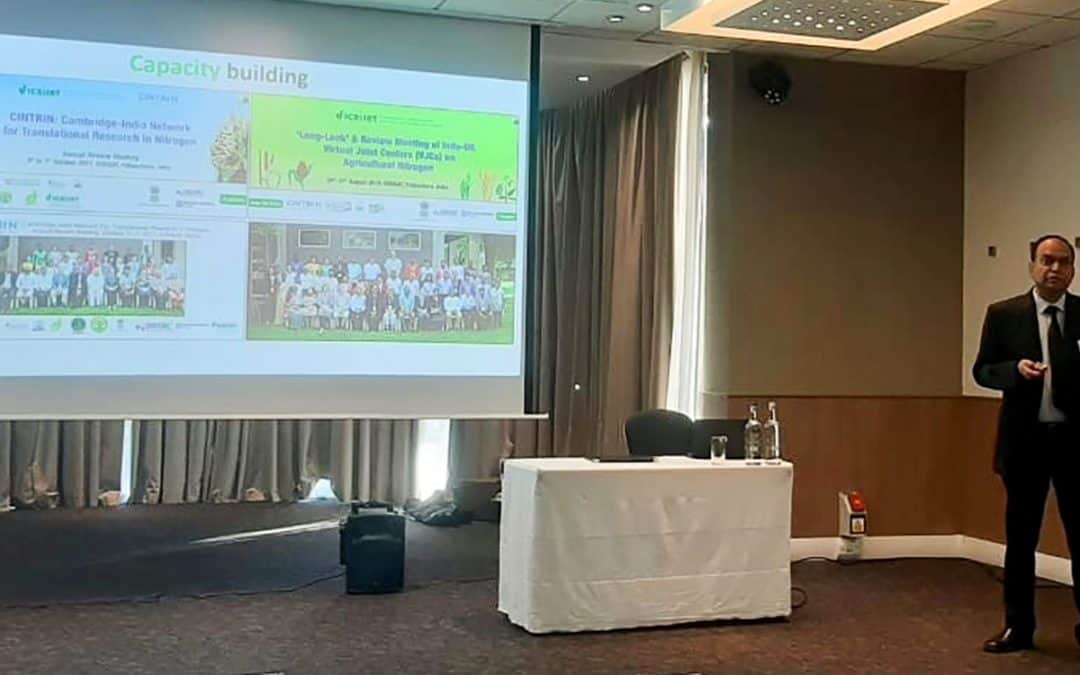 Partnerships are key to deliver on ICRISAT's mission of 'Science of Discovery to Science of Delivery'. To discuss several of ICRISAT's ongoing collaborative programs including CINTRIN, TIGR2ESS, MillNET_i, Dr Rajeev Gupta, Principal Scientist and Theme Leader, Genomics and Trait Discovery, ICRISAT, visited the University of Cambridge (UCAM), UK. He delivered a lecture at the Department of Plant Sciences about 'Engineering N-storage capacity of plants to improve drought tolerance', a theme relevant to climate change and food security. Dr Gupta, who is also the FP5 leader of CRP-Grain Legumes and Dryland Cereals, made this visit on 6 December 2019.
As the Principal Investigator of CINTRIN, Dr Gupta also attended a 'Dissemination Event' – a three-day workshop – on agricultural Nitrogen (Ag N) at BBSRC-UKRI. The event was conducted to deliberate on recent advances in Ag N, including biological N use efficiency, biological N fixation and agronomical N use efficiencies in various cropping systems in India, China, Brazil and UK. CINTRIN is one of the four Virtual Joint Centres (VJCs) set up for studies on Ag N. At the event, funding agencies from UK, India, China and Brazil expressed satisfaction at the outcomes of VJCs and considered possible continued support for such programs in future. The workshop was held during 3–5 December 2019.
CINTRIN – the Cambridge-India Network for Translational Research in Nitrogen – is led by ICRISAT and NIAB, is one of four Virtual Joint Centres in Ag N in India, delivered in partnership by the Biotechnology and Biological Sciences Research Council (BBSRC), the Natural Environment Research Council (NERC) and the Department of Biotechnology (DBT), India. The major partner institutes of CINTRIN include ICRISAT, PAU & NIPGR from India and NIAB, Department of Plant Sciences and SLU, Cambridge University, UK.
Partner Institutions: ICRISAT, Punjab Agricultural University and National Institute of Plant Genome Research from India, National Institute of Agricultural Botany, Department of Plant Science, Cambridge University, UK.
CGIAR Research Program: Grain Legumes and Dryland Cereals