Scaling Through the Value Chain: India's Arti Roller Flour Launches Zinc-Enriched Wheat Product
From

HarvestPlus

Published on

11.10.22

Impact Area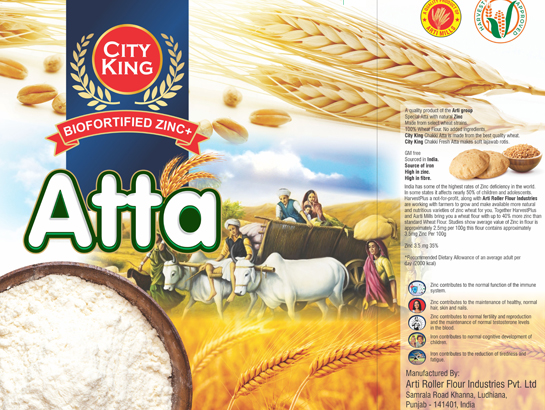 In a significant step toward sustainably scaling biofortified crops and foods in India, a prominent milling company has launched a branded whole-grain flour product made with zinc-enriched wheat. The resulting increased demand for zinc wheat for flour production will provide a new incentive for Indian farming households to grow this nutritious crop, benefiting their livelihoods as well as their health.
Arti Roller Flour Industries Pvt. Ltd., based in Ludhiana, Punjab, was established in 1998 and has the capacity to reach half of the homes in India as well as the food service industry with their individual, pre-packaged products. Their zinc wheat flour, branded under the name City King, is being introduced initially in Punjab but will go nationwide over time.
"We are delighted  to have the opportunity to partner with HarvestPlus to help scale up the production of zinc enriched wheat flour in India," said D.C. Singla, CEO of Arti Roller Flour. "It is clear that consumers preference towards naturally- nutritious foods is gradually increasing. In fact, biofortified food can lead India from food security to nutrition security" he added.