Safer food for everyone: How CGIAR brings food safety research to markets where the health burden is highest
From
Published on

06.06.22

Impact Area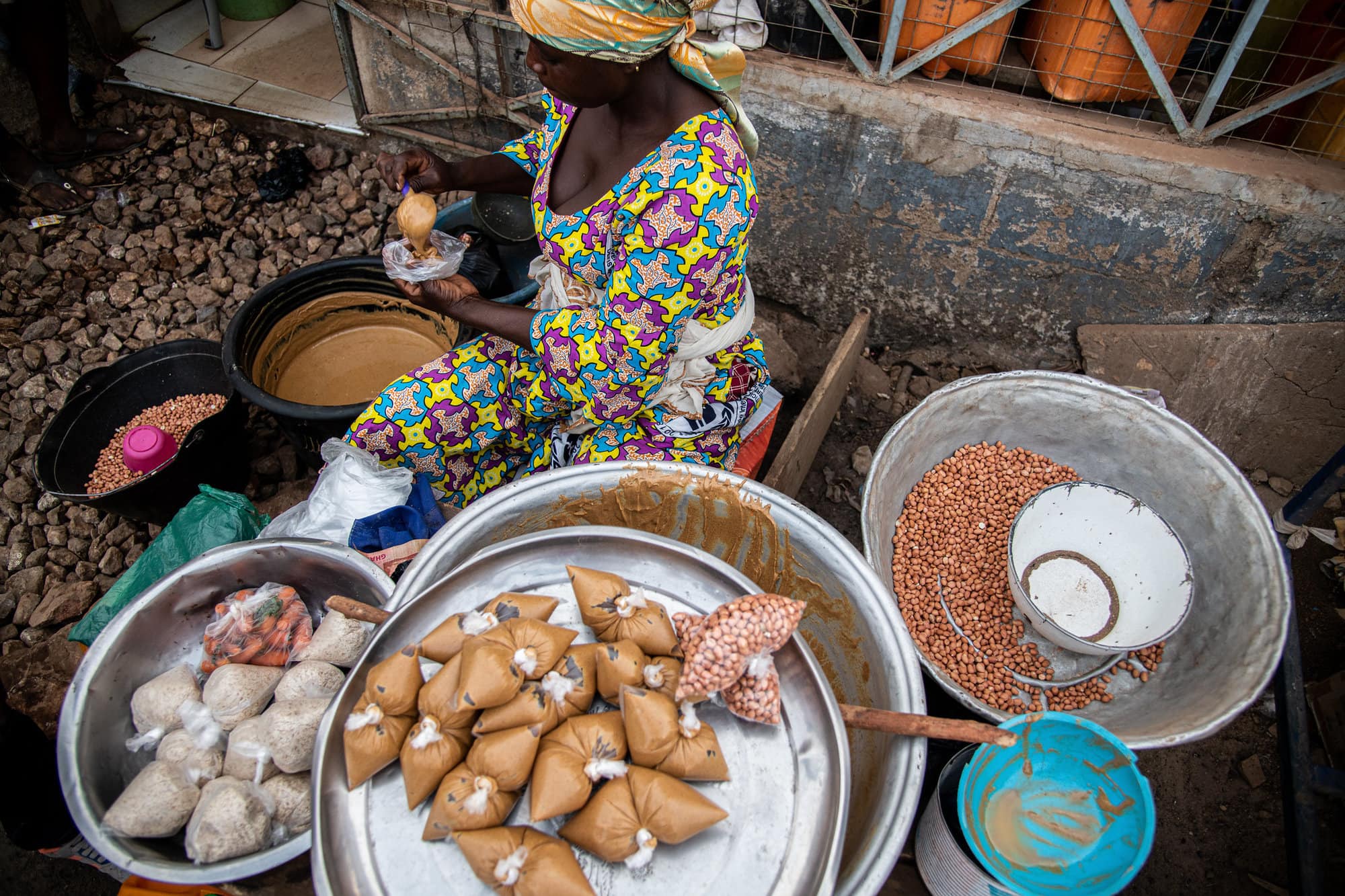 There is no food security without food safety. But every day, billions of people eat without knowing if their food will make them ill – or even kill them. The health burden of foodborne diseases is comparable to that of the 'Big Three' infectious diseases (malaria, HIV-AIDS, and tuberculosis), and the great majority of this burden is borne by those who can least afford it: poor people in low- and middle-income countries (LMICs) who rely on traditional food systems.
A 2015 study by the World Health Organization (WHO) estimated that 31 foodborne disease pathogens cause 600 million illnesses and 420,000 deaths globally every year, while another study (which CGIAR partnered) found food hazards and foodborne diseases cost LMICs a combined total of more than USD100 billion each year. But until recently, donor investments in improving food safety in these countries have been too low – and largely spent on problems that little benefit poor people's health, as shown by CGIAR studies on development projects in Africa.
On this year's World Food Safety Day, we share key insights from CGIAR's approach, achievements, and aspirations for increasing food safety in LMICs.
From research to action. CGIAR is the only global agricultural research center targeting hunger, poverty, and natural resources in developing countries. It was founded half a century ago, in response to fears that rapidly growing populations would result in mass famine. CGIAR catalyzed the Green Revolution, saving millions of lives. Currently, nearly half of the land sown with the world's most-eaten foods is planted with varieties resulting from CGIAR research. However, dramatic changes in food production, a growing population, and the globalization that occurred alongside it as countries became more developed, also served to lengthen and complexify food systems – which in turn boosted rates of foodborne disease.
In this context, CGIAR has stepped up to help address the food safety issues to which its Green Revolution efforts contributed. Starting in the 2000s, it initially focused on toxins in staple foods such as wheat, rice, and maize, and then expanded its remit to cover foods that are more nutritious, but riskier from a food safety perspective, such as fresh animal products and vegetables. In the developing countries where CGIAR works, most fresh food is sold and bought in traditional or informal markets. These markets feed the poor, support livelihoods, provide social benefits and sustain communities. However, they can also make food consumers sick, and – especially in the case of wet markets – have been associated with the emergence of new diseases such as COVID-19.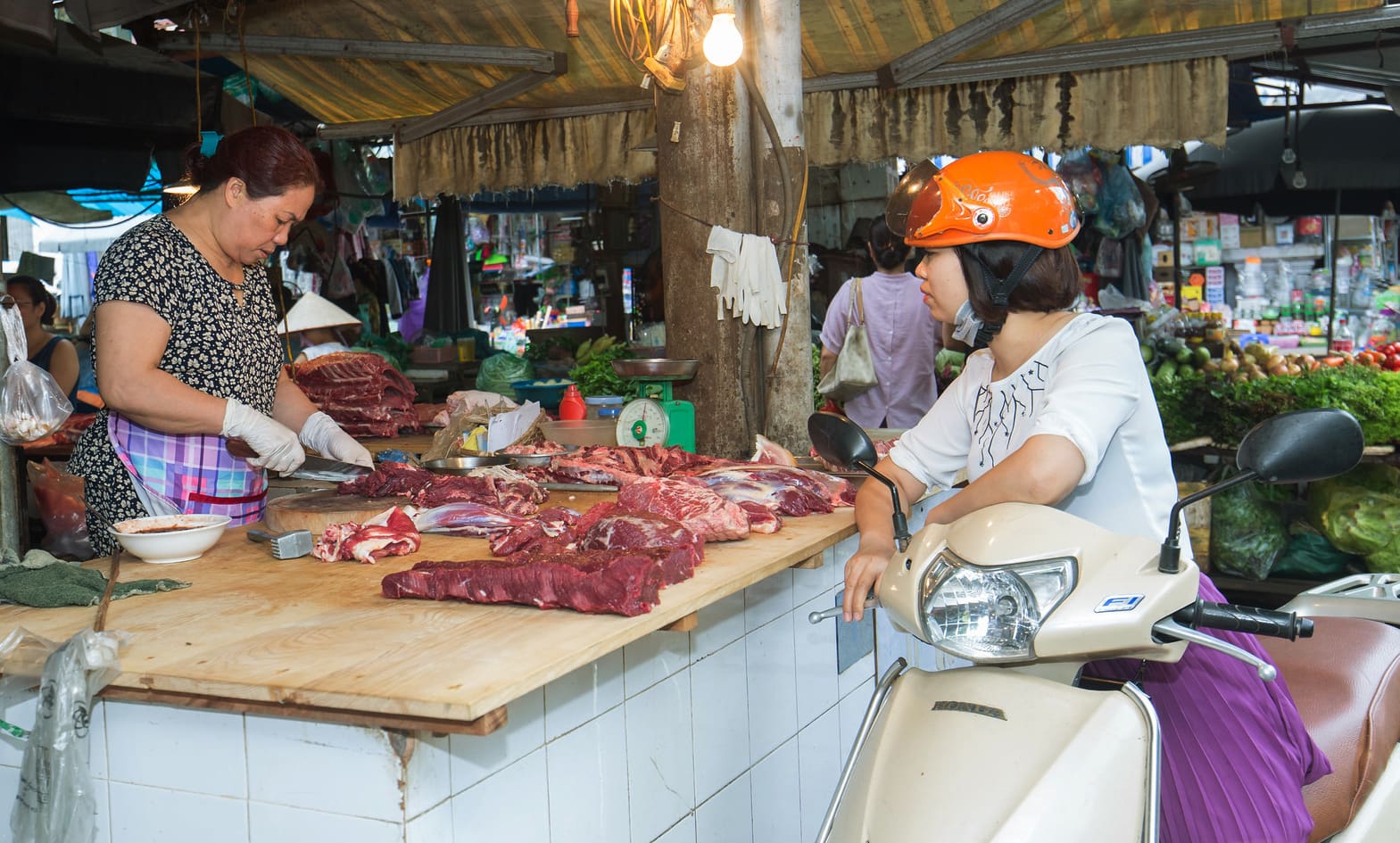 Maximize benefits, minimize risks. CGIAR has adapted the gold standard risk-based approaches used in high-income countries to the data-scarce and complex food safety systems of LMICs. Where food safety is one of many challenges, risk analysis is necessary but not sufficient to solve broad and systemic problems. Following a One Health approach that takes people, animals, and the environment into account in a holistic way, we brought together epidemiologists, economists, technologists, and sociologists to develop new methods and tools to understand the impacts of foodborne disease and identify the most efficient interventions. Our early results were published in the first book on food safety in the informal food markets of Africa.
Go where the poor grow. CGIAR research on staple food safety has led to new, effective approaches for managing aflatoxins – a family of toxins produced by fungi on agricultural crops, and often the most important food safety problem for maize and groundnuts. Good agricultural practices, combined with biocontrol – innovative technology whereby the fungi producing toxins are outcompeted and replaced by other, harmless fungi – proved highly effective in farmers' fields, and is now being commercialized in many African countries.
Go where the poor buy. Researchers have recently finished testing a combined intervention to improve food safety in informal markets, known as the 'three-legged stool approach' or 'fix at source', in several countries. This approach posits that informal markets are a promising lever for improving food safety, and this can be done if – and only if –  three conditions are met: authorities and governance are supportive; technology and training is available to market sellers; and incentives are in place for behavior change. The approach is under active development in Africa, and is beginning to go to scale both there and in India.
Downstream and upstream. Bolstered by compelling evidence and results from the field, CGIAR researchers have been able to influence wider policies and practices. They've done so by collaborating with donor, UN, and development agencies, as well as by engaged in global processes such as the UN Food Systems Summit (UNFSS). They've developed game-changing sets of solutions, and built partnerships between the public and private sectors and civil society, leading to new research and development initiatives such as the Food Safety Innovation Lab.  From developing benchmarks for university food safety curricula in East Africa, to launching an education campaign for chicken consumers in Burkina Faso, CGIAR works across locations and scales to solve some of the sector's most pressing challenges.
Moving forward. Food safety finds a natural home within the One Health approach, which is increasingly seen as the best way to tackle health problems arising at the interface of human health, animal health, and the environment. Solutions have been found, but scalability and sustainability require further research and innovation. Larger, faster studies with more rigorous design can generate the evidence and influence needed to create champions and buy-in. In the wake of the COVID-19 pandemic, demand for safe food – and safe food systems – has never been higher. CGIAR stands ready to contribute to making this a global reality.
—
Written by Delia Grace (Professor Food Safety Systems, at the Natural Resources Institute, Joint Appointed Scientist at the International Livestock Research Institute – ILRI) and Hung Nguyen (Co-leader, Animal and Human Health Program, ILRI) with contributions from Monica Evans (science writer, ILRI)
Photos:
Banner photo: A vendor in a market in the town of Zebilla, in Bawku West District of the Upper East Region, northern Ghana. Photo ILRI/Georgina Smith
Market photo: In developing countries, most fresh food is sold and bought in traditional or informal markets, such as this one in Hanoi, Vietnam. Photo ILRI/Vu Ngoc Dung