Rice demand and production projections for 2050: Opportunities for achieving self-sufficiency in Nepal
From
Published on

08.03.23

Impact Area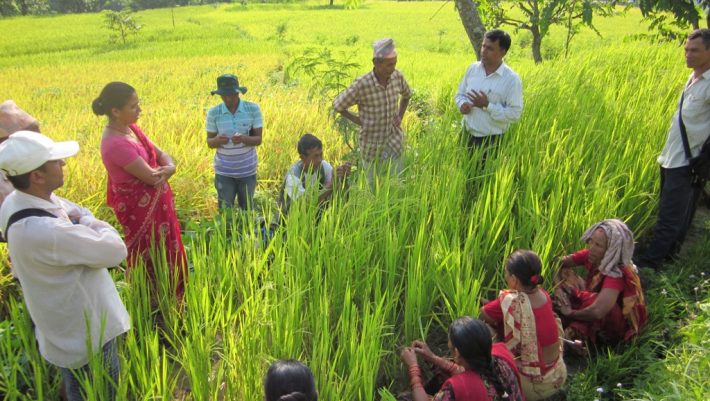 The present trends of demand and supply of rice, in general, revealed that it would be difficult to achieve self-sufficiency in rice production in Nepal at least until the year 2050 under the current rice productivity growth and population growth rate. Thie improved adoption of technologies and management practices by rice farmers and an enabling environment might encourage farmers to invest more in the future to increase productivity and improve efficiency in milling and marketing.
Rice (Oryza sativa L.) is critical to food and nutrition security (67% of total cereal consumption and 23% of protein intake), employment, and income for farmers in addition to its contribution to the economy in Nepal. It contributes about 20% to Agricultural Gross Domestic Product and 7% to Gross Domestic Product being planted in 1.49 million ha with average productivity of 3.76 mt/ha in 2019.
With improved road infrastructure, urbanization, and higher income mostly due to remittance, more people in the hilly and mountainous regions of Nepal have switched to rice-based diets, thus creating demand for branded fine, aromatic, and long-grain rice. The demand for most of this rice in the market is supplied from India, despite its higher market price.
Insufficient production to meet the demand for fine-quality rice is also contributing to the galloping rice import. A recent study revealed that coarse and medium rice varieties cover nearly 76% of the total milled rice and the share of medium fine and fine rice varieties were 17% and 7%, respectively.
However, the study did not notice even a single case of long and extra-long slender rice varieties being milled in the surveyed area.
Domestic production of rice is not sufficient to meet its growing demand. Therefore, rice import in the country is increasing. In order to achieve rice self-sufficiency, aggregate production needs to be increased.
To promote national food security, gaining self-sufficiency in rice production is indispensable. Studies have estimated the demand for rice in Nepal by 2035 but did not include some of the dynamic variables in rice production such as changes in the intervention of improved technology and the likely adverse effects of climate change over a longer period of time.