Rethinking food crisis responses: MENA launch of the CGIAR Initiative on Fragility, Conflict, and Migration
From

CGIAR Initiative on Fragility, Conflict, and Migration

Published on

07.09.23

Impact Area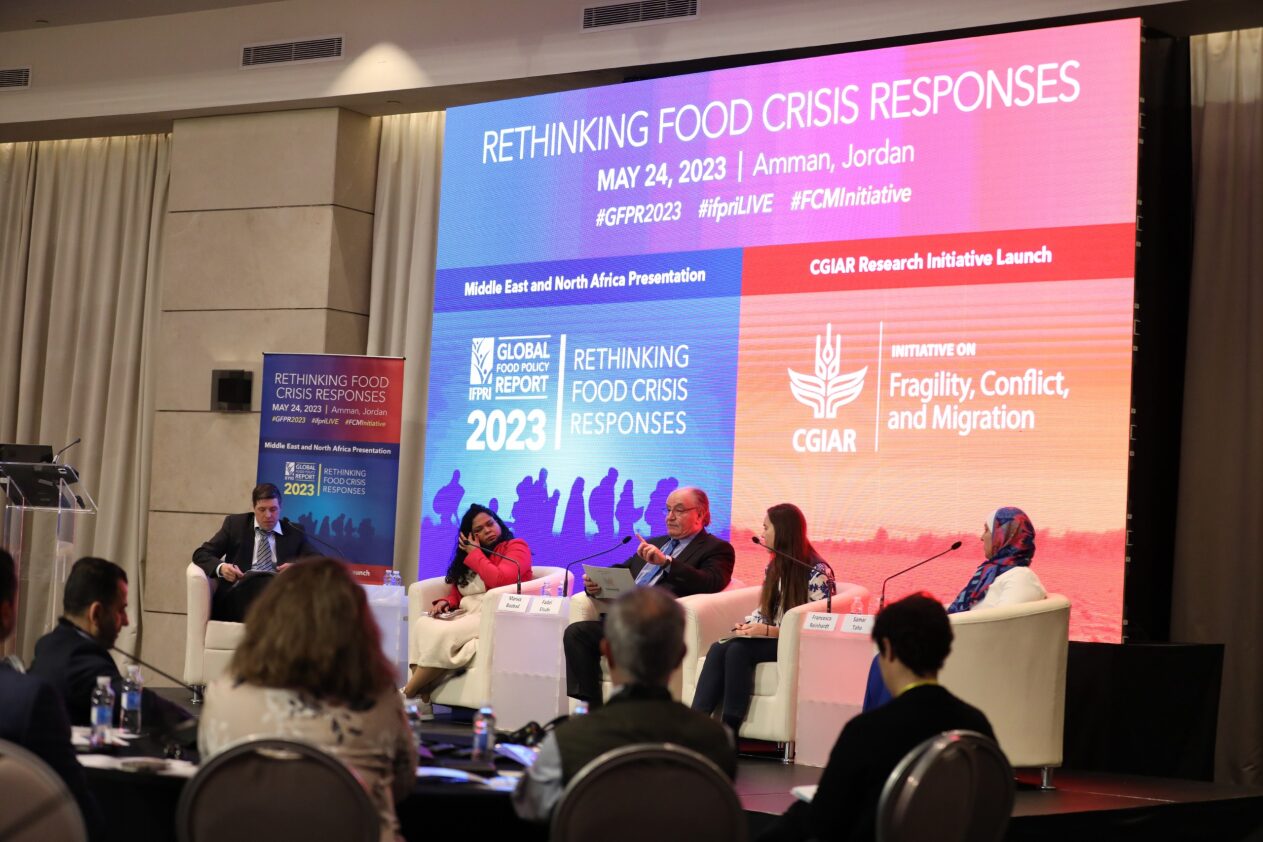 In 2022, the world faced multiple crises. Disruptions to food systems continued due to the protracted pandemic, natural disasters, civil unrest, political instability, and the impacts of climate change. The situation was exacerbated by the war in Ukraine, which created a global food and fertilizer crisis. The Middle East and North Africa (MENA) region, which is among the most vulnerable to climate change and water scarcity, was heavily affected.
The need for evidence to better respond to and prepare for crises is clear – in the MENA region and globally. Against this backdrop, a May 24 event in Amman, Jordan – titled "Rethinking Food Crisis Responses" – drew a lot of attention. The event, co-organized by the CGIAR Research Initiative on Fragility, Conflict, and Migration (FCM), the International Food Policy Research Institute (IFPRI), and the Hayel Saeed Anam (HSA) Group featured presentations of IFPRI's 2023 Global Food Policy Report (GFPR) (bearing the same title) and of the FCM Initiative's research program and goals. It brought together distinguished speakers and panelists from the World Food Program, Yemen Policy Center, International Committee of the Red Cross, CGIAR, HSA, and other regional and international organizations.
IFPRI's 2023 GFPR offers critical evidence to support effective policies and programming to enhance food, land, and water system resilience in fragile and conflict-affected countries, as well as those facing migration-related challenges. The report focuses on crisis prediction and preparation, building resilience, and crisis response that is supportive and inclusive of women, forced migrants, and other vulnerable groups.
The new CGIAR Research Initiative on Fragility, Conflict, and Migration (FCM) takes up this research agenda with a focus on climate resilience, gender equity, and social inclusion. The Initiative forms part of CGIAR's new research portfolio aimed at transforming food, land, and water systems in a climate crisis.
In a video address, Johan Swinnen, IFPRI Director General and Managing Director of the CGIAR Systems Transformation Group, said: "We hope this report helps advance a new paradigm for crisis prevention, mitigation, and response, one that supports robust recovery and greater stability. Moving forward, IFPRI and CGIAR will continue generating evidence to identify the most promising policy and programming options and working with international, national, and local partners to support a more permanent response to food crises."
Commenting on the Report's chapter dedicated to Middle East and North Africa (MENA), Swinnen added: "Many MENA countries had not yet recovered from the COVID-19 pandemic when new challenges were triggered by the Russia-Ukraine war and the food price crisis. Protracted conflicts and climate problems in several MENA countries have compounded the impacts of these shocks. Because the region depends heavily on food imports, it is especially vulnerable to shocks to world food prices and trade. The current food crisis has led to important public policy responses, some of which have helped contain inflation, but the medium- and long-term impacts of the price shock remain to be seen."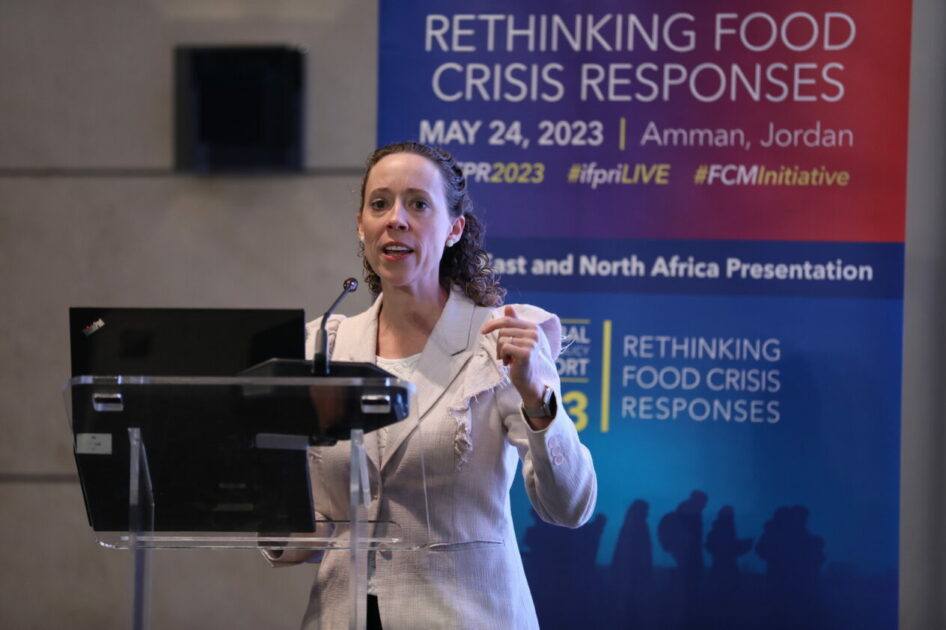 Katrina Kosec, Senior Research Fellow, IFPRI and FCM Initiative Lead, linked the 2023 GFPR with the FCM research agenda: "As the 2023 Global Food Policy Report makes clear, most hungry people live in fragile and conflict-affected places. This underscores the need for the CGIAR to work in partnership with those operating in such settings to generate evidence on policy solutions that work – ones that circumvent governance challenges, promote resilience to shocks, and contribute to stability and social cohesion. The Fragility, Conflict, and Migration initiative picks up this challenge, launching an exciting new set of partnerships to effectively tackle food crises."
Sandra Ruckstuhl, Senior Researcher, International Water Management Institute (IWMI) and Co-lead, CGIAR Initiative on Fragility, Conflict, and Migration, commented: "Vulnerable communities around the world are exposed to more extreme, frequent, and complex crises than ever before. Instability and conflict, migration and displacement, climate change, and poverty all compound to challenge social, economic, and environmental resilience to shock. The new CGIAR Initiative on Fragility, Conflict, and Migration brings together the scientific expertise of CGIAR, the know-how of humanitarian and development practitioners, and the leadership of governments and local communities – to develop rigorous, practical analysis to inform policy and investment that is rooted in prevention, and which integrates our principal objectives that lie at the crux of the humanitarian-development-peace nexus."
"Under the new Fragility, Conflict, and Migration initiative, CGIAR researchers working on the MENA region will be helping to develop evidence on the effectiveness of programs addressing food security in Yemen at the humanitarian-development nexus," said Sikandra Kurdi, Research Fellow, International Food Policy Research Institute. "Planned and ongoing rigorous impact evaluations of agricultural support programs, cash for work, and school feeding, will provide valuable information to the crisis response effort by measuring benefits relative to costs of various interventions designed to help Yemeni households in the short-term while also building longer-term resilience."
In his closing remarks, Rabih Kamleh, Chief R&D Officer, Hayel Saeed Anam Group (HSA), underscored the major roles which scientific research and partnerships play in addressing food security. "We need research and representative data on food and water availability, food access across various value chains, food safety and nutrition, and bio security. Research on communicable and non-communicable diseases related to food and nutrition is also critical. These research topics will give a clear picture for the private sector to be able to develop appropriate strategies and roadmaps to support the food security needs", said Kamleh. "HSA Group is a firm believer in the power of partnership to push the boundaries of possibility. Partnerships with private sector organizations enable researchers to examine new sources of data and collect insights that can be transformative for food policy outcomes across the world. It is our pleasure to partner with CGIAR and IFPRI at the regional launch of the Global Food Policy Report and the FCM Initiative, which comes at a critical time for the MENA region and its communities."
The event led to a lively exchange among participants about how to address crises and food security challenges in the MENA region – through partnerships between the public, private, and third sectors. These ideas are being captured in the FCM research agenda as it goes ahead.
The agenda details and the recording of the May 24 event is available here.
---
For more information about the CGIAR Research Initiative on Fragility, Conflict, and Migration (FCM), please visit the FCM website or contact Initiative Lead Katrina Kosec.