Research is vital to create a just and resilient agri-food system: President of India Smt Droupadi Murmu
From
Published on

09.10.23

Impact Area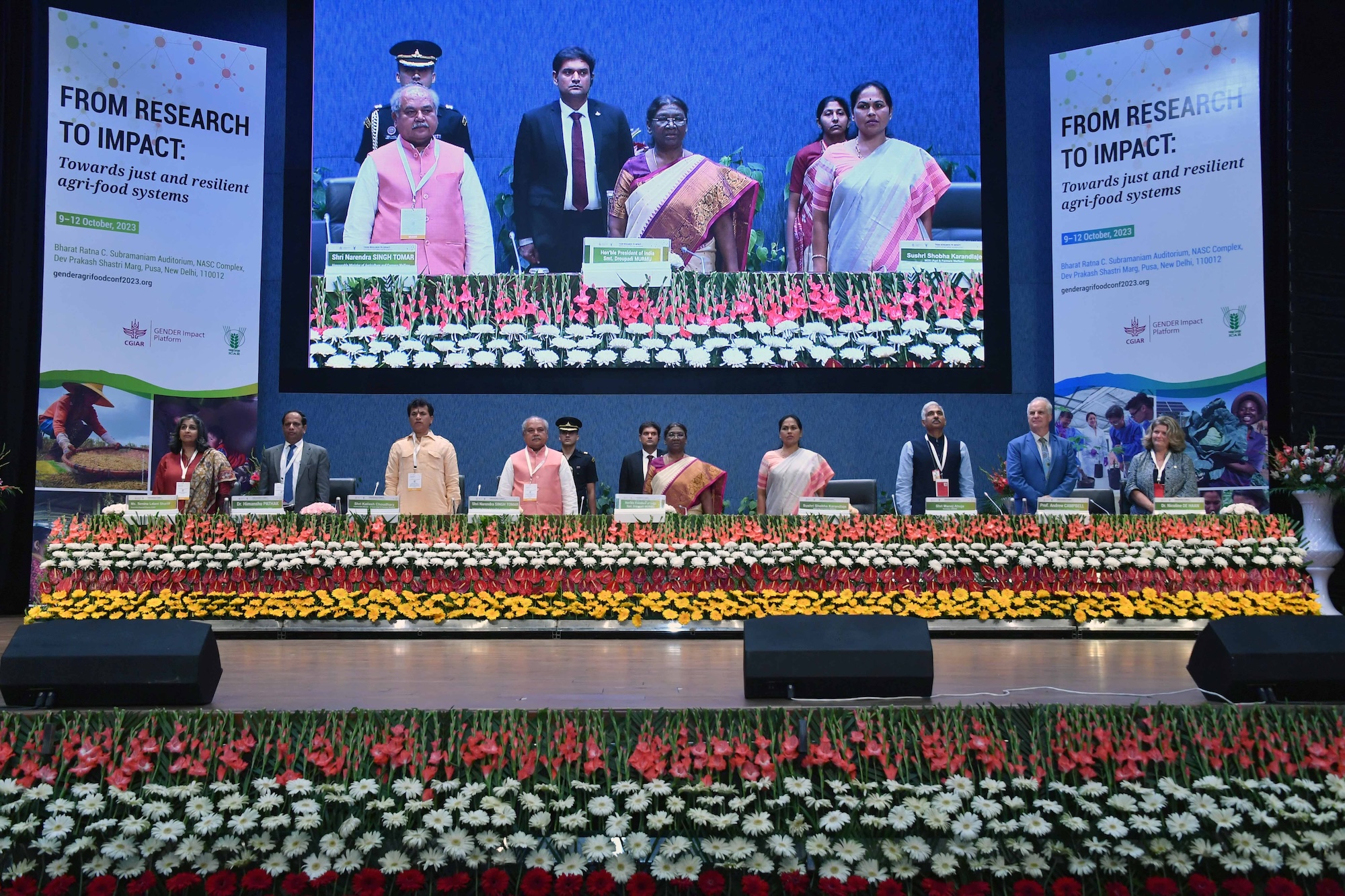 CGIAR and ICAR play pivotal roles in guiding research, policies and investments towards better and resilient agri-food systems.
New Delhi, October 9, 2023: President Smt Droupadi Murmu inaugurated an international research conference on 'From research to impact: Towards Just and Resilient Agri-Food Systems', hosted by the Indian Council of Agricultural Research (ICAR) and CGIAR GENDER Impact Platform today in New Delhi.
Union Minister for Agriculture and Farmers Welfare Shri Narendra Singh Tomar, Union Ministers of State for Agriculture and Farmers Welfare Shri Kailash Choudhary and Sushri Shobha Karandlaje, Secretary for Department of Agriculture and Farmers Welfare Shri Manoj Ahuja, Secretary for Department of Agriculture Research and Education, and Director General for Indian Council of Agricultural Research Dr Himanshu Pathak, Executive Managing Director for CGIAR Prof. Andrew Campbell, Director for CGIAR GENDER Impact Platform Dr Nicoline de Haan, Director, and South Asia Regional Director for CGIAR Temina Lalani-Shariff also graced the inaugural program.
In her address, Smt Droupadi Murmu highlighted the importance of empowering women engaged in agriculture to advance the vision of women-led development. She said that women are indispensable in making every grain reach from farm to plate as they sow, grow, harvest, process, and market our food.
"For ecologically sustainable, ethically desirable, economically affordable, and socially justifiable production, we need research which can enable conditions to reach these goals.
She further said that "We need systematic understanding of how to transform the agri-food systems. I hope this conference and this community will take all the measures and steps to achieve these milestones."
Smt Murmu emphasized that even though the world enters the modern age, it is still grappling with the challenge of attaining just and resilient agri-food systems.
"Still across the world, women are held back and are stopped by discriminatory social norms and barriers to knowledge, ownership, assets, resources, and social networks. Their contribution is not recognized, their role is marginalized, and their agency is denied in the whole chain of the agri-food systems. Their story needs to change," she added.
While appreciating the gathered researchers, the President added,
"I am elated to know that the CGIAR GENDER Impact Platform is working on putting equality and inclusion at the heart of food systems research by focusing on women, not as the objects of transformation, but as the agents and drivers of the transformation."

Shri Narendra Singh Tomar said that women have played critical roles in agriculture in India, and give as much time as men on the field. Additionally, they put in about 30 hours per week of unpaid care work. He said that he is of the firm opinion that equality in agri-food systems will not only lead to a reduction in poverty, but will also give women better nutrition and health access. This is especially significant in view of the G20 Declaration which puts special emphasis on food security, nutrition and health of women as it recognized the critical role of women in holistic societal growth.
This conference gains added significance as it follows on the heels of the highly successful G20 Summit under the Indian Presidency. G20 heads in the New Delhi Leaders' Declaration called upon the world to embrace women-led development. In this context, research serves as a cornerstone for charting inclusive development pathways by proven innovations and priorities.
Dr Himanshu Pathak said that the conference is bringing together some of the top researchers, thought leaders, and practitioners who are collectively deliberating how to make stronger and faster progress towards resilient, equitable and just food systems. He added that CGIAR and ICAR play pivotal roles in guiding research, policies and investments towards better and resilient agri-food systems.
"Mainstreaming women in agriculture can bring about a paradigm shift in economic growth through technical knowledge and greater access to resources," Dr Pathak added.
Prof Campbell underscored that CGIAR research shows that when women have equity in access to knowledge, resources, and decision-making, the whole community benefits, and food and nutrition security improve for all, further transforming food systems to be more resilient and sustainable. He further said that gender matters in bringing about inclusive agricultural transformation.

Recalling how the legendary late Prof. M.S. Swaminathan stood firmly as a champion of agricultural research and steered the Green Revolution when humanity faced one of its worst crises, Dr de Haan said and added that we are in dire need of a new wave of research-backed innovation that can catapult women into the center of food systems. She asked if we can use research for the next revolution—one that includes women and that gives them the opportunity to contribute, benefit and lead. The gains—for farmers, food systems and nations—would be immense, and that is why we have to get started now.

The conference inauguration was followed by a keynote delivered by Mr Amitabh Kant, India's G20 Sherpa, who shared his perspectives on what is at stake for gender equality in agri-food systems.
He said, "The research by CGIAR and its partners along with ICAR underscores the importance to focus on areas like food security and nutrition, climate-smart approaches, inclusive agricultural value chains and digitization to bring about gender inclusive agricultural transformation."
The four-day conference (October 9-12) is welcoming gender researchers from 68 countries to share cutting-edge knowledge on gender and inclusion in food systems. The event is designed to catalyze scientific exchanges and dialogues among researchers from diverse types of organizations, and will create opportunities to engage with policymakers, practitioners, private sector actors, and others working toward the shared goal of equitable food systems transformation. Its goal is to bridge the gap between research and practice and foster gender-equal and socially inclusive, resilient food systems.
See more details via India's Press Information Bureau.