Research and development partnerships to strengthen inclusive and demand driven bean value chain in Rwanda
From
Published on

15.11.21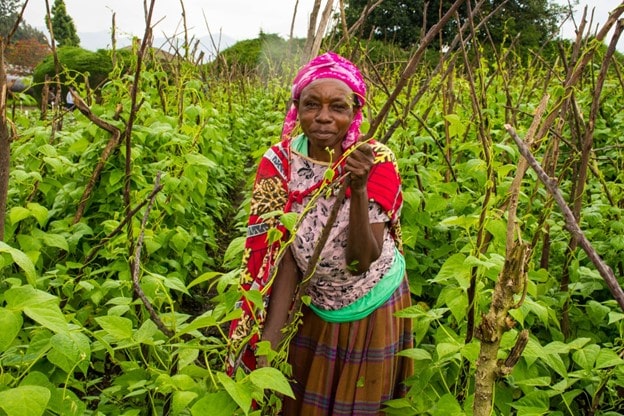 In Rwanda, beans are the main staple food providing households with 32% of required calories and 65% of protein across the country. Rwandans have the highest per capita bean consumption in the world, with an estimated per capita bean consumption of around 164 grams/day. Though beans remain a major staple food crop, they are also the most important source of revenue for farmers. In Rwanda, both bush and climbing beans are widely grown across the country. Climbing beans (photo 1) grow vertically making them a crop with great potential in densely populated areas, where agricultural land is limited. The climatic condition is also suitable for growing beans. However, productivity by most farmers remains low and thus affects their food security and incomes.
The Director-General of Rwanda Agriculture and Animal Resources Development Board (RAB), Dr. Patrick Karangwa met the delegation from the Alliance of Bioversity International & CIAT within the framework of the Pan-Africa Bean Research Alliance (PABRA). The Alliance delegation included Jean Claude Rubyogo, Bean Programme Leader and Director, PABRA, Dr. Eliud Birachi, Market Development Specialist, and Dr. Teshale Mamo, Bean Breeder and Coordinator Eastern and Central Africa Bean Research Network. They were accompanied by Dr. Edouard Rurangwa, Coordinator, Pulses and Oil Crops Programme at RAB (see Photo 2).
This story is originally published on PABRA Africa Blogs.