Reducing antibiotic overuse in Vietnam's agricultural sector: Stories from chicken farmers
From
Published on

21.11.23

Impact Area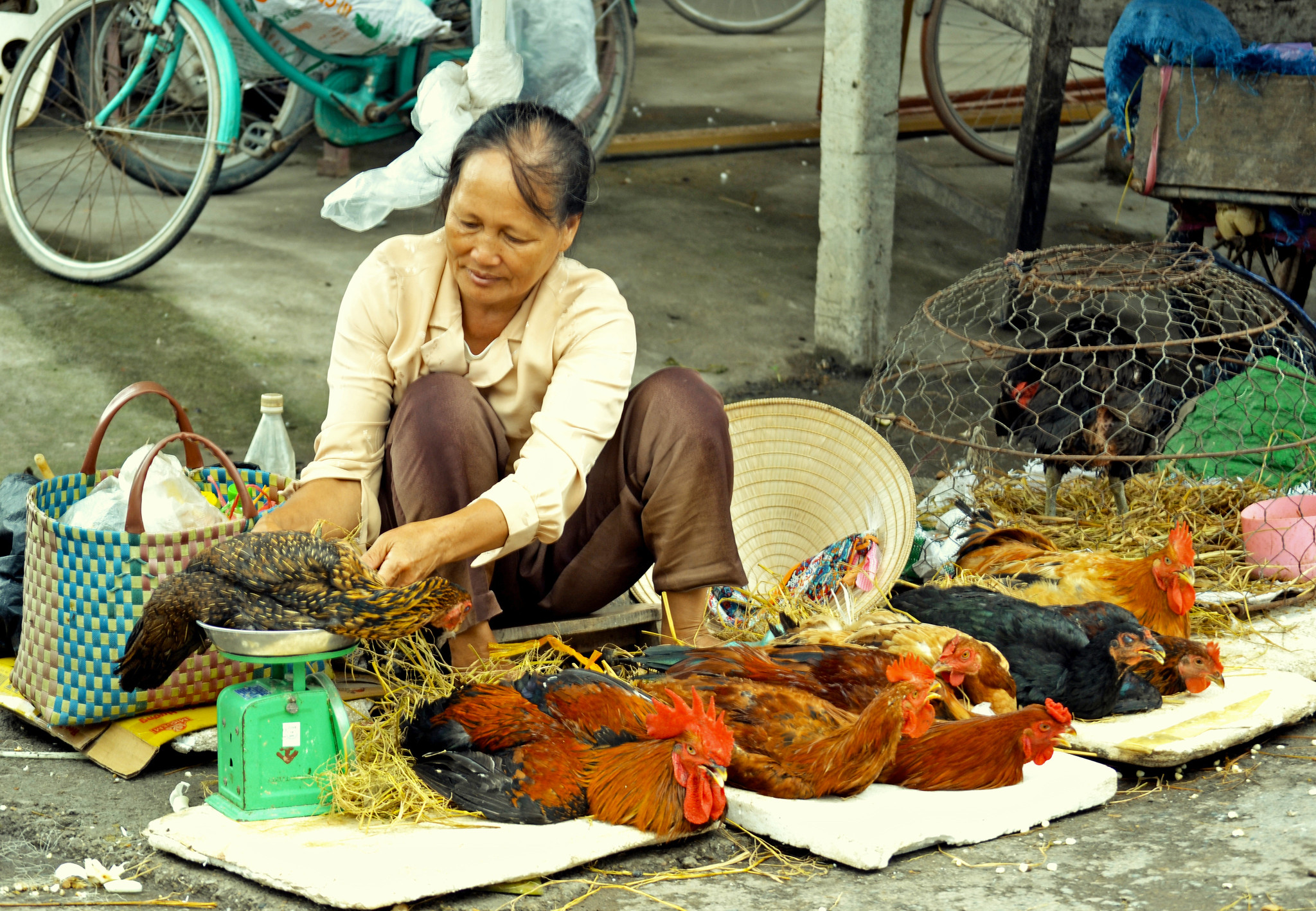 In Vietnam, a hidden problem troubles the agricultural sector, particularly in chicken farming. Farmers, driven by the need to protect their animals, tend to purchase and use antibiotics without prescriptions, diagnosis or veterinary guidance.
These practices, common among both men and women farmers, unveil a worrisome reality: limited awareness of the risks associated with improper antibiotic use and its impact on antimicrobial resistance (AMR).
In response to this, the International Livestock Research Institute (ILRI) and partners are actively working to raise awareness on AMR and promote responsible use of antibiotics among the chicken farming community in northern Vietnam.
Complexity of chicken farming in Thai Nguyen Province, Vietnam
Lan, a 36-year-old woman from Thai Nguyen Province, transitioned from running an online clothing business to chicken farming in 2016. Beginning with just 100 chickens, she quickly realized the benefits of this venture. It allowed her to simultaneously raise chickens, care for her children and better manage the housework. With her husband's support, she has expanded the flock to 5,000 chickens. Lan views chicken farming as a journey filled with challenges and learning opportunities.
Similarly, Dang, a 37-year-old male chicken farmer in the same province, started chicken farming in 2013. He set up a business initially with 1,000 chickens, raising two batches annually for sale during Lunar New Year (Tet) and the fourth to fifth lunar months. Dang finds joy in chicken farming and the communal aspects; men in the village share stories and assist each other in the business.
Despite their different beginnings, Lan and Dang have shared similar joys and successes with chicken farming. They also reported a common practice—regular antibiotic use to treat chicken diseases.
Both said that they occasionally surpassed recommended dosages when their birds were seriously sick. And both are confident that their accumulated experience guides them in identifying solutions for disease prevention and treatment, as well as secure productivity.
'In our years of raising chickens, we have gathered a wealth of experience. We sometimes sit with other chicken farmers and discuss which drug suits each stage of illness and type of chicken. When staff from veterinary drug stores visit and offer guidance on the best medicine to use for the current period, they instruct us and we have become familiar with many treatment options. But ultimately, the decision on which medicine to use and when to change antibiotics rests with us,' said Dang.
After gaining one or two years of experience in raising chickens, Vietnamese farmers often buy drugs by themselves to treat poultry diseases. The veterinary drugs service network is well established, enabling farmers to easily access veterinary drug stores. Within a five-kilometre radius from the farms, farmers can locate three to seven stores where they can buy antibiotics.
Additionally, farmers can purchase drugs directly from a veterinarian when they invite them for chicken check-ups on their farms. Both women and men farmers observed that veterinarians sometimes prescribe higher doses of antibiotics to treat chicken diseases.
Research shows that farmers, regardless of their gender, lack comprehensive information on the risks of AMR and do not perceive links between AMR in humans and in chickens.
Lan and Dang's experiences reflect some advantages of chicken farming in Thai Nguyen Province but raise challenges of prudent use of antibiotics and concerns about AMR.
Their experiences also reflect the broader problem of improper use of antibiotics and its impacts on AMR not only in Vietnam but also in semi-intensive production systems of low- and middle-income countries. These stories also show that gender dynamics play a role in chicken farming and management.
In Thai Nguyen, over the past 10 years, chicken farming has opened opportunities for economic empowerment for women in families and communities. But these farmers need more knowledge and demonstrations (for example, through training) on prudent use of antibiotics to address the negative consequences of AMR and improve their understanding of how to prevent poultry diseases.
ILRI's One Health approach: Bridging the gaps from farms to policies
ILRI and partners use a One Health approach to understand the drivers of antibiotic use in chicken production in Vietnam to help design relevant risk mitigating interventions for farmers.
In 2018, as part of an intervention to reduce antibiotic use in animal production, ILRI and several key Vietnamese institutions established a One Health research partnership in Thai Nguyen Province. A field site was later launched in the province in 2022.
Bringing together the Hanoi University of Public Health, the Vietnam One Health University Network, local animal health and disease control agencies, and academic institutions such as the Thai Nguyen University of Medicine and Pharmacy and the Thai Nguyen University of Agriculture and Forestry, the partnership has addressed issues like zoonotic diseases, food safety and antimicrobial resistance.
Several studies have been conducted, such as the use of One Health in AMR investigation in Vietnam. Ongoing capacity development includes the Southeast Asia One Health University Network fellowship. The partners aim to enhance communication and explore innovative solutions like probiotics to reduce the use of antimicrobials in pig production.
Previous research by ILRI has delved into the decision-making processes of farmers and animal health agencies to better understand the readiness of stakeholders to tackle AMR from a multidisciplinary perspective.
Building on the insights of this research partnership, ILRI continues its commitment to reducing AMR in Vietnam through the CGIAR Initiative on One Health whose work includes quantifying the use of antibiotics in poultry production in Thai Nguyen.
A new aspect of this initiative is the evaluation of gender-related elements in animal production, aligning with national AMR policies and emphasizing the importance of understanding gender dynamics in the context of AMR. These CGIAR and ILRI efforts are in line with Vietnam's national strategy (2023—30) for the prevention and control of AMR.
'In commemorating World AMR Awareness Week 2023, ILRI, through the CGIAR Initiative on One Health, is supporting Vietnam's goal of reducing antibiotic use and thus controlling antimicrobial resistance in its food systems,' said Hung Nguyen, leader of CGIAR Initiative on One Health and co-leader of ILRI's Animal and Human Health program.
Photo credit: A live chicken vendor weighs a chicken in Hung Yen province, Vietnam (ILRI/Nguyen Ngoc Huyen)