Putting new-age agronomy to test in Indian farms
From
Published on

26.11.19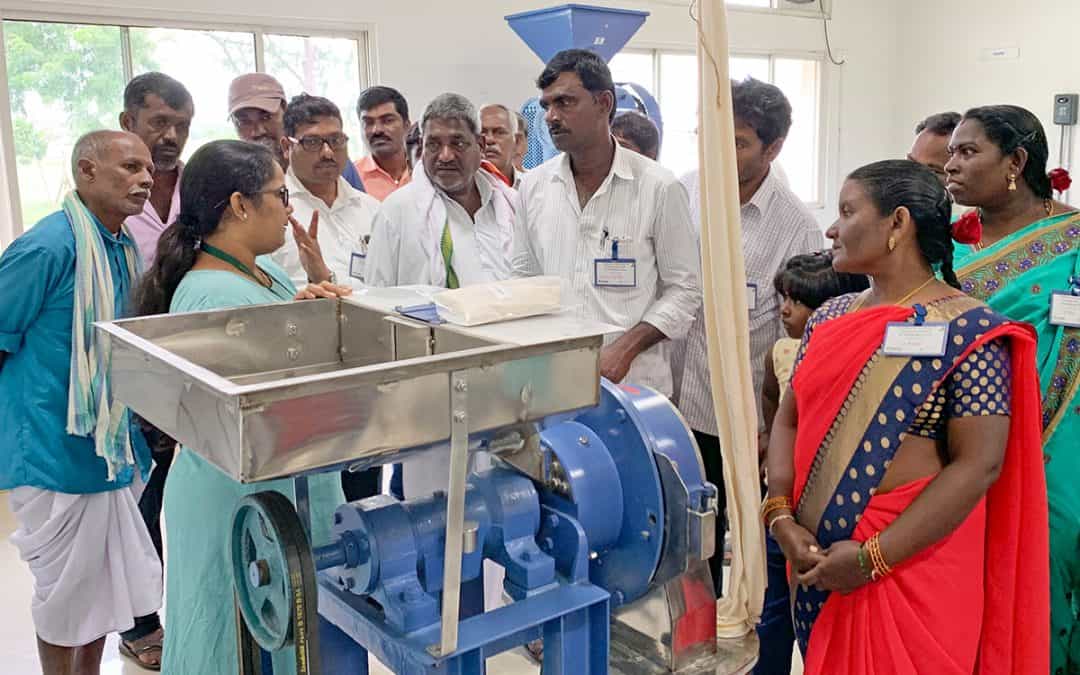 A group of farmers in India's Telangana state is breaking new ground in their farms with recently learnt scientific agronomic practices to improve crop productivity. The group of 36, from five villages in Warangal Rural district, has applied plant spacing, optimization of fertilizer use including split application, irrigation management and safe spraying among other practices in the ongoing crop season. These lessons were learnt during workshop demonstrations held in August at ICRISAT.
"We saw that excess application of nitrogen (urea) 50 days after sowing delays reproductive stage, which lowers yield," said Mr Koti, a farmer from Neredpalli village.
"Irrigation should be properly managed. We used to irrigate often, leading to water loss and sometimes water scarcity. We stopped doing that. We are now irrigating only if needed and in critical stages," Mr Kumaraswamy, a farmer from Relakunta said about water use.
The group has also reported benefits from making draining channels in fields, application of micronutrients, importance of sowing date and gap filling and thinning.
The two-day workshop aimed to help farmers from five villages to enhance capacities and embrace innovative technologies in agriculture and allied activities, including entrepreneurship. Besides best agronomic practices, the farmers were briefed about marketing techniques and processing of agricultural produce.
During the workshop, ICRISAT's agronomists shared improved practices for specific crops including pulses, cotton and maize, and integrated pest and weed management. Mulching practices were also demonstrated to prevent water evaporation and control weed growth.
To help them realize better prices for their produce, the farmers were taken to a pilot processing facility at ICRISAT's Agribusiness Innovation Platform (AIP) where details about machinery for primary processing of millets and pulses were demonstrated. To avail support from the government, a former agricultural officer explained existing government support schemes for farmers. A visit to the farm and machinery department of the Professor Jayashankar Telangana State Agricultural University (PJTSAU) provided the essential technological learning that can cut cost and improve returns.
TIGR2ESS project (FP4), which is funded by the Global Challenges Research Fund (GCRF), under ICRISAT's Innovation Systems for the Drylands Research Program organized the two-day workshop 'Agronomic & Entrepreneurial skills for smallholder farmers' in partnership with AIP, ICRISAT.