Public and private sector scientists pick pearl millet material for their breeding programs
From
Published on

11.05.21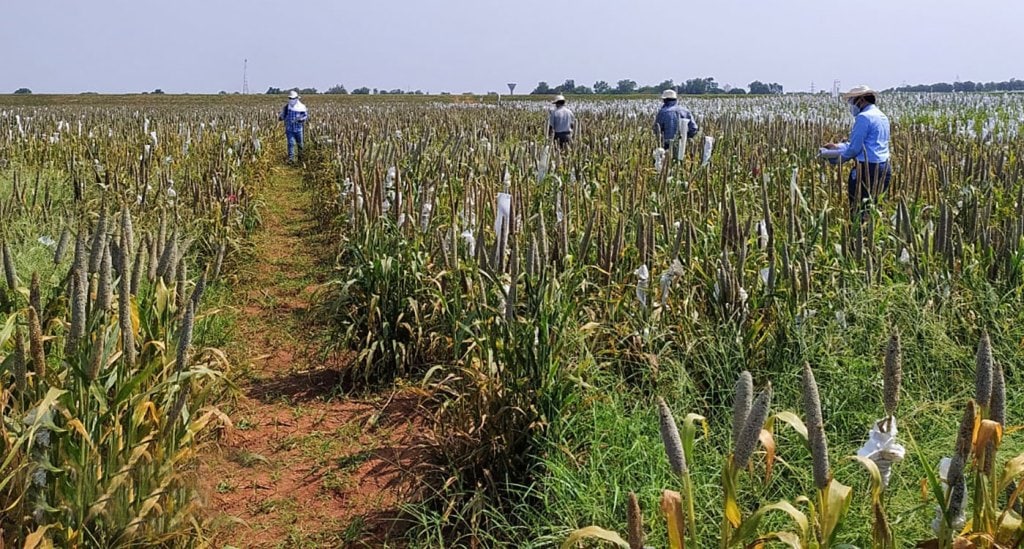 Public and private sector scientists visited 20,000 pearl millet breeding plots at ICRISAT this week to select material for their breeding programs. The plots displayed promising hybrid parental lines (both seed and restorer parents) bred for different traits and adaptations. Materials with tolerance to drought, heat, downy mildew and blast, iron and zinc biofortified, exclusive forage type and promising lines bred using West and Central Africa (WCA) material were put up for selection.
Dr Arvind Kumar, Deputy Director General -Research ICRISAT, in his inaugural address congratulated the group for contributing towards achieving genetic gains of about 3% per annum for pearl millet productivity in India. He urged the participants to use the opportunity to select promising materials for developing resilient and nutritionally rich cultivars for the future.
Dr Vilas Tonapi, Director, Indian Institute of Millet Research, Hyderabad commended ICRISAT for broadening the genetic base of pearl millet cultivars by providing diverse range of breeding lines to programs in public and private sector. Representing the private sector seed companies, Dr RS Mahala from Seedworks International, appreciated the efforts made by ICRISAT to facilitate selection of breeding materials in such challenging times. Dr Harish Gandhi, Theme Leader Crop Improvement and Interim Global Head, Asia Program, said that ICRISAT will use a variety of mechanisms to share breeding materials with public sector institutions, given the challenges of Covid-19.