Promoting sustainable food production by upscaling best performing varieties of finger millet and bean through seed and product value chains: experiences from Hoima, Uganda
From
Published on

11.10.21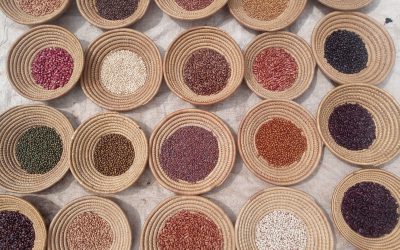 Background
Food and nutritional security of resource poor farmers globally is increasingly under threat due to climate change. In Uganda, agricultural production rates are low, exacerbated by frequent erratic rainfall and droughts. The loss of genetic diversity in farmers' custody has greatly narrowed the genepool from which they choose varieties that do well in challenging environments. In order to strengthen farmers' adaptive capacity, a project called "Promoting Open Source Seed Systems for Bean, Millet and Sorghum for Climate Change Adaptation," funded by the Benefit-sharing Fund (BSF) established under the International Treaty on Plant Genetic Resources for Food and Agriculture (ITPGRFA), was implemented in Kenya, Uganda and Tanzania. This project increased the availability and diversity of climate-smart varieties of bean, finger millet and sorghum, through testing, breeding and production of high-quality seed and increased access to a wider range of locally adapted varieties. In Uganda, the activities were coordinated by the National Agricultural Research Organisation (NARO)-Bulindi Zonal Agricultural Research and Development Institute (ZARDI) in Hoima, in collaboration with the Alliance of Bioversity International and CIAT, and local farmers organized in the Hoima Community Seed Bank.
In Uganda, 99 bean and 147 finger millet accessions were locally sourced, and shared with the Plant Genetic Resources Center from Kenya and the Tanzania National Gene Bank, through a Standard Material Transfer Agreement (SMTA), for testing in the neighboring countries. Overall, 34 bean and 44 millet accessions performed well during multiplication and were therefore given to 250 farmers for crowdsourcing trials during the cropping seasons of 2018 and 2019. On-station trials were also established for breeder's evaluation and participatory varietal evaluation. The best performing varieties were later subjected to organoleptic testing, and seven bean and seven finger millet accessions were selected as the best performing. To ensure increased production of the selected varieties, the CGIAR research program on Grain Legumes and Dryland Cereals (CRP-GLDC) provided funds to upscale the best performing varieties of millet and bean through seed and product value chains.
 Establishment of seed multiplication sites and production units
Seed multiplication units are farmer-managed and include land, and a seed storage facility. In this case, the Hoima community seed bank is the main seed storage facility and the first production unit  established. During the implementation of the "Open Source Seed Systems project," originally only Hoima district was targeted for intervention. However, due to increased networking between farmers in the Western region, a neighboring district, Masindi, developed interest and joined the project under the umbrella of Hoima community seed bank. However, given the relatively large distance between the two sites, establishment of a new producer unit was deemed suitable to enable good access to genetic resources by the Masindi farmers. About 200 farmers in Budongo have already come together, contributed some funds and are planning to establish a seed bank known as the Budongo farmers community seed bank. This is the second seed multiplication unit. The Budongo community seed bank will be a well-equipped seed bank plus production unit after finalizing registration in 2021.