Policy seminar: The future of food and agriculture – drivers and triggers for transformation
From
Published on

10.02.23

Impact Area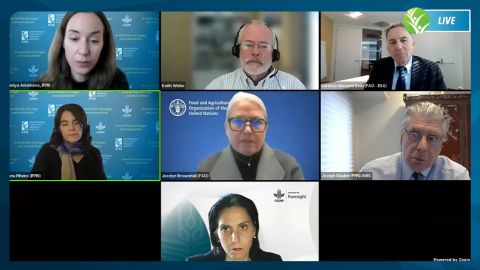 OPEN ACCESS | CC-BY-4.0
With global population expected to reach 10 billion by 2050, the world's ability to nourish its inhabitants is under threat if current trends continue. Increasing conflicts, climate change impacts, and resource degradation are further undermining food production efforts, while social and economic challenges are making healthy diets inaccessible for nearly half of the world's population.
Given these mounting challenges, how exactly can we transform our agrifood systems to be sustainable, inclusive, and resilient for a more food-secure future?
A February 1 policy seminar—co-organized by the Food and Agriculture Organization of the United Nations (FAO), IFPRI, and the CGIAR Research Initiative on Foresight—took a deep dive into this issue, focusing on FAO's latest report, The Future of Food and Agriculture: Drivers and Triggers for Transformation. The report identifies 18 major socioeconomic and environmental drivers in agrifood systems and analyzes how trends can shape alternative futures for agrifood production and food consumption.