Policy seminar: Social safety nets as a COVID-19 response to protect food security and nutrition
From
Published on

07.07.20

Impact Area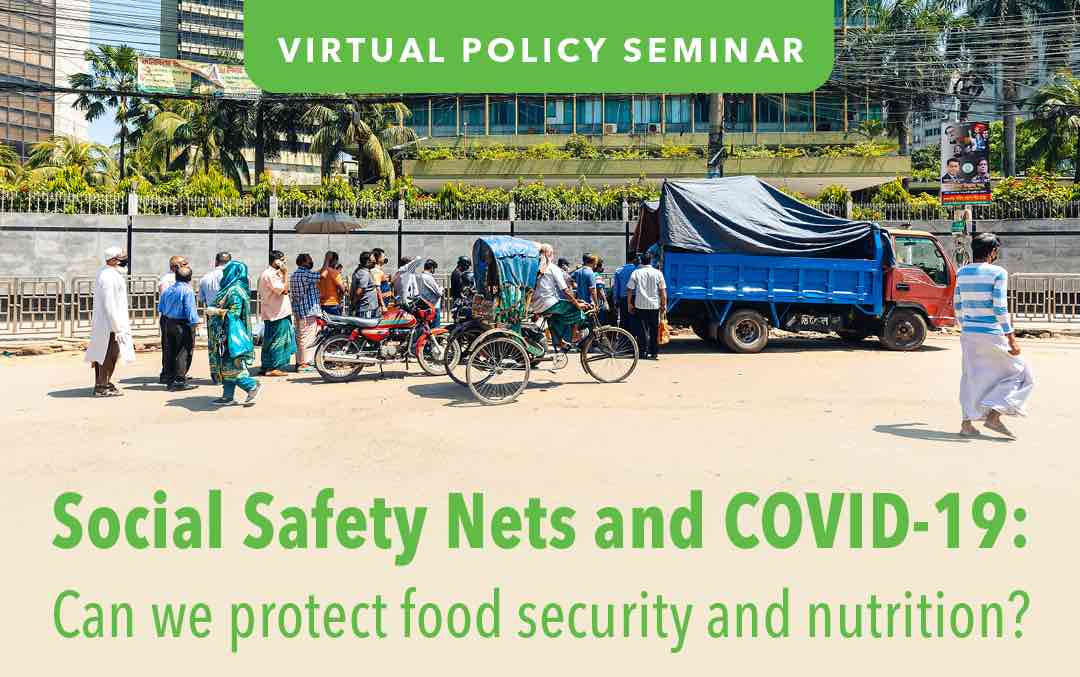 By Khiem Nguyen
As countries grapple with the health and economic shocks caused by COVID-19, an IFPRI estimate indicates that 140 million people globally are at risk of falling into extreme poverty. Many governments have expanded social safety net systems in order to mitigate the risks. A June 11 virtual event—co-organized with the CGIAR Research Program on Policies, Institutions, and Markets (PIM)—focused on social safety nets in COVID-19 response and their role in sustaining food security and nutrition.
"Past IFPRI research shows that social safety nets can help limit further harm among vulnerable populations by bolstering food security and assets, and with the potential to protect child nutrition with effective program designs," said Daniel Gilligan, Deputy Director of IFPRI's Poverty, Health, and Nutrition Division. However, the unprecedented nature of the pandemic also poses new challenges—such as how to safely deliver food and cash transfers without increasing exposure to the novel coronavirus and how to target newly vulnerable households.
"I think there is little doubt that we are in the middle of one of the largest social protection scale-up efforts in modern history," said Ugo Gentilini, Senior Economist of the Social Protection and Jobs Global Practice at the World Bank. The number of countries that have planned or introduced social protection measures in response to COVID-19 quadrupled from 45 countries to 190 countries worldwide between late March and early June, and 988 social protection measures benefiting 1.7 billion people had been implemented, a tenfold increase.
Yet only 15% of those measures are related to food consumption, nutrition, and food security. In many impoverished regions, social protection coverage remains low and grants remain inadequate to fully support beneficiaries. For example, in Africa, the coverage of cash transfers is only at 2%, and spending per capita is equivalent to the Middle East while undernourishment levels are twice as high.
Following Gentilini's global overview, presenters focused on Bangladesh and Ethiopia, two countries with extensive social safety net systems that IFPRI and its partners have studied for years.