Philippine Department of Agriculture staff learn about laser leveling technology to improve farm outputs
From
Published on

05.01.18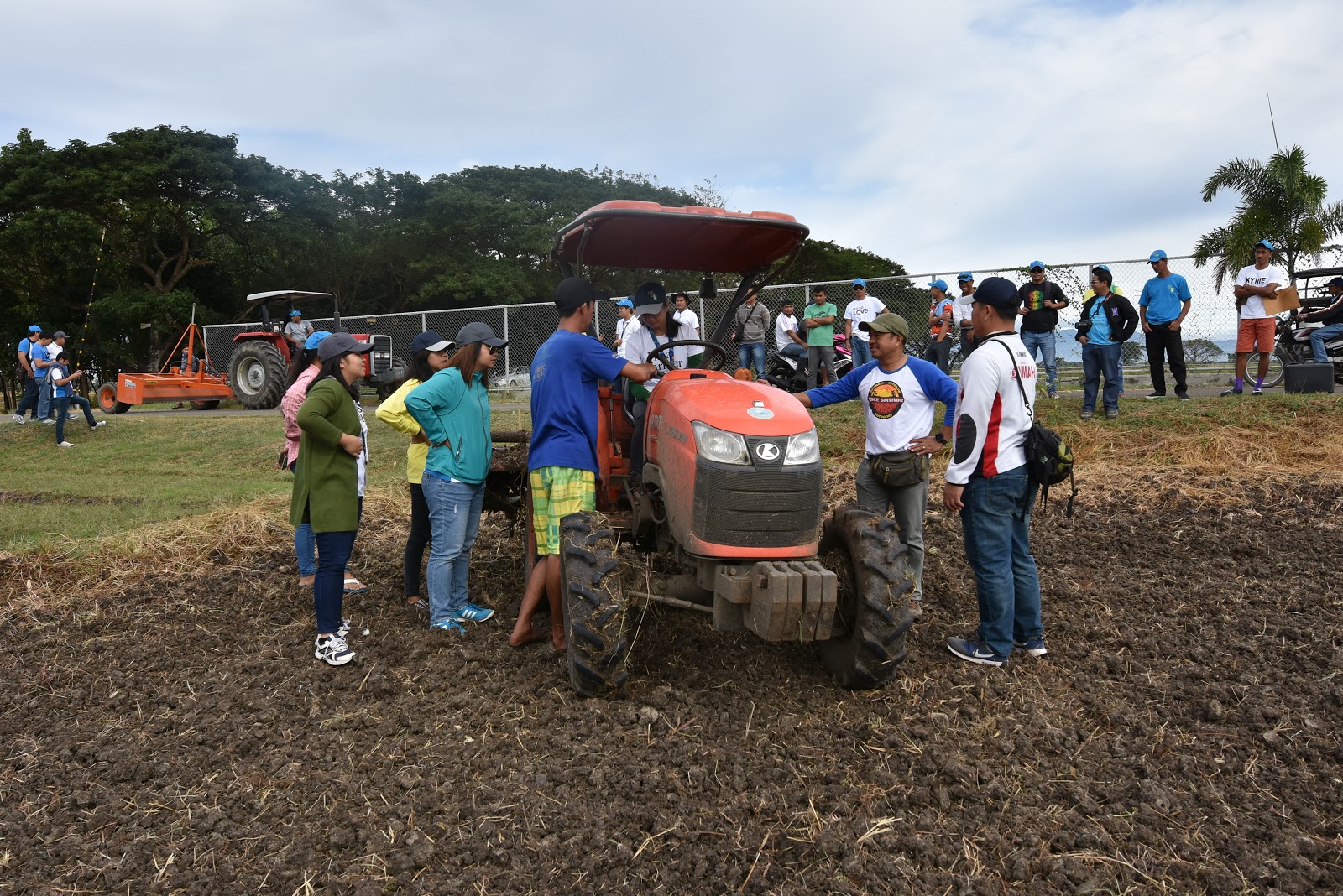 Orientation on basic tractor operation and pre-maintenance check
as part of the hands-on exercises.
IRRI, in cooperation with the Philippine Rice Research Institute (PhilRice), conducted a training on basic tractor operation, maintenance and implementation of laser-assisted land leveling. This initiative is part of the work package output of the water-efficient and risk mitigation technologies for enhancing rice production in irrigated and rainfed environments or WateRice Project. It aims to teach Department of Agriculture (DA) extension agents about basic operation, maintenance and troubleshooting of the laser leveling system, a farming technique that uses laser-assisted system and a drag bucket to make precise leveling of the field. This technology makes farming efficient by reducing water requirement during land preparation and labor requirement during weeding operation. It also improves rice crop establishment, uniformity and maturity.
As part of the training, participants had a hands-on exercise on basic tractor operation and an orientation on conducting pre-maintenance checks to ensure the equipment's proper and long-term functioning. They were also taught how to perform a topographic survey on the field, which is an important step in the leveling process.

Participants conduct topographic survey of the area to be laser-leveled.
The activity's highlight was an actual engagement in leveling operations. Participants were given the opportunity to familiarize themselves with laser leveling equipment, and were encouraged to raise questions regarding its use. During the exchanges, participants learned valuable information about the technology such as the costs of laser leveling per field, the length of time it takes to laser level certain areas, and the best time of the season to conduct it. The information they received are expected to help them address questions they might encounter as they train farmers in the field.
Participants were grateful for the training as it was able to provide useful information about a new technology that can be used to increase efficiency in farming. Jerry Batcagan of Philrice Isabela said "Through the training, we were able to witness how laser leveling is done, and how useful it will be to the farmers". Dianne Gabriel of WateRice added, "This new technology will help women to easily participate in field work. Now, nobody can say girls can't deal with machines!".
Dr. Roger Barroga, head of PhilRice's Information Systems Division, expressed his appreciation to IRRI for introducing laser leveling in the Philippines. "The WateRice project encounters problems during the dry season, such as water shortage and high cost of leveling. In other countries, technology is made available to small holder farmers through the private sector and service providers. We are happy that finally, we have the approval of the Department of Agriculture to acquire a laser leveling unit so we can start implementing the technique in our programs".
The training was held last 19-20 December 2017 at the PhilRice Central Experiment Station (CES) located in Muñoz Science City, Nueva Ecija. It was attended by 36 technicians and researchers from the DA's field offices in Muñoz, Nueva Ecija, Isabela and Batac.
Learn more about IRRI (www.irri.org) or follow us on social media and networks (all links down the right column).