Participatory workshops review and refine co-designed training materials and guidebooks for nutrition-sensitive agri-food systems in Vietnam's Mekong Delta
From

CGIAR Initiative on Asian Mega-Deltas

Published on

01.11.23

Impact Area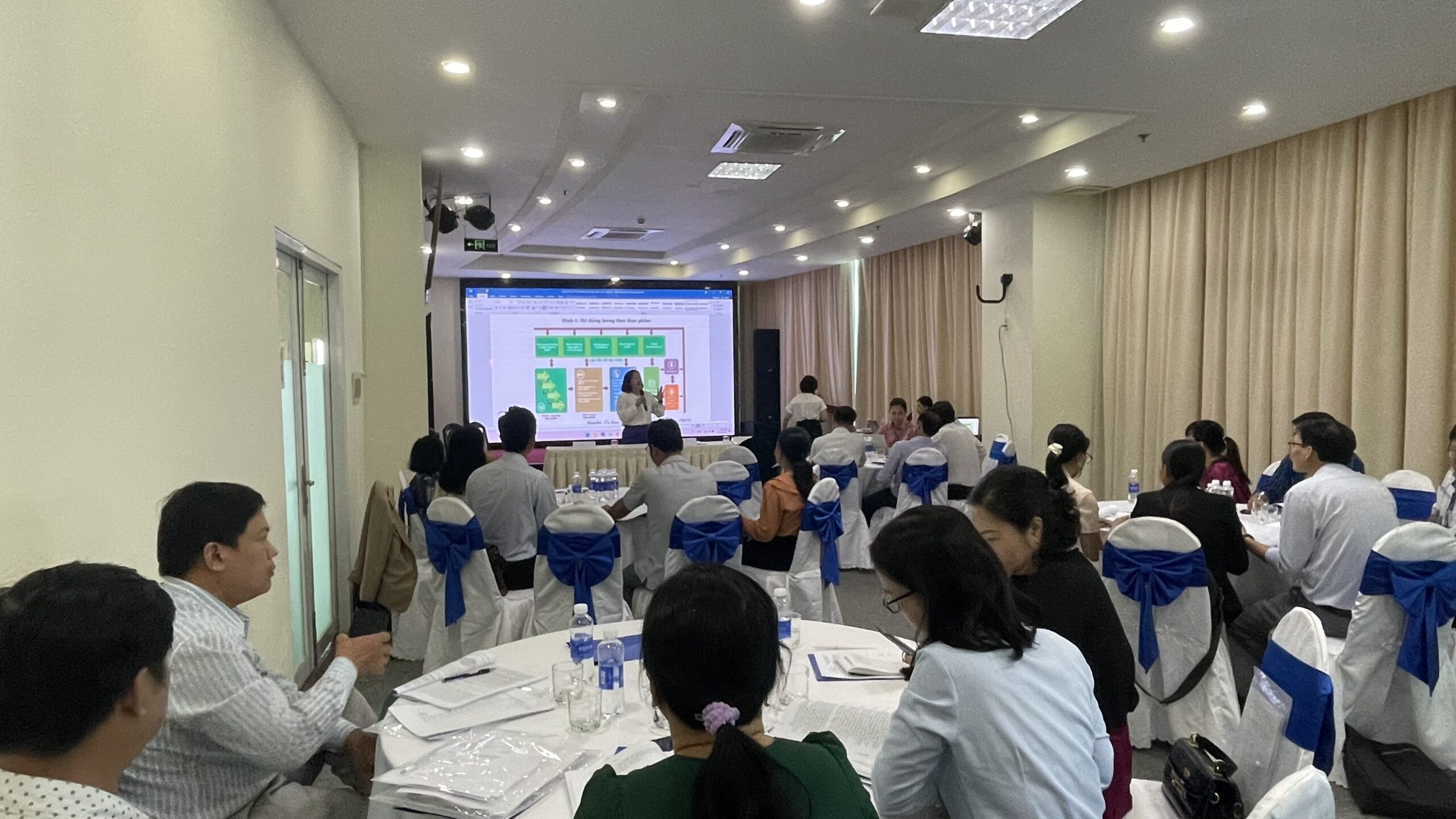 Under the Zero Hunger National Action Program of Zero Hunger coordinated by the Department of Cooperatives and Rural Development (DCRD) under the Ministry of Agriculture and Rural Development of Vietnam, researchers from the Alliance of Bioversity International and CIAT-Asia and the CGIAR Initiative on Asian Mega-Deltas (AMD) collaborated with DCRD to co-design training materials and guidebooks on developing activities focused on nutrition-sensitive food systems in the Mekong Delta region of Vietnam. To gather feedback and input for these training materials and guidebooks, two consultation workshops at provincial and district levels were held in Can Tho City and Hau Giang Province on October 17 & 19, 2023, respectively.
The first workshop, held on October 17, 2023, saw the participation of over 20 representatives from the agricultural and health sectors. These participants, representing 12 provinces of the Mekong Delta, included officials from the Department of Agriculture and Rural Development, as well as the Department of Health and Centers for Disease Control and Prevention. The second workshop, held on October 19, 2023, brought together over 20 local staff members from six cities and communities in Hau Giang. Similar to the first workshop, these participants were also from the agricultural and health sectors.
During the consultation workshops, the focus was on reviewing and refining the guidebook for developing food system development projects that ensure adequate nutrition based on current policies, especially under the Poverty Reduction National Target Program, which can feed to the adjusting process for the other related training materials. Participants worked together to review the content, provide revisions, and make additions to sections related to the general layout, implementation steps, local organization, and implementation funding sources. The workshops aimed to establish stronger links between the agriculture and nutrition sectors to effectively implement project activities at local level. One key theme that emerged during the discussions was the importance of involving women in these nutrition-sensitive food system projects.
Overall, the workshops made significant contributions to the process of reviewing and finalizing the Guidebook and training materials for developing food system development projects that ensure adequate nutrition in accordance with current policies. The discussions and collaborative efforts hold great promise in the application and utilization of this guidebook and training materials by trainers, as well as in creating transformative solutions that can accelerate Vietnam's journey towards sustainable healthy diets ensuring food and nutrition security and a robust food system transformation.
The outcomes of the workshops will be integrated into the upcoming Training of Trainers (ToT) activities/events led by DCRD, ensuring a long-term positive impact on the region's nutrition-sensitive agri-food systems.