Participatory research in Cambodia's Mekong Delta aims to improve climate resilience through crop diversification
From

CGIAR Initiative on Asian Mega-Deltas

Published on

01.11.23

Impact Area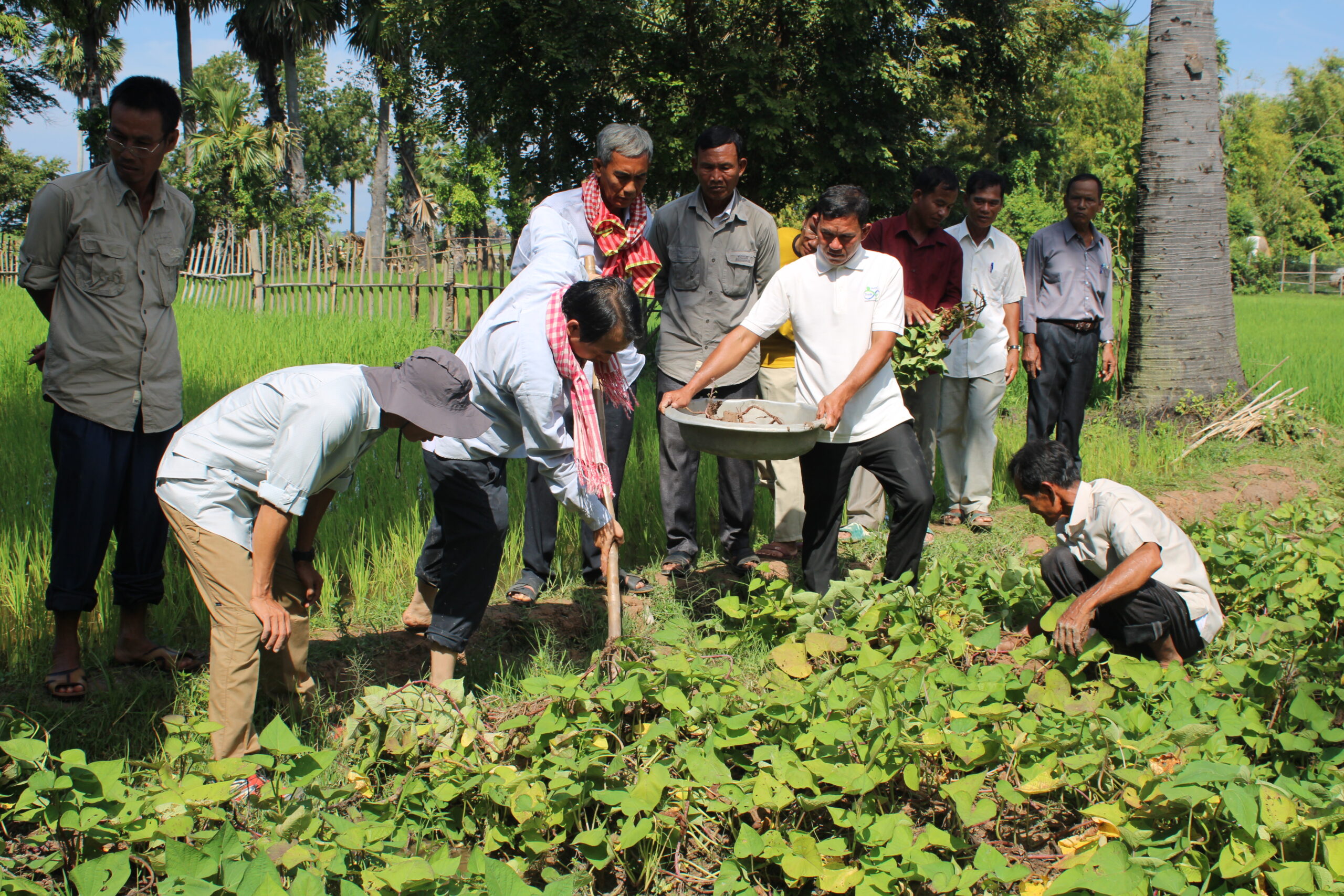 Under the CGIAR Initiative on Asian-Mega Deltas, a series of learning alliance meetings has been conducted in the Mekong Delta region in Cambodia. The meetings aimed to introduce rice farmers to crop diversification options and address the challenges posed by climate change in their production systems. Through the learning alliance, AMD also aimed to promote a participatory research process and to foster connections among different stakeholders involved in the agricultural sector.

The learning alliance meetings focused on the rice-fish pilot trials in Takeo province and on sweet potato cultivation in rice-mixed crop-based systems in Prey Veng province. Participants included farmers from the different AMD focus provinces, extension staff, facilitators, representatives from the General Directorate of Agriculture, and experts from the International Rice Research Institute.

In both meetings, the participating farmers had the opportunity to inspect the climate-smart innovations that have been tested and engage in discussions with other farmers who shared a similar background. Four key questions guided the discussions:
1. What observations and learnings did farmers gain from the rice-based system?
2. What aspects of the system did farmers appreciate and how could they apply these ideas to their own farms?
3. What challenges did farmers encounter or find difficult to implement?
4. What changes or improvements could be made for future activities?

The discussions yielded valuable insights and recommendations for the rice-fish system. Farmers suggested improvements in pond size and dike strength, as well as the development of technical training programs for rice-fish production. Strengthening net barriers to enhance fish and prawn containment was also highlighted as an important aspect. They also emphasized the need for training on fish and prawn farming in rice fields.
For the sweet potato adaptive trials, discussions revolved around various aspects of sweet potato cultivation, including appropriate planting season/s, selection of short-duration cultivars, effective fertilizer use and water management, variety selection, spacing and vine placement, and pest and disease monitoring. Farmers also expressed the need for training programs focused on sweet potato production to enhance their knowledge and skills in cultivating and managing the crop effectively.

These learning alliance meetings organized by AMD serve as crucial platforms for knowledge exchange and collaboration among farmers and stakeholders in the agricultural sector. Encouraging crop diversification and addressing the challenges of climate change will contribute to building sustainable and resilient farming systems in the Cambodian Mekong Delta region.
The experiments were implemented in collaboration with the following partners and projects: General Directorate of Agriculture, French National Research for Sustainable Development (IRD), Provincial Department of Agriculture, Forestry and Fisheries (PDAFF), French Agricultural Research Center for International Development (CIRAD), Fisheries Administration (FiA), and the Ecological Intensification for Sustainable Aquaculture in Cambodia Project.