Out with old, in with new: Climate-smart seed varieties improve maize production in Ghana
From
Published on

26.07.23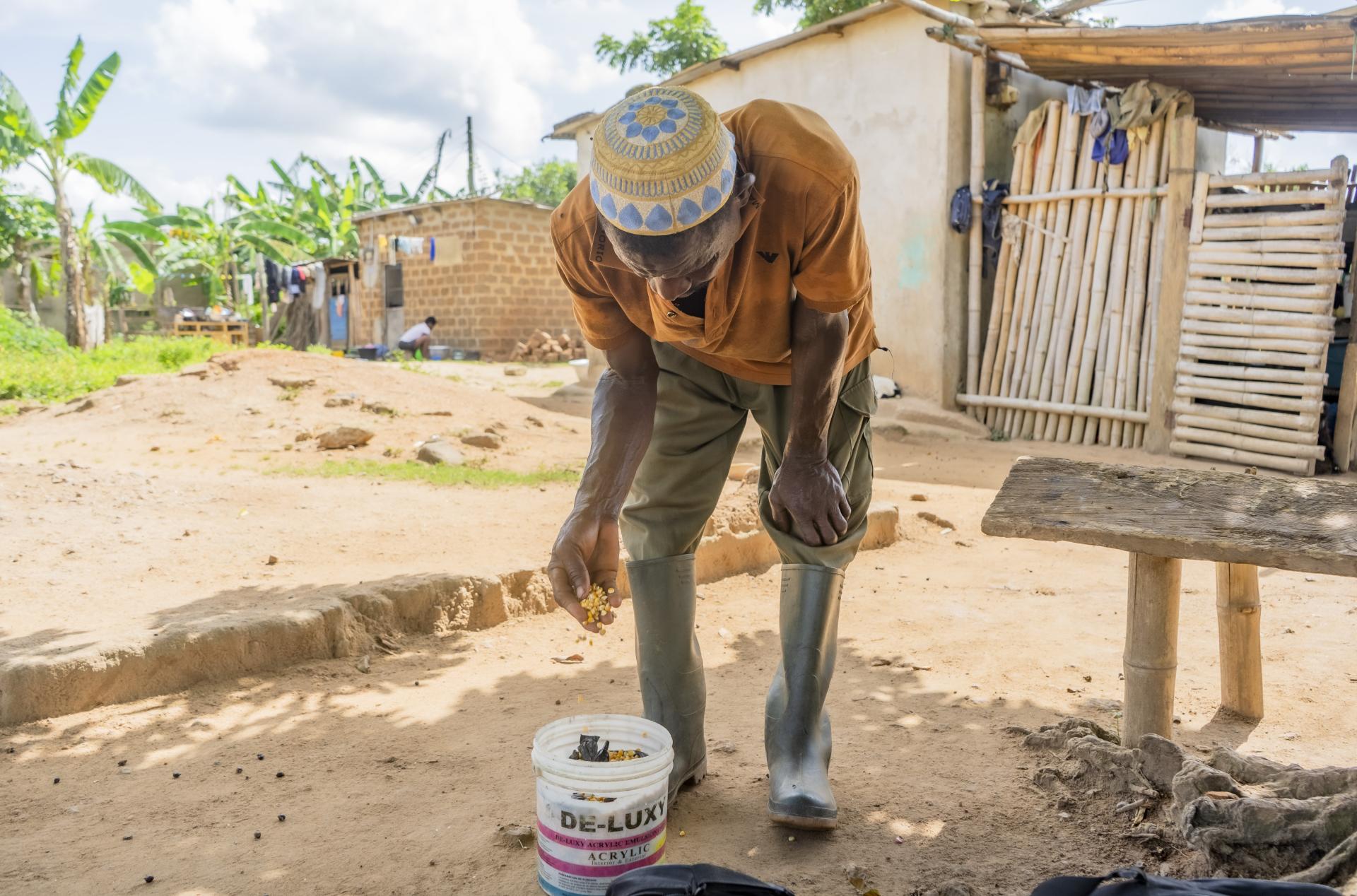 Climate-smart maize varieties are boosting yields for farmers by up to 62% in five regions across Ghana, with ambassadors like 59-year-old Alhassan Inusah from Dehyia in the Central Region inspiring more farmers adopt these new varieties.
Maize is a significant source of food for most Ghanaians. It constitutes about 50%-60% of all cereals produced in Ghana.
But yields remain low as the kinds of (often laborious) practices which have been traditionally adopted are often inefficient.
AICCRA established climate-smart demonstration plots to promote climate-smart agriculture (CSA) technologies for maize production in 18 communities across Central, Bono East, Upper East, Upper West, and Northern regions in 2022.
Drought and pest tolerant, maize varieties, introduced as part of the bundles, are now yielding up to 62% more output than the varieties that have been been used traditionally, also receiving high praise from farmers.
Farmer field days held in 2022 introduced 1,113 farmers to technologies and practices that improve productivity, reduce losses to pests, and decrease drudgery associated with maize production.
More recently, AICCRA has supported 180 farmers (including 70 women) across these five regions with stress-tolerant and early maturing maize to decentralise the demonstration plots and reach more farmers.
One of the beneficiaries is Alhassan Inusah, a 59 years old farmer who lives in Dehyia in the Central Region of Ghana. He grows oil palms, cassava, and maize. In 2022, the project selected Alhassan as one of its lead farmers in Dehyia.
As a lead farmer, he led other farmers to prepare the land that hosts AICCRA's demonstration plot. He also represents the community at training-of-trainers workshops, where he receives training to support other farmers to adopt CSA technologies and access Climate Information Services (CIS).
"I am a spokesperson for AICCRA in this community," he says.
By giving Alhassan climate-smart maize seeds, AICCRA has tasked its spokesperson to establish and manage a small demonstration plot that will serve as a learning centre for neighbouring farmers.