Our Precision Farming Advisories Reap Rich Dividends for Farmers in Madhya Pradesh
From
Published on

12.09.23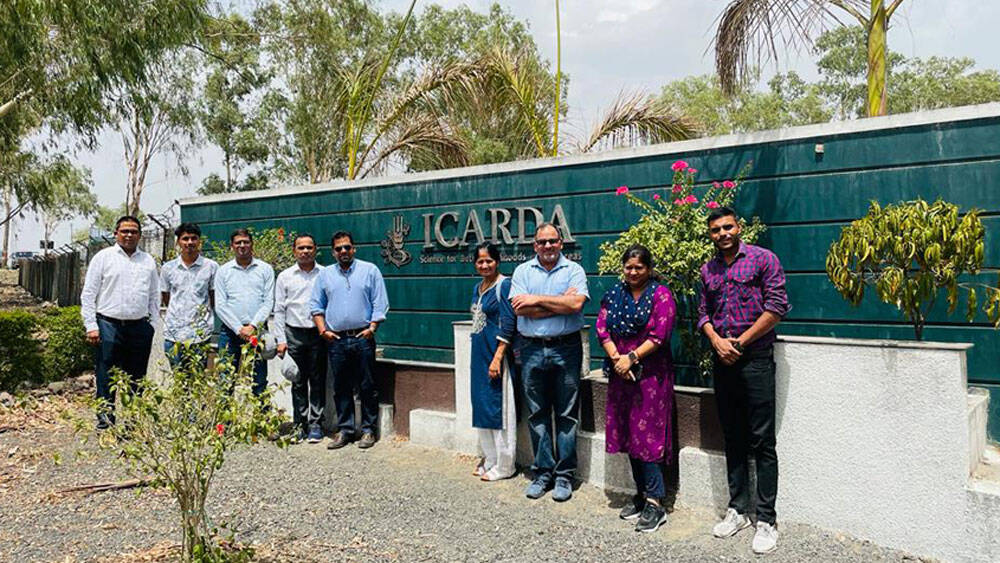 In an exciting new step in farming innovations, ICARDA and the Directorate of Farmer Welfare and Agriculture Development of Madhya Pradesh State Government, India, have set up an innovative network of hi-tech IoT precision farming devices in Khargone and Sehore districts of the State. With this intelligent network and the GeoAgro-iKrishi system (app and the dashboard), farmers receive real-time advice on farming.
This progressive farming approach is of significant impact as it empowers farmers with timely and accurate information, allowing them to make informed decisions for precise resource management. By harnessing the power of artificial intelligence (AI) and machine learning (ML) to analyze proximal and remotely sensed imageries, and real-time hydrometeorological data, we are able to generate and send real-time advisories from the GeoAgro-iKrishi dashboard to farmers on their smartphones through the GeoAgro-iKrishi app to help them fine-tune irrigation, fertilization, and plan pest control measures etc. This has resulted in enhanced crop productivity, minimized resource wastage, and established a sustainable agricultural ecosystem.
The multitude of data from this network is first brought to the centralized dashboard along with several other datasets such as remote sensing and ground observations. The experts have a holistic view of all these datasets and trigger bespoke advisories to targeted farmers or farmer community. This initiative, coupled with a centralized communication system and an advanced e-extension platform, delivers real-time agricultural advice to the farmers. The operational IoT devices encompass the following components:
Agroclimatic weather stations measure a range of hydrometeorological variables, The dashboard and the app generate weather forecasts and compute probabilities of disease outbreaks using emerging weather patterns.

Motion-activated high-resolution cameras deployed at the clusters are designed to capture images of insect-pests. They estimate population dynamics and identify the dominant type of pests at a given time using machine learning techniques.

Soil moisture and temperature sensors are installed at various depths along the effective rooting zone at several plots.

On-the-spot soil fertility testing kits help measure macronutrient N, P and K levels in soil.

Groundwater level monitoring sensors.
Multitemporal high-resolution satellite remote sensing images.

Drone imageries for comprehensive coverage of larger areas.
To facilitate the timely and localized delivery of advice in the local language and to enhance effective communication between farmers and experts, a state-of-the-art mobile application named GeoAgro-iKrishi has been developed. This application is based on ICARDA's GeoAgro Platform and IT infrastructure. It serves as a digital tool offering comprehensive assistance to smallholder farmers in Madhya Pradesh in the Hindi language. The application is organized into eight distinct modules:
Weather Module

Agronomy Module
Advisory Module

Ask an Expert Module

Know Your Field Module

Chat Module

Announcements Module
The system comprises a centralized server and two interfaces: the GeoAgro-iKrishi app for users (smallholder farmers) and the GeoAgro-iKrishi administrative dashboard for experts (scientists), enabling interaction from both ends.
Key Benefits for Farmers
The system offers specific soil, water, weather and nutrient analytics tailored to individual clusters of plots, facilitating timely field operations, crop management, precise irrigation and fertilization, and effective management of weeds, insects, pests, and diseases. Beneficiary farmers have greatly benefited from these real-time advisories.
In the kharif season of 2023, which experienced a delayed onset of the monsoon, farmers struggled to plant crops on schedule. Through our Geo-Agro iKrishi app, the ICARDA team consistently delivered 7-day weather forecasts to beneficiary farmers. In Sehore district, where the monsoon started on June 20, we provided a forecast indicating clear weather from July 2-4 period. This allowed farmers like Mr. Dipesh, Mr. Sujit, and Mr. Shailendra to prepare for planting during this favorable period. Consequently, they successfully planted soybeans, while non-beneficiary farmers missed this window due to lack of preparedness, resulting in fallow fields overtaken by weeds due to continuous rains. Similarly, we offer advice on applying inorganic fertilizers based on crop requirements and soil fertility status. With precision fertilizer advisory, beneficiary farmers in Sehore and Khargone districts were able to save an average of 700-1000 INR/acre during wheat season by reducing the amount of phosphorus and urea fertilizer compared to blanket application. Guidance on soil moisture levels compared to field capacity and wilting point aids farmers in planning irrigation schedules. Our advisories have helped save 1-2 irrigation events for beneficiary farmers. Using high-resolution cameras, we recently issued an early warning about potential disease outbreaks due to early detection of Girdle Beetle in soybean crop and recommended remedial actions. Monitoring groundwater depth and comparing it with long-term averages helps farmers decide when to supplement soil moisture with groundwater irrigation. Beneficiary farmers have expressed satisfaction with these site-specific real-time advisories, which have led to improved resource management, input savings, and increased incomes.
The operational system stands out for its integration of ground observations, fostering active communication between farmers and experts via well-designed digital interfaces (app and dashboard). Given its success, the project aims to extend advisory services to neighboring farmers and scale the solution statewide.
Contributions
ICARDA team of researchers: Mina Devkota, Ajit Govind, Lokendra Chaudhary, Rahul Chaudhary, Anand Prakash Arya, Vinay Nangia
Directorate of Farmers Welfare and Agriculture Development: Kamal Jain, Deputy Director-Agriculture and Chief Information Officer