Optima Soy Africa launched to scale up production and commercialization of industrial soybean varieties
From
Published on

20.03.19

Impact Area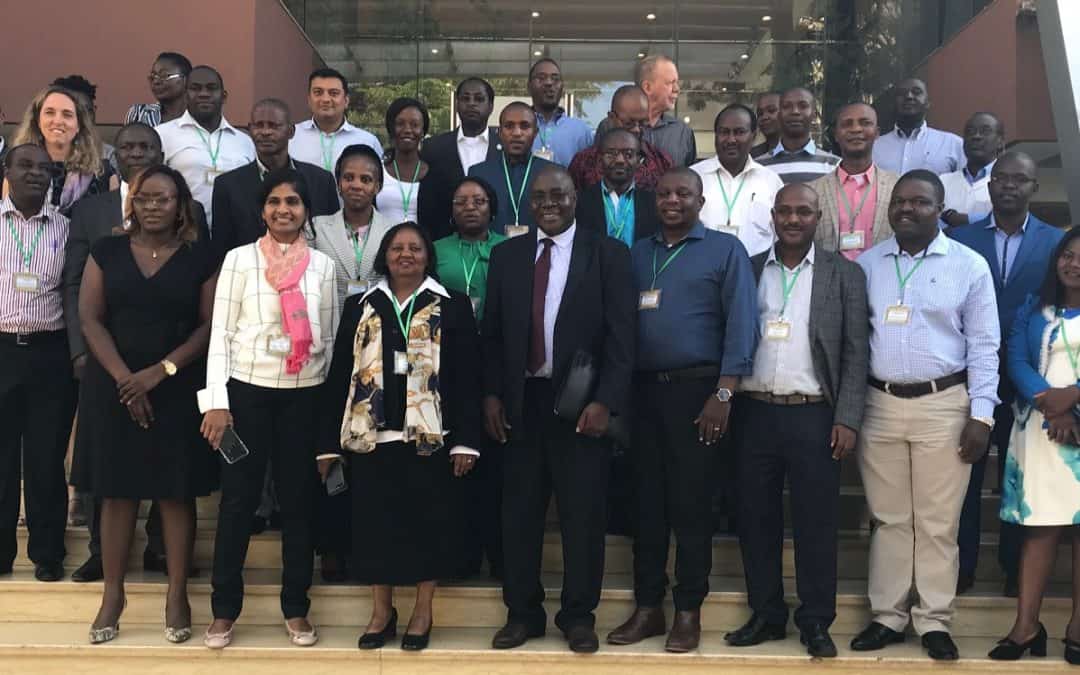 Heralding a significant milestone for soybean research in Africa, the recent launch of the Optima Soy Africa (OSA) platform harnesses partnerships to ensure the development of market-driven soybean varieties and technologies and their dissemination. The platform is part of the CGIAR Research Program on Grain Legumes and Dryland Cereals (CRP-GLDC) (http://gldc.cgiar.org) Crop Network Group (CNG), who together with Alliance for a Green Revolution in Africa (https://agra.org/) and International Institute of Tropical Agriculture (http://www.iita.org/) will provide leadership and facilitate the co-ordination and engagement of industry stakeholders to support increased and stable upscaling of soybean research outputs.
OSA's launch and meeting held in Nairobi, Kenya during 17-18 December 2018 saw active participation by governments, national program soybean breeders, private seed companies, and industry. The opening session featured remarks by Jane Ininda (AGRA), Vanessa Adams (Vice President, AGRA), Janila Pasupuleti (CRP-GLDC), Chigeza Godfree (IITA), Moses Siambi (ESA Regional Director, International Crops Research Institute for the Semi-Arid Tropics), Fred Kanampiu (IITA), George Bigirwa (Vice President, AGRA), Phinehas Tukamuhabwa (Makerere University, Uganda), Brian (Soybean Innovation Lab), George Kotch (Excellence in Breeding platform), and Jack Ouda (Kenya Agricultural & Livestock Research Organization, Kenya).
Welcoming the concept of designing Product Profiles (PPs) for soybean, the participants conveyed that this would help them tell a compelling story while seeking funds from donors. However, continuous flow of funds to deliver the products was identified as a key challenge for the national programs. The group perceived an urgent need to address policies that regulate the registration and release of new products in order to allow products with proven market value traits without significant yield increase.
Engaging the processing industry in research trials and specific quality trait analysis was seen as a way forward to soybean variety advancement and commercialization. The multi-location testing trials conducted by IITA, SIL and Syngenta Foundation will be supported by the OSA platform. The food processing industry contributes to the soybean research agenda, specifically defining quality specifications needed by the industy that may include, oil, protein content and seed size.
Any dialogue on variety replacement should involve seed companies who often end up selling old varieties while researchers have superior products. The platform brings together researchers and seed companies to agree on mechanisms for the delivery of new and superior soybean varieties.
A session on agribusiness opportunities in the soybean industry, 'Science to businesses', was led by Mr James Kariuki, BIDCO, Kenya. While underlining the philosophy that every farmer in the value chain needs to benefit, the session highlighted the importance of partnerships to drive business, capacity building, logistics, market information, variety evaluation/ selection, germplasm sharing, and awareness creation. The meeting discussed impact- oriented plant breeding in Africa, public-private partnerships, addressed plant breeding capacity gaps and priorities for the soybean Network Group.
The OSA platform will be managed and coordinated by a committee representing AGRA, IITA, CRP-GLDC, SIL, Syngenta Foundation, Miserere University, and representatives from  private seed and food processing industries.
The post Optima Soy Africa launched to scale up production and commercialization of industrial soybean varieties appeared first on Grain Legumes and Dryland Cereals.