NEXUS Gains' integrated water storage options pioneer sustainability
From

CGIAR Initiative on NEXUS Gains

Published on

27.07.23

Impact Area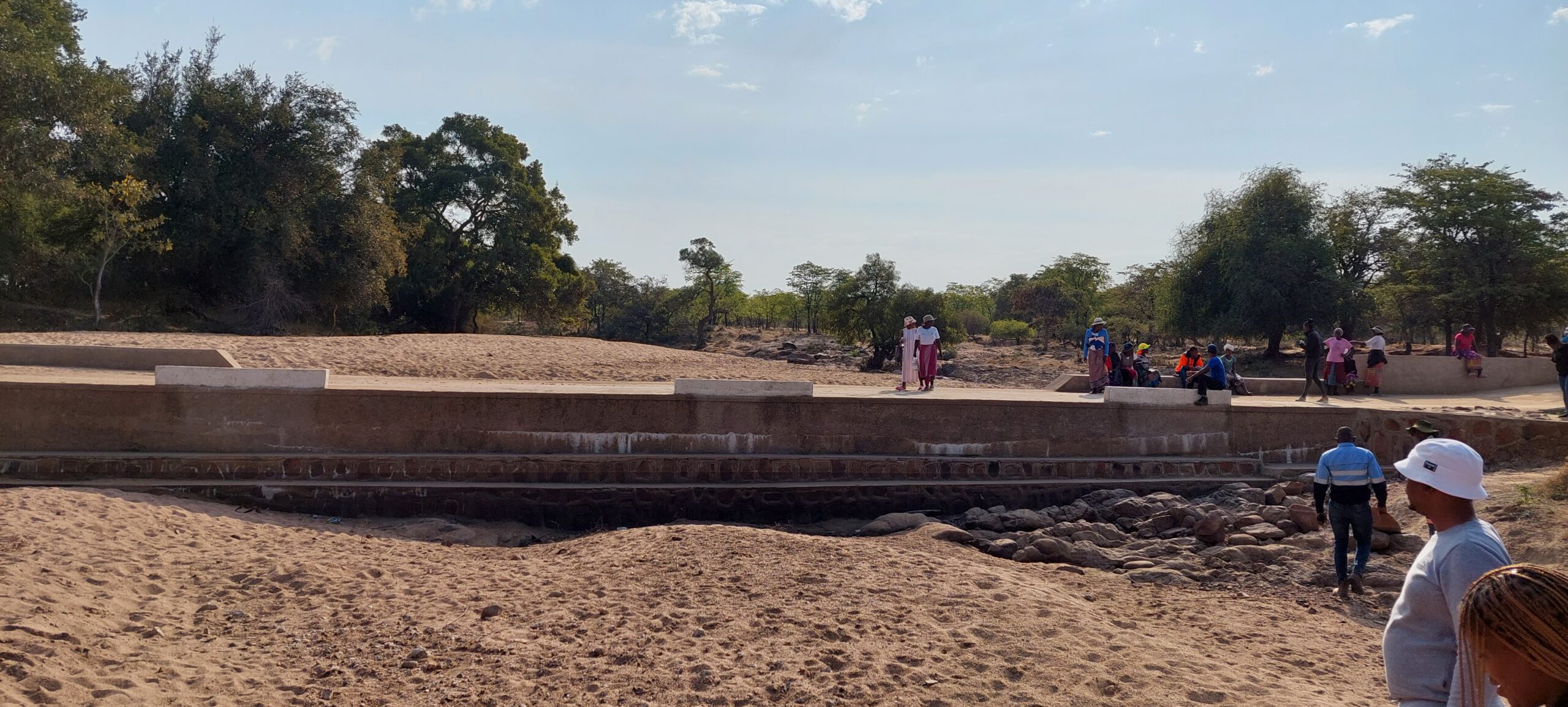 By Phindiwe Nkosi
In a world where climate change and water scarcity pose increasing challenges, finding innovative solutions to conserve and manage water resources is critical. To this end, the CGIAR Initiative on NEXUS Gains hosted a collaborative event from 27 to 29 June in Bulawayo, Zimbabwe to discuss integrated storage options in the Shashe catchment, a sub-basin of the Limpopo River.
This workshop was attended by representatives from the Limpopo Watercourse Commission, Dabane Trust, Zimbabwe National Water Authority, Shashe Sub-catchment Council, the Zimbabwean Ministry of Lands, Agriculture, Water, Climate and Rural Development, and the Botswana Department of Water Affairs and Water Utilities Corporation. The event was organized by the International Water Management Institute (IWMI), through NEXUS Gains.
The challenge of water storage
Dr Jonathan Lautze, Research Group Leader: Integrated Management of Basins and Aquifer at IWMI Southern Africa, explained why effective water storage remains a major challenge.
"Traditional storage methods, such as large open surface dams and reservoirs, are often preferred as there can be comfort in seeing stored water. However, one must note that traditional storage methods can be environmentally damaging, leading to habitat loss and altered river ecosystems," he said. "Additionally, they often require large tracts of land and significant financial investments. We recognize the pressing need for more ecologically friendly and efficient water storage solutions, and collaborative gatherings such as this are key to pioneer integrated approaches."
Further challenges include a lack of knowledge on alternative storage options. There is also the risk of institutional inertia, meaning it is difficult to promote integrated storage solutions which may be seen as 'disrupting the norm.' However, these types of solutions are needed in order to ensure a reliable water supply for communities and industries in an attempt to mitigate the effects of climate change.
According to Nobubelo Ngwenya, Water and GIS Officer at Dabane Trust, "Climate variability and the role that it has needs to be thoroughly investigated as it may lead to different solutions for different areas. One of the issues that was realised during this workshop is the lack of coordinated planning between the government and private institutions when it comes to integrated water storage. As such, some water storage options were misunderstood because no research has been conducted about them. However, this workshop was eye opening and paved a way for future collaboration and planning."
NEXUS Gains aims to realize gains across water, energy, food, and ecosystems in selected transboundary river basins, by developing research and capacity to strengthen systems thinking, and providing tools, guidelines, training, and facilitation for analysis and research for development.
"As water is becoming scarcer due to increasing demand and climate change, diversifying water sources is essential. Integrated storage planning and management are critical to improving water security in the face of growing demand and climate change. We must consider integrating the different storage options to increase water productivity and security," said Girma Ebrahim, International Researcher: Integrated Basin and Aquifer Management at IWMI Ethiopia.
Integrated water storage options
Existing water storage options in the Shashe are mainly large dams, aquifers, and soil and sand dams. At the basin level,  integrated water storage options (i.e. planning and managing different storage types as a single system) can make more efficient and effective use of scarce water resources. Combining the planning and management of different storage types enhances the complementarities and synergies in benefits accruing from the range of storage, ultimately enhancing the nexus among water resources, energy systems, and food production. Events such as this bring African communities one step closer to a sustainable, water-secure future – one where innovative ideas and environmental consciousness converge to make a tangible difference in the fight against water scarcity.
"The adoption of integrated water storage options reflects important progress in the pursuit of sustainable water management," concluded Dr Lautze. "From this event, it was apparent that certain water storage options are somewhat unexplored and we need to do more to raise awareness about their potential and role. During this workshop we took delegates to a sand dam, and in most cases, this was the first time they had seen such infrastructure. Community members at the dam were excited to describe the value of this infrastructure to them, which opened some eyes among water managers attending the field visit. The bottom line is that far more can be done to harness green infrasture that stores water in the ground and soil. There is a lot of potential."
---
Phindiwe Nkosi is a Communications and Knowledge Management Expert at IWMI.
This work was carried out under the CGIAR Initiative on NEXUS Gains, which is grateful for the support of CGIAR Trust Fund contributors: www.cgiar.org/funders
Header image: Workshop participants visiting a sand dam. Photo by Girma Ebrahim/IWMI.