New rice variety creates game changing opportunities for farmers in the Haor Basin of Bangladesh 
From
Published on

23.08.23

Impact Area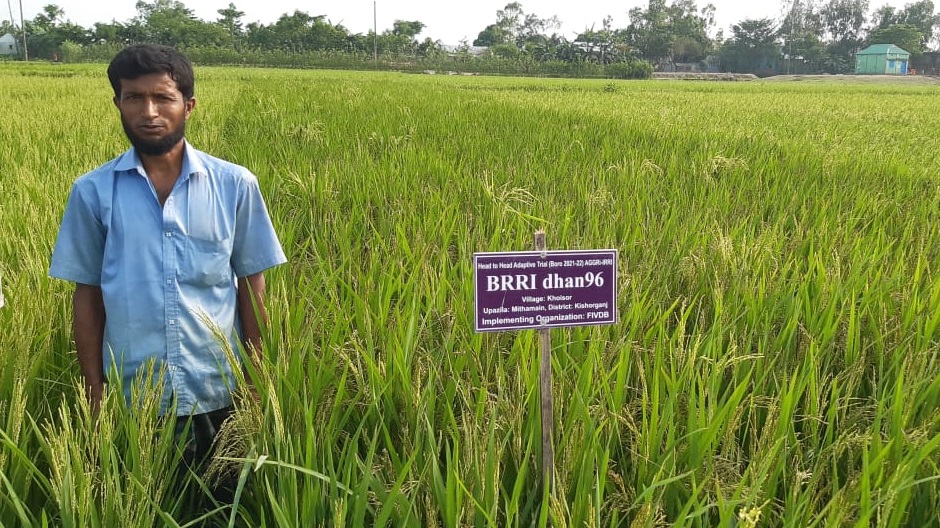 BRRI dhan-96 performed the best in varietal trials conducted in the Haor Region. The variety produced a high yield and had low vulnerability to insects and diseases. BRRI dhan-96 matured earlier than other varieties allowing farmers to harvest the crop before the incidence of flash floods. (Photo: IRRI Bangladesh)
The Haor Region has been experiencing early-season flash floods almost every year. The flash floods completely inundate rice fields immediately before rice harvesting causing massive losses to farmers and posing threats to the food security and livelihood of the people. BRRI dhan-96 has brought about a transformation in the lives of the Haor farmers. It not only provided them with a sustainable solution to the challenges they faced but also empowered them to escape poverty. With increased productivity, they were able to realize higher incomes, improve their standard of living, and invest in their children's education.
The Haor Region, characterized by marshy lands that remain flooded during the monsoons, has unique advantages. The soils are rich and fertile because of the organic and mineral deposits from rivers and streams brought in by flood waters. But, compared to other regions, the Haor Basin has lagged in terms of economic development.
Given the share of area and population that live in the Haor Region, it is difficult to foresee the nation's overall development without attaining progress in the region.  The government has undertaken many national and regional-level strategies and initiatives to steer economic growth in the area.  The challenges of climate change are also a major concern for the sustainable development of these regions.