New research initiative to address challenges facing Ethiopia's dairy, poultry and small ruminants' sectors launched
From
Published on

23.06.22

Impact Area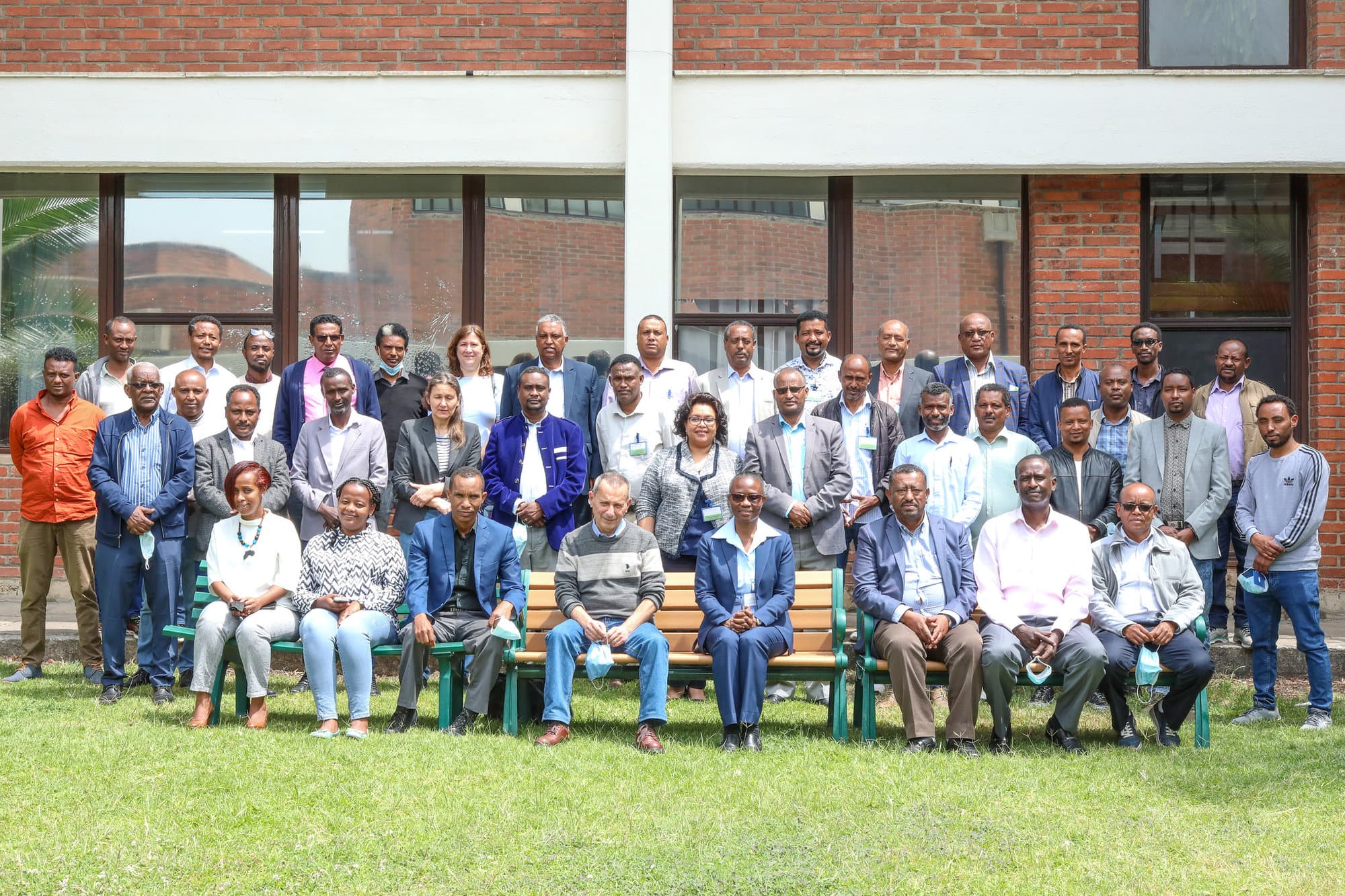 Livestock production is an important sub-sector within Ethiopia's economy in terms of its contributions to both agricultural value-added and national GDP. Ethiopia has the largest livestock population in Africa, with 65 million cattle, 40 million sheep, 51 million goats, 8 million camels and 49 million chickens in 2020 (Central Statistics Agency, CSA, 2020a). However, given its potential, there is a lot to be done. The Ethiopian government recently launched a 10 year livestock development plan with a focus on 10 commodities, including red meat, dairy and poultry.
As part of the One CGIAR 2030 research and Innovation Strategy, the International Livestock Research Institute (ILRI), in collaboration with the International Center for Agricultural Research in the Dry Areas (ICARDA), the Alliance for Bioversity International and CIAT (ABC CIAT), and local partners have embarked on a new research initiative that aims to contribute to transforming the livestock sector called 'Sustainable Animal Productivity for Livelihoods, Nutrition, and Gender Inclusion' (SAPLING). The initiative focuses on the poultry, dairy and small ruminants value chains in Ethiopia. These three value chains have been chosen because of their contribution to the livelihood of large population of smallholder farmers. Likewise, ILRI and ICARDA have worked over the years in these value chains through various projects including the African Chicken Genetic Gains (ACGG), African Dairy Genetic Gains (ADGG) and small ruminant value chain development, and wish to build on existing initiatives.
A stakeholders inception meeting was convened at ILRI Addis Ababa campus on 21-22 March 2022. The meeting served as a platform to begin co-designing a theory of change (ToC) for the prioritized value chains: dairy, poultry, and small ruminants. This was done by grouping stakeholders into their value chains of interest and engaging them in a series of iterative discussions. The groups discussed problems for each value chain and developed the aims, outcomes and innovation packages for the Ethiopia project ToC. These will guide monitoring, evaluation and learning (MEL) across the interventions in the dairy, poultry and small ruminants value chains in piloting sites that were also discussed at the inception meeting.

Aynalem Haile (ICARDA) outline the value chain choices for Ethiopia.
The inception meeting brought together more than 45 participants from across the public and private sector, NGO, association, representatives from the Ministry of Agriculture (MoA), regional and national research institutes, and CG staff.
While addressing the partners, ILRI's director general's representative in Ethiopia, Namukolo Covic, highlighted that the SAPLING initiative is very timely as there is currently much effort in Ethiopia to look at the agriculture, nutrition and gender policy environment, and use these to accelerate progress on food system transformation. She also noted that there is a strong alignment between the objectives of the CGIAR research innovation strategy and the vision that has been given for the Ethiopia food systems transformation roadmap. Finally, she concluded her remarks by strongly prompting that the SAPLING initiative be linked to the Ethiopia food system transformation roadmap.
Dr Asrat Tera, the director general of the Livestock Development Institute, commented: "This initiative is timely and perfectly aligns with government priorities, as we embark on '10 in 10'. The 10 years perspective development plan (2021-2030) has identified 10 commodities, of which four are livestock-related. The three value chains (poultry, dairy, and small ruminants) identified in SAPLING are our priority commodities."
Dairy value chain
For the dairy value chain, the stakeholders identified the main problems as the Ethiopia dairy sector is subsistence constrained by inefficient and inadequate input supply, innovations and service delivery, unorganized and seasonal market, low private sector investment, low capacity of value chain actors, lack of infrastructure and poor regulatory environment.
The stakeholders therefore envisioned to see a vibrant and inclusive dairy industry in Ethiopia through alleviating the inadequate input supply and service provision, use of innovations, and creating enabling environments for all actors in the value chain. The long-term outcomes that stakeholders wish to see towards this vision included: enhanced capacity of dairy value chain actors (producers, input & service providers, traders, transporters, groups / cooperatives); dairy keepers producing and supplying increased quantity and quality of milk to processors through the formal market; increased availability, accessibility and affordability diversified milk products; smallholder dairy farmers transformed from subsistence extensive production system to a market-oriented environmentally sustainable production system through adoption of feed, genetics and health innovations; policymakers adapting and implementing supportive policies, regulations and standards for private sector investment, empowering women and youth, and creating jobs in the dairy value chain.  Short-term outcomes and innovation packages to be implemented to address these aims were also proposed.
Poultry value chain
The main problem for the poultry value chain was identified as low smallholder chicken production and productivity due to inadequate access to quality inputs and services (i.e., right genetics, feed, vaccines/drugs, extension/trainings supports); limited access to better market opportunities (market information and infrastructures); poor value chain coordination and lack of collective action; limited support of women, and inadequate policy on inputs supply and output marketing. This informed the vision statement: a competitive, market-oriented, inclusive and sustainable smallholder chicken production system that will enhance food and nutrition security and the livelihood of smallholder chicken-keeping households. Towards this vision, stakeholders would like to see the following long-term outcomes: the traditional production system transformed to improved breeds-based semi-intensive production that increases smallholder chicken meat and egg production, and consumption; empowered women (i.e. increased role in intra-household and inter-household decision-making, improved access to inputs, services and technologies, increased access to jobs and employment opportunities); adequate jobs and employment opportunities for youth; efficient collective action and coordination along the chicken value chain. Implementation of short-term outcomes and innovation packages to address these aims were also proposed.
Small ruminant value chain
The main problem for the small ruminant value chain (SRVC) was identified as low income due to low productivity of small ruminants resulting from inequitable and poor access to essential inputs (quantity and quality), information and technologies, limited access to health care, continued use of traditional animal management practices, and lack of standardized marketing systems. This informed the vision statement: sustainably increase the productivity and availability of better nourished and healthy small ruminants to ensure equitable and affordable access to mutton and goat meat through standardized marketing models. Towards this vision, stakeholders would like to see the following long-term outcomes: Private-public partnerships increased and strengthened to provide an enabling environment; smallholders' home consumption increased to improve nutrition at the household level; smallholder producers' adoption of improved technologies, enhanced through active engagement of private and public sectors as well as CBOs; policymakers to adapt relevant extension policies to facilitate a reward-based system to increase incentive for higher efficiency (outreach and outcome). Short-term outcomes and innovation packages to be implemented to address these aims were also proposed.
Part of the next steps for the research initiative include continuous engagement with partners to discuss and evaluate the proposed sites, identify lists of innovations and missing value chain actors, and field implement the agreed integrated innovation packages for enhanced profitability of the value chains.
The Sustainable Animal Productivity for Livelihoods, Nutrition and Gender Inclusion (SAPLING) research initiative is one among several others that have been started by CGIAR to tackle the challenges climate change poses to food, nutrition and water security. SAPLING is being implemented in Ethiopia, Kenya, Mali, Nepal, Tanzania, Uganda and Vietnam. It is expected that by 2024, SAPLING will enable 800,000 livestock producers (50% women) of cattle, chickens, small ruminants and pigs to engage in inclusive value chains and achieve sustainable productivity gains between 30-50%.  
———–
Written by Tsehay Gashaw (ILRI) and Aynalem Haile (ICARDA)
For more information about the initiative, click here – https://hdl.handle.net/10568/114668.
The SAPLING research initiative in Ethiopia is led by ICARDA's Aynalem Haile (a.haile@cgiar.org).
The SAPLING initiative is led by ILRI's Isabelle Baltenweck (i.baltenweck@cgiar.org) with deputy lead ICARDA's Rekik Mourad (m.rekik@cgiar.org).