National Policies and Strategies (NPS) Coordination team holds 1st Hackathon in Kenya
From

CGIAR Initiative on National Policies and Strategies

Published on

31.05.23

Impact Area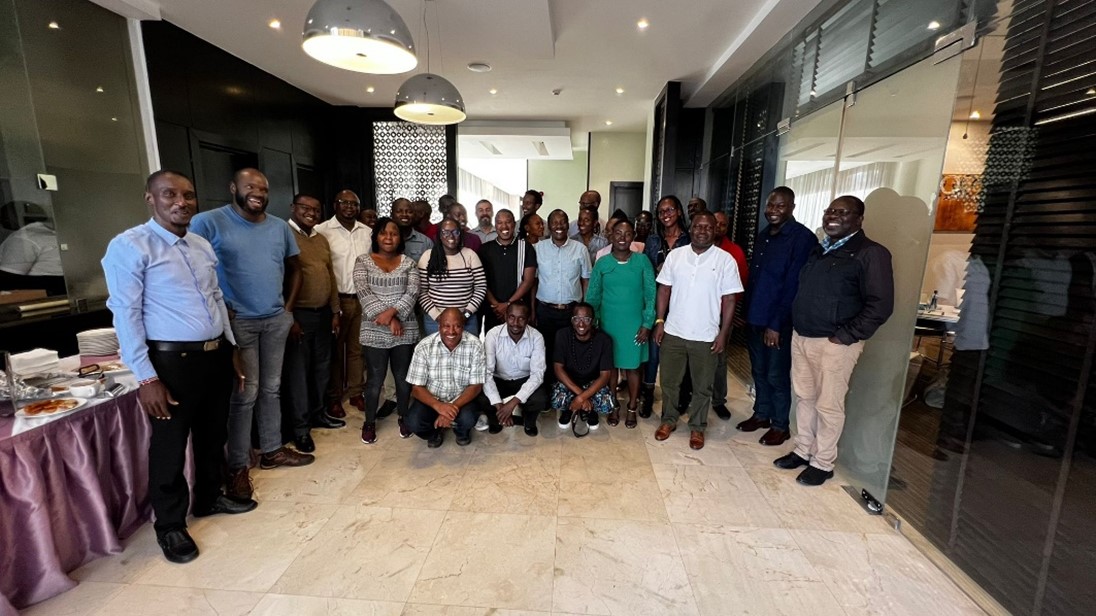 International Water Institute (IWMI) and CGIAR Initiative on National Policies and Strategies, through its Coordination team together with Wetlands International, held the 1st ever Water Policy Hackathon in Nairobi, Kenya, for the youth and key stakeholders in the water sector from the 18th-19th May 2023. The Engagement had over 35 stakeholders from Civil Society Organizations, representatives from the different government ministries in Kenya, and key youth players in the water sector.
The hackathon aimed at exploring the commitments of the UN Water Action Agenda in relation to Kenya's water governance and links to the challenge of seeking synergy between food, land and water systems policy arena. Participants were challenged to identify key potential areas for improving the delivery of policy and planning approaches under the legal regime in Kenya.
The Hackathon was a platform for participants to share knowledge and experiences, foster dialogue, collaboration, develop strategies and recommendations for enhancing water security, multi-level governance and cooperation in Kenya.

Gladys Wekesa, Director of Transboundary Water Resources at the Ministry of Water, Sanitation and Irrigation Kenya emphasized the commitment of the Kenya Government to the Water Action Agenda, among which is increasing access to safe drinking water and sanitation. She, however highlighted a few challenges affecting the realization of these commitments which includes enforcement of laws and regulations touching water sector.
 Dr. Alan Nicol, Director, Water, Growth ,and Inclusion at IWMI, in his opening remarks, challenged the participants to think differently about water and reflect on what the new water Governance agenda needs in order to improve Kenya's water policy landscape, whether it is Science, increased collaboration between the different stakeholders, more accountability, stronger monitoring, among others. He also encouraged participants to come up with innovative solutions that will better Kenya's water sector.
The topics discussed at the Hackathon were water and climate resilience, upscaling of equitable and environmentally viable commercialization and intensification, as well as appropriate and participatory policy formulation and environmental sustainability among others.
The participants were keen to holding the different key players accountable on their roles and commitments in water financing, collaboration mechanisms between the different government sectors, Civil Society Organizations and others players in the water sector. The different sectors brained stormed and made commitments to enhance Kenya's water policy landscape.
The hackathon, aimed at understanding from a critical perspective, the concrete outcomes of the recent UN Water Conference for Kenya. To that end, one of the participants, Mr. Felix Brian Kwena (Programme Manager Kenya Water for Health Organisation) stated that, 'Water problems are local in nature. For resolutions passed at conferences like the recently concluded UN Water Conference to have an impact, they have to be localised and made chewable for the local communities".
In a similar line, Ms. Linet Kamadi, Speaker to the National Youth Wash Parliament, encouraged the youth to get out of their comfort zone, take spaces in the Water Sector, play their roles diligently and radically by holding the concerned stakeholders accountable. She advised them to start playing their part instead of sitting back and throwing blames around without any action.
Towards the end of two days of intense work, participants in their different hacking groups identified key challenges and solutions around climate change, 'Water, Peace & Security', 'Water Resources Management' and 'the WASH sector'. Participants also made strong commitments to follow up with these solutions and implement them as possible.
More details of the Hackathon and its outcomes are Contained in the Report which will be released in a few weeks.

---
This work is part of the CGIAR Research Initiative on National Policies and Strategies (NPS). CGIAR launched NPS with national and international partners to build policy coherence, respond to policy demands and crises, and integrate policy tools at national and subnational levels in countries in Africa, Asia, and Latin America. CGIAR centers participating in NPS are The Alliance of Bioversity International and the International Center for Tropical Agriculture (Alliance Bioversity-CIAT), International Food Policy Research Institute (IFPRI), International Livestock Research Institute (ILRI), International Water Management Institute (IWMI), International Potato Center (CIP), International Institute of Tropical Agriculture (IITA), and WorldFish. We would like to thank all funders who supported this research through their contributions to the CGIAR Trust Fund.