NARS partners in Asia pick up advanced groundnut breeding lines with market traits for their national trials
From
Published on

21.10.19

Impact Area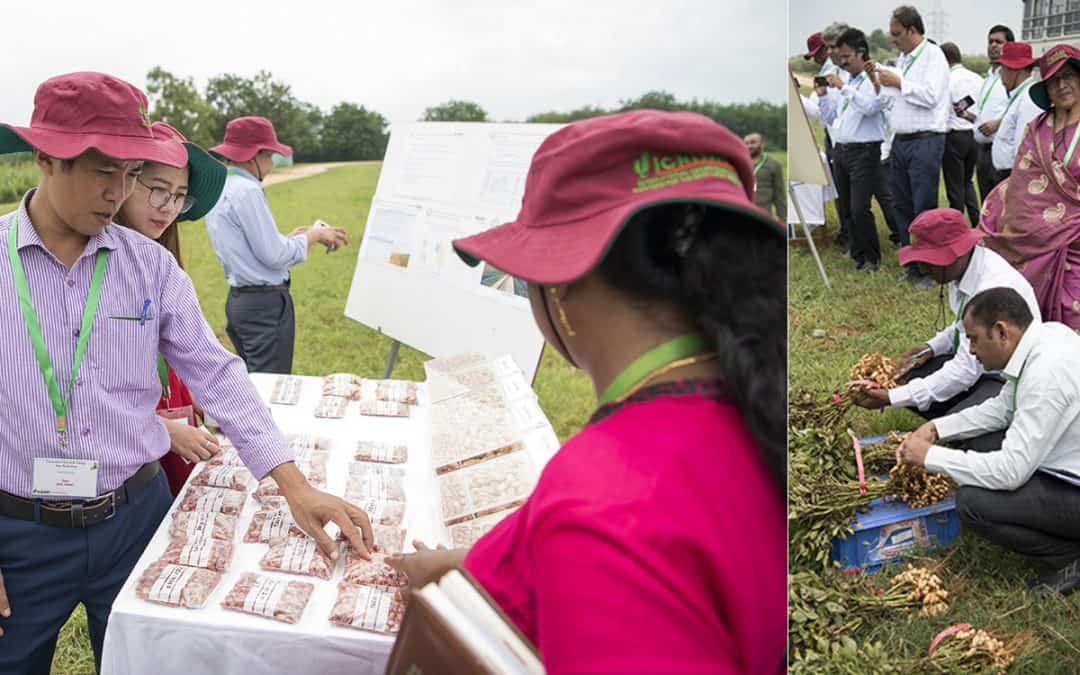 Advanced breeding lines which included high-oleic groundnut and those with market-preferred kernel size, shape and color were selected for further trials by National Agricultural Research System (NARS) partners from Bangladesh, Myanmar, India, Laos PDR and Vietnam.
The activity was part of the Groundnut Network Group-Asia (GNG-A) workshop which served as a knowledge-sharing platform for NARS partners with industry partners from the food processing and seed sectors.
Progress on developing 'Product Profiles'
GNG-A is a multi-stakeholder network engagement for Groundnut Product Profile design, development, testing, advancement and delivery. The concept of designing groundnut 'Product Profiles' was introduced at the last GNG-A workshop in 2018 by Dr George Kotch from the CGIAR Excellence in Breeding Platform (EiB) team. Value chain studies on the needs of current and emerging markets were required to guide the design; hence studies1 were conducted in Gujarat-India and Myanmar for groundnut. Guided by the studies, NARS designed the Product Profiles which are dynamic and are revised when needed, most often based on insights from panel discussions such as the one held at the workshop.
Insights from the panel discussion on 'What's new in the groundnut industry?'
Kernel size distribution is one of industry criterions. Preferred counts per ounce are 38/42, 40/50 and 50/60 for salted/roasted/fried groundnuts, respectively.
Easy blanching (removal of testa from kernels) is a requirement for salted groundnuts.
Kernel shape and testa color are important traits for industries. Light tan and rose testa are preferred over dark tan.
Oil content is an important criteria for confectionery industries and peanut butter makers. Varieties with low to normal oil content (~45-48%) are preferred. On the other hand, oil millers prefer varieties with higher oil content. Farmer's usually fetch premium prices for their produce based on oil content.

Ms MarMarNwe, a former collaborator from the Department of Agricultural Research, Myanmar, who is currently helping seed systems in Myanmar as consultant of OFID project, was felicitated for her contributions to groundnut research in Myanmar by Dr Pooran Gaur, Research Program Director-Asia, and Dr SN Nigam (far right), former Prinicipal Scientist-Groundnut at ICRISAT.  Photo: D Deshmukh, ICRISAT
Challenges faced by the confectionery and export industries include aflatoxin contamination due to poor (pre- and post-harvest) management, lack of on-farm scientific storage facilities at farmer's field, and mixing
of different varieties.
The private groundnut seed business in India, Myanmar and Vietnam are beginning to emerge despite challenges of low seed multiplication ratio; the bulky nature of seed requiring large storage space; and transportation costs. One key opportunity for groundnut business is that the leftover seed, if any, can be sold in commodity markets.
Updates on scientific technologies
Updates on using seed chipping for Single-Nucleotide Polymorphism (SNP) genotyping, standardization of calibrations for Near-infrared spectroscopy (NIRS) for single kernel use, 58K SNP array, Target Population of Environments (TPEs) for targeting multi-location testing and biological nitrogen fixation were shared during the workshop.
The field visit for selection of advanced breeding lines by NARS partners included trials with high oleic lines with different growth habits suitable for different agro-ecologies, and seed display to exercise selection for kernel size, shape and color.
The panel discussion was moderated by Dr Kumaracharyulu, Senior Scientist, Agricultural Economics, ICRISAT. The panelists included Mr Tushar Thumar Patel, Director of Khedut Feeds & Foods Pvt. Ltd., Rajkot; Mr Rangachetty, R&D Manager at VNKC Agricom, Ahmedabad; and Dr Hemang Baxi, Bombay Super Hybrid Seeds, Rajkot, India.
Prof PK Agrawal, Vice Chancellor, Odisha University of Agriculture and Technology, emphasized on partnerships to deliver products to smallholder farmers. Dr Janila Pasupuleti, Principal Groundnut Breeder at ICRISAT, said the GNG-A network, since its establishment in 2017, has been building an ecosystem for groundnut breeding modernization.
The GNG-A workshop was held at ICRISAT from 26-27 September.

Training for NARS partners: Ms Lin Trinh (Vietnam), Mr Krisna Chandra Saha and Mr Mukaddasul Islam Riad (Bangladesh) and Mr Khamphanh Xayyalattaking (Laos PDR) completed a two-week training program on "Advances in Groundnut Research and Seed Production Technology". At the workshop, the trainees got to know first-hand how the groundnut industry works. The program was funded by OFID. Photo: D Deshmukh, ICRISAT
Project: Enhancing groundnut productivity and profitability for smallholder farmers in Asia through varietal technologies
Funder: OPEC Fund for International Development (OFID)
Partners: Bangladesh Agricultural Research Institute,  Bangladesh; Vietnam Academy of Agricultural Sciences (VAAS)-Vietnam,; Department of Agricultural Research (DAR), Yezin, Nay Pyi Taw, Myanmar; Maize and Cash Crop Research Center, National Agriculture Forestry and Rural Development Research Institute, Laos PDR; Professor Jayashankar Telangana State Agricultural University (PJTSAU), Telangana, India; Mahatma Phule Krishi Vidyapeeth (MPKV), Telangana, India.
CRP: Grain Legumes and Dryland Cereals
The post NARS partners in Asia pick up advanced groundnut breeding lines with market traits for their national trials appeared first on Grain Legumes and Dryland Cereals.