MSMEs and barriers to increasing fruit and vegetable consumption in Ethiopia
From

CGIAR Initiative on Sustainable Healthy Diets

Published on

27.06.23

Impact Area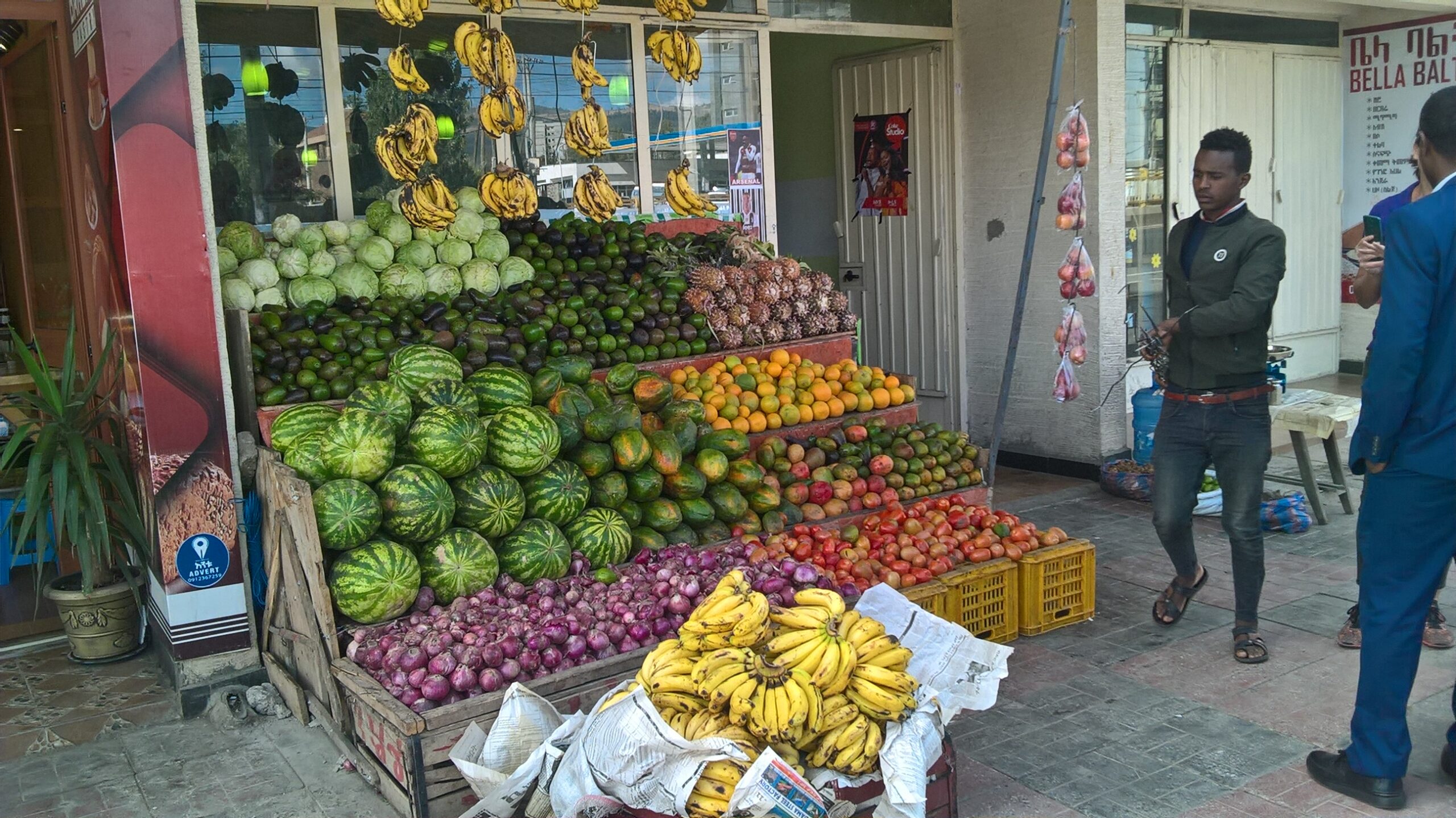 Fruit and vegetable (FV) consumption is extremely low in Ethiopia, even compared to other neighboring countries, leading to nutrient deficiencies and making its population vulnerable to a range of largely preventable diseases. High prices and low incomes help explain the low levels of FV consumption, but even the relatively wealthy eat less FV than the WHO recommends. This pattern suggests that more systemic issues are limiting consumption.
Micro, small, and medium enterprises (MSMEs), such as traders and retailers, play a key role in supplying consumers with FV, especially in urban areas. One way to improve FV consumption is to target the barriers that MSMEs face in growing their businesses. To learn about those barriers, researchers from the CGIAR Initiative on Sustainable Healthy Diets through Food Systems Transformation (SHiFT) commissioned a mixed methods case study of FV value chains in late 2022/early 2023 in both urban and rural areas of Ethiopia. The study examined two areas: Addis Ababa and Batu (formerly Ziway), which is in the FV production zone. The survey respondents included 340 vendors, traders, wholesalers, and cooperatives. For the qualitative component, researchers held six focus groups with different types of retailers (vendors and shopkeepers) across the two areas.
In the study, MSMEs reported that various factors limit their business expansion. At least one factor—high price volatility—is inherent to these specific value chains, since FV face a higher risk of spoilage than grains and legumes. Another factor—the general lack of cold chains—would require substantial coordinated investment to overcome.
But at least two barriers could be addressed to help MSMEs increase FV sales. First is the lack of capital, the most commonly cited barrier. MSMEs may not be able to access financing for several reasons—it could be that capital is available but MSMEs do not know how to access it, financial institutions are not aware of potential borrowers in the FV sector, capital is limited, or MSMEs selling FV have a hard time showing they can provide collateral for a loan. In the first two cases, informational interventions could help MSMEs and lenders become more aware of opportunities in the sector.
The second barrier is the limited self-organization of MSMEs. In many areas of Ethiopia, iqqub (informal savings groups) and iddir (funeral associations) act as self-help groups that lend to members in need. If MSMEs are willing to spend time organizing, then developing self-help groups, like iqqub and iddir, could help these entrepreneurs overcome challenges in obtaining capital to grow their businesses or dealing with other business-related constraints.
This research is part of SHiFT's work on MSMEs and the informal sector, also known as Work Package 2. SHiFT combines high-quality nutritional and social science research capacity with development partnerships to generate innovative, robust solutions that contribute to healthier, more sustainable dietary choices and consumption of sustainable healthy diets. It builds on CGIAR's unparalleled track record of agricultural research for development, including ten years of work on food systems and nutrition under the CGIAR Research Program on Agriculture for Nutrition and Health (A4NH). The International Food Policy Research Institute (IFPRI) and the Alliance of Bioversity International and CIAT (the Alliance) lead SHiFT in close collaboration with Wageningen University & Research (WUR) and with contributions from the International Potato Center (CIP).
This news item was authored by SHiFT researchers Daniel Mekonnen, WUR; Ezra Berkhout, WUR; and Alan de Brauw, IFPRI, and edited by Claire Davis, IFPRI.
Header image: Fruit and vegetable shop in Addis Ababa, Ethiopia. Photo by Geraldine Klarenberg/University of Florida from Flickr.