Moving from gender policies to gender equality in the South Asian energy sector
From

CGIAR Initiative on NEXUS Gains

Published on

05.10.23

Impact Area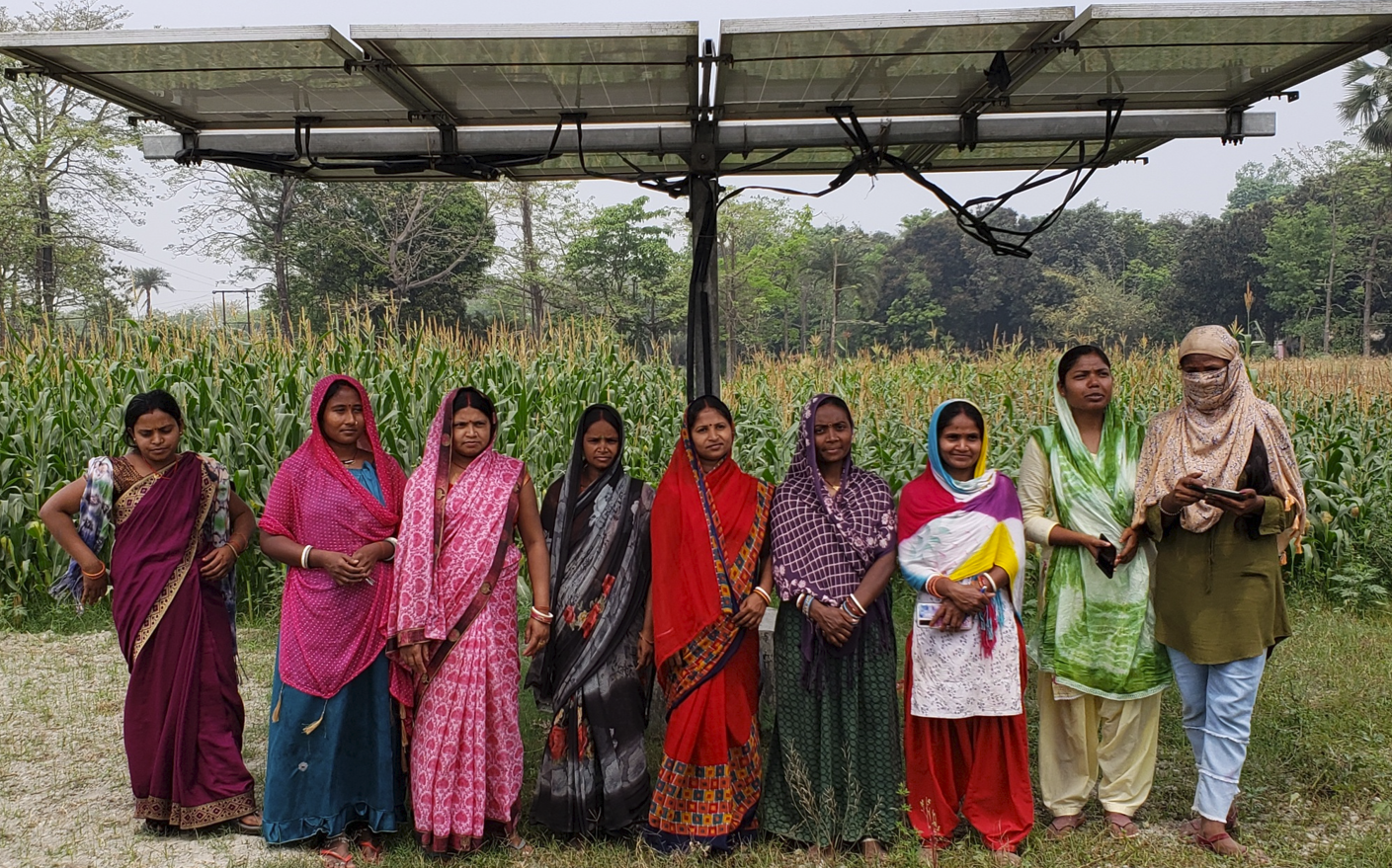 Across South Asia, gender equality and social inclusion (GESI) are widely acknowledged as vital pillars of a just transition to renewable energy. So why do men continue to make most decisions regarding energy use? This was the conundrum grappled with by the latest NEXUS Gains webinar, Gender and Energy: Measures to accelerate equity and social inclusion in South Asia's rural energy transition.
The webinar, held on Thursday, September 28, was moderated by NEXUS Gains' co-lead Dr Claudia Ringler. "Access by women and marginalized groups to clean energy services and green technologies remains constrained by women's social position and gender norms as well as gender-blind energy policies and institutions," she said in her introduction. "The cost to women's well-being and rural economic growth from inequitable access, policies, and institutions are considerable but seldom assessed."
Barriers to gender equality in Nepal
The first insights into the energy–gender conundrum came from Shristi Shakya, a consultant in gender and social sciences at the International Water Management Institute (IWMI) Nepal. Ms Shakya presented the results of research she and her colleague Dr Marlène Buchy conducted into GESI in the Nepalese energy sector. "Why do Nepal's public energy institutions, despite a constitutional commitment to gender equality, seem reluctant to mainstream GESI within its policies and practice?" she asked.
Her research uncovered not only a lack of financial resources and necessary skills, but conceptual barriers to the incorporation of GESI into policies and programs. "GESI is often considered as the need to focus on women and their participation in decision-making," explained Ms Shakya. "Only rarely is it understood as a process to balance power relations between genders and social groups." This narrow interpretation hinders programs designed to address social justice and inequality.
The need for institutional support
From barriers to possible solutions: attendees next heard from Neha Durga, a researcher in water and energy at IWMI India, who asked whether energy can be used to improve the agency and access to resources of  rural women in India.
An in-depth analysis of nine energy initiatives in India's eastern state of Bihar found that, while some interventions significantly improved the incomes of participating women, this by itself was not enough to change household dynamics or the distribution of assets and capital. In other words, women may be earning more money, but they are still not free to spend it. Ms Durga concluded that real empowerment requires systematic institutional support. Without this, local improvements will not translate into lasting nationwide change.
Energizing women's empowerment
These findings were complemented by a presentation from Dr Muzna Alvi, a research fellow at the International Food Policy Research Institute (IFPRI) India, and Tushar Singh, a senior research analyst at IFPRI. Their research focused on quantifying and understanding women's empowerment in energy. "Women are agents of change, and their adoption of new practices and technologies – such as clean energy – can have broader implications for household and community well-being," explained Dr Alvi. However, their survey of 1,000 households in Nepal's Karnali and Madhesh provinces found that women have very little say regarding decisions to switch household energy sources – an important consideration for the renewable energy transition.
Mr Singh highlighted the importance of women's limited ownership of and access to assets. "For example, 33 percent of men own mechanized farm equipment like tractors, but only 9 percent of women do." Citing access to information on clean energy via smartphones – whose ownership is 30 percent lower for women compared with men – he encouraged attendees to see energy initiatives as a way to empower women. "We need to realize that empowering women to choose and use energy isn't just a result of gender equality – it's a route to gender equality."
The challenge ahead
The webinar concluded with an in-depth panel discussion between the presenters and two guest panelists. Ms Resha Piya, an energy advisor at the British Embassy in Kathmandu, stressed the importance of monitoring, evaluation, and learning (MEL) for successful GESI interventions. "GESI is considered a cross-cutting theme across all of our energy programs," she said. "And whatever we do at the British Embassy, we want to be able to measure it, so we have a strong MEL component in all the programs we support." Dr Nikhil Gakkhar, a scientist at the Indian Ministry of New and Renewable Energy, agreed that recording the number of women who participate in and benefit from government interventions is essential to improve women's access to and control over renewable energy.
The webinar shed some much-needed light on the puzzle of persistent gender inequality regarding energy in South Asia. The real challenge is now to overcome these barriers and ensure that women across the sub-continent – regardless of their location, education, wealth, or social status – are empowered to make the same energy choices as men.
Didn't catch the webinar? You can watch it here.
You can also find all 14 previous NEXUS Gains webinars in the series in this YouTube playlist
Header image: Women's solar irrigation group in Bihar, India, visited as part of a NEXUS Gains field visit. Photo by Claudia Ringler/IFPRI.