Memorandum of Understanding marks invigorated partnership for CGIAR and Republic of Korea
From
Published on

16.04.19

Impact Area
Funders

Korea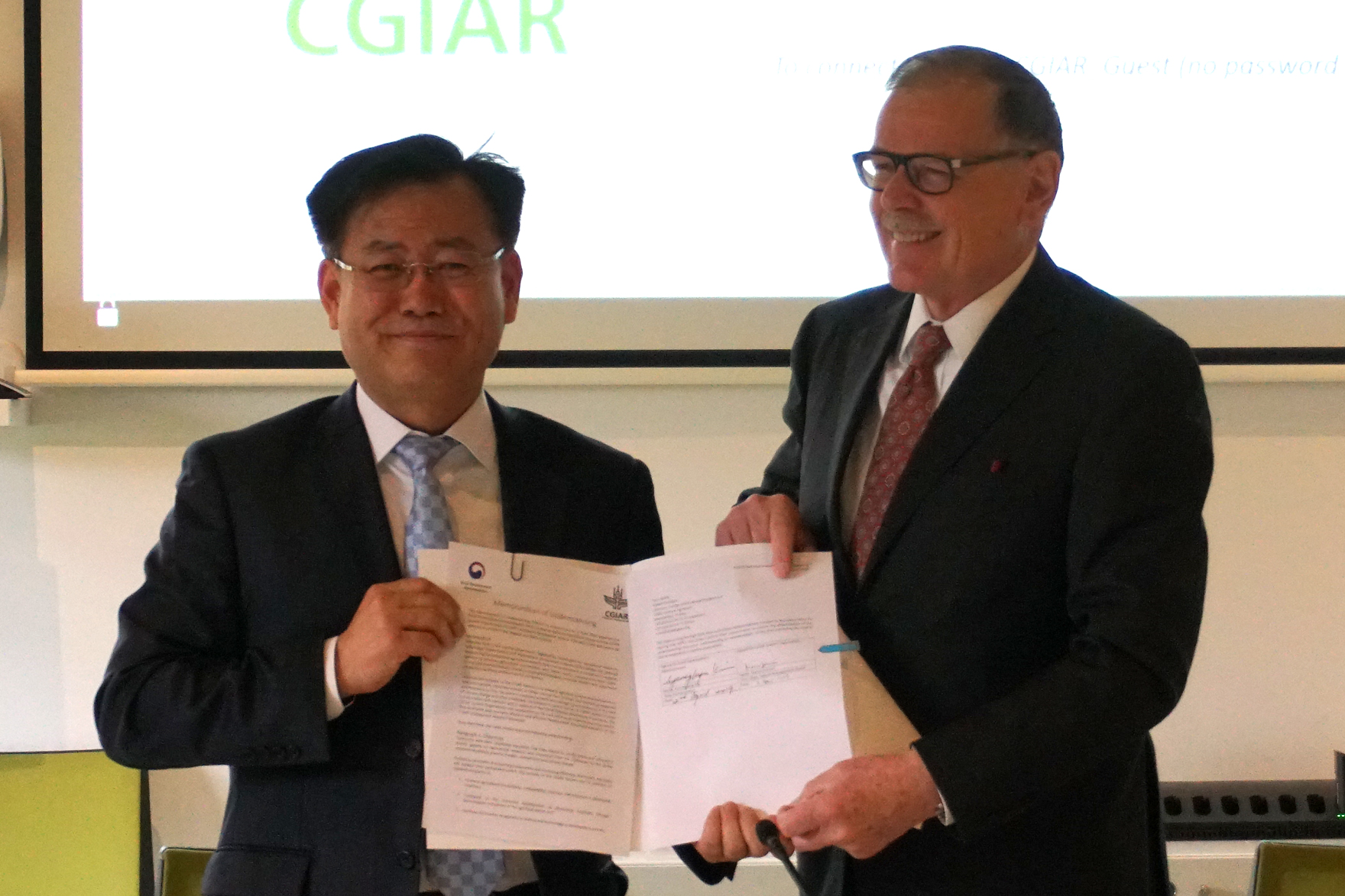 CGIAR and the Rural Development Administration (RDA) of the Republic of Korea, have signed a memorandum of understanding (MOU) on the 2nd of April 2019, marking the beginning of an invigorated partnership geared towards creating greater impact through agricultural research and innovation.
RDA is a government institution committed to agricultural research, technology dissemination and international cooperation. Since its establishment in 1962, it has played a crucial role in the development of agricultural technologies in Korea.
A delegation from RDA, led by Administrator Mr. Kyeong Kyu Kim, was welcomed by members of the CGIAR System Management Board in Montpellier, France, at the System Management Office for strategic talks to expand their partnership.
The MOU reflects a shared agenda on agricultural research and innovation that will contribute to the global response to address poverty, hunger, malnutrition and climate change.
"I believe that this MOU with CGIAR serves as a valuable asset in resolving agriculture issues together and advancing Korean agricultural technology. I hope that this will reinforce our partnership and lead to fruitful results," said Mr. Kyeong Kyu Kim. "I look forward to successful cooperation with CGIAR."
Guided by principles of enhancing cooperation and increasing efficiency and impact, RDA and CGIAR will expand their partnership within the context of the CGIAR System and its portfolio of research programs to:
Promote agricultural productivity, sustainability, nutrition, and resilience in developing countries;
contribute to the economic development of developing countries through technological innovations in the agri-food sector; and
facilitate the transfer of agricultural science and technology to developing countries.
"Our aspiration is to see Korea assume a greater role with CGIAR through expanded research, scientific collaboration and financial investment. Both the global North and South have much to learn from Korea, whose sustained economic transformation serves as an example to many countries," said Dr. Marco Ferroni, Chair of the System Management Board.
RDA has a strong history of collaboration with CGIAR Research Centers and has generously contributed to the funding of CGIAR research since 2011. RDA has carried out projects together with the International Rice Research Institute (IRRI), International Livestock Research Institute (ILRI), and International Crops Research Institute for the Semi-Arid Tropics (ICRISAT) and will continue to develop joint activities and initiatives in support of the CGIAR portfolio.
"CGIAR will work together with RDA to strengthen CGIAR as the global framework for agricultural research and innovation. May this visit and MOU mark the beginning of an invigorated partnership that will amplify the impact of our respective organizations' work," added Dr. Ferroni.