MEDIA RELEASE: Novel species of fungi discovered on bat carcasses in China
From
Published on

30.06.20

Impact Area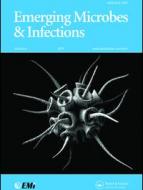 Nairobi, Kenya, 30 June 2020 — A subterranean expedition conducted by researchers at World Agroforestry (ICRAF) East and Central Asia Program; Centre for Mountain Futures; and Kunming Institute of Botany (KIB) at the Chinese Academy of Sciences highlights the importance of understanding the ways in which the relationships between fungal species and other cave organisms may have serious ecological and economic implications.
The expedition discovered four novel fungal species growing on bat carcasses in an underground limestone karst system in China, illustrating the pressing need for more scientific work in caves, according to the researchers' article, Discovery of novel fungal species and pathogens on bat carcasses in a cave in Yunnan Province, China, published in the journal Emerging Microbes and Infections in June.
In total, seven species were found across two carcasses. Three out of the four new species belonged to Mortierella, a genus of well-known saprophytic fungi (meaning they obtain nutrients through dissolving organic matter). The fourth new species, Neocosmospora pallidimors, is particularly important to science, as the Neocosmospora genus is known to contain numerous aggressive pathogens that can infect mammals.