Malian farmer sets an example as a successful seed producer
From
Published on

13.07.20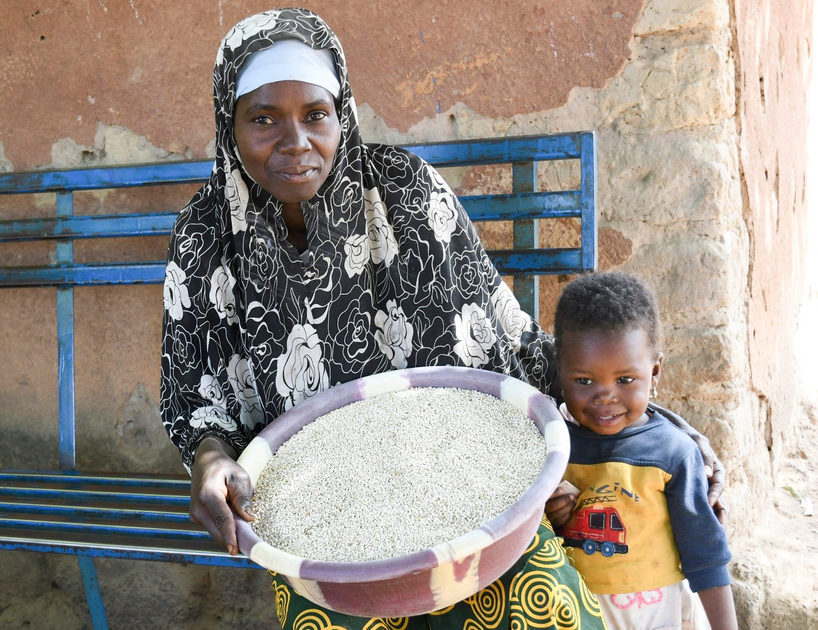 Photo: Mrs. Aminata Diawara and her daughter showing samples of their sorghum produce. (ICRISAT)
Farmer field schools in Mali are not only training local farmers in best practices for optimum crop yields, they're also providing improved variety seeds to them, encouraging them to become seed producers themselves.  Africa RISING's large-scale Diffusion of Technologies for Sorghum and Millet Production Systems (ARDT_SMS) Farmer Field Schools in West and Central Africa are game-changers on their farms and in their villages.
Meet Mrs Aminata Diawara, an entrepreneur driving a thriving seed production model, who is contributing to her family and community in a big way since 2014.
Mrs Aminata Diawara took up seed production, inspired by the success of a group of pilot seed multipliers. "One day as I was passing by the road that leads to our farm, I saw a beautiful field of sorghum. The crop in that field was so impressive that I went and met the owner who informed me that it was a demonstration plot carried out in the village by a Farmer Field School group." Before the start of the next cropping season, Aminata went back to the farmer. He introduced her to other members of the cooperative and she too joined the group.
Read more on how Mrs. Diawara achieved her success: http://gldc.cgiar.org/malian-farmer-sets-an-example-as-a-successful-seed-producer/