Malawian Women In Agriculture Post Cyclone Freddy
From

Phindiwe Nkosi

Published on

20.06.23

Impact Area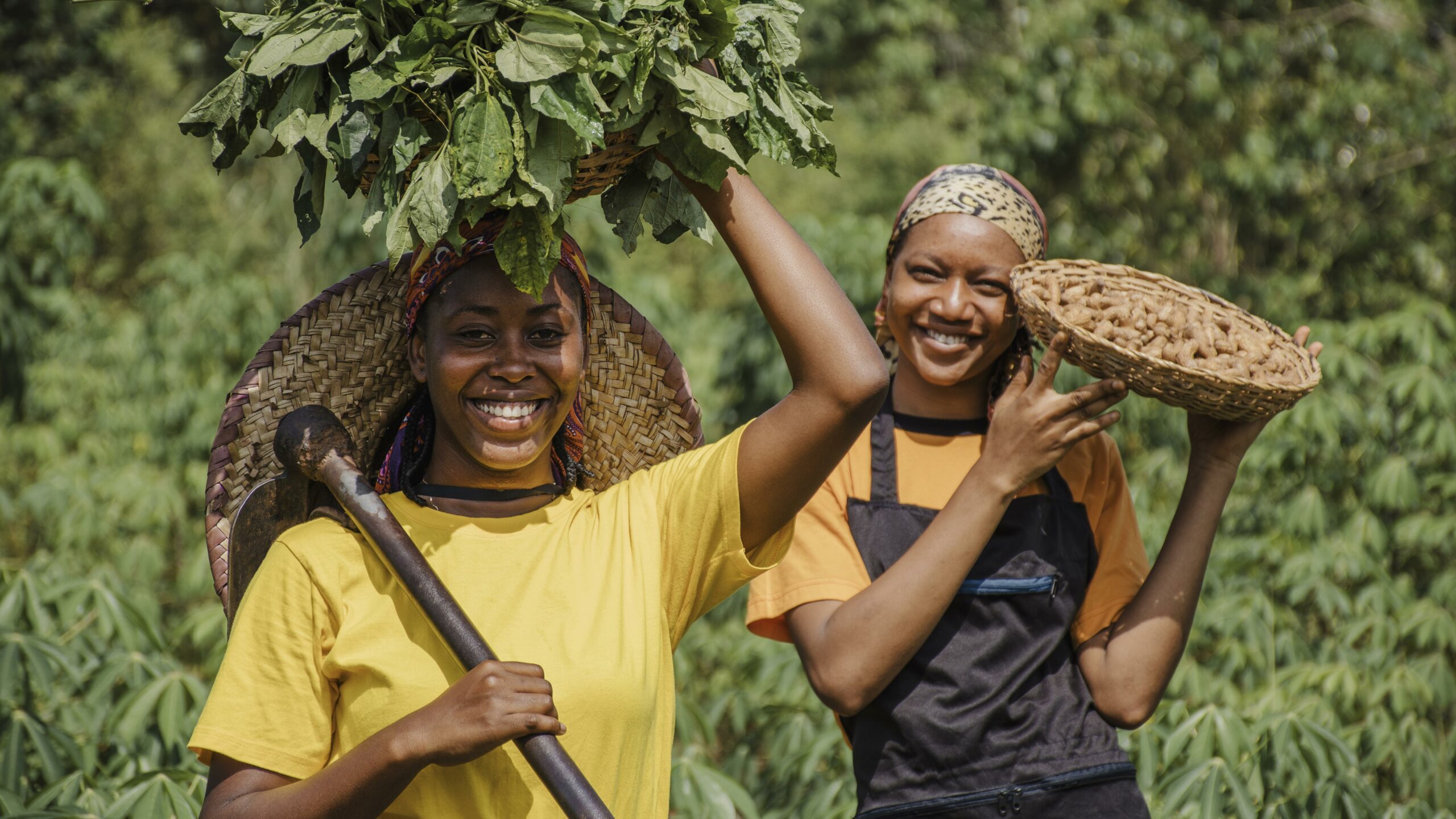 Manual labour, land, input, finance, education on how to scale and bridge the gaps presented by climate change. These were just some of the few pain points raised by Malawian women involved in agriculture during a recent farm visit organised by the CGIAR Initiative on Diversification in East and Southern Africa (also known as Ukama Ustawi). These farm visits are a part of Ukama Ustawi's efforts to offer small scale farmers support pre- and post- cyclone Freddy, the record-breaking cyclone that affected Malawi, the Mascarene Islands, Madagascar, and Mozambique in 2023.  
The farm visits were made possible by collaborations between the International Water Management Institute (IWMI), International Maize and Wheat Improvement Center (CIMMYT), regional NGO Total LandCare, and the Malawian Ministry of Agriculture's extension officers who mobilized small scale farmers from various villages across the country to empower them with climate smart Africa agricultural goals. 
The plights of marginalized women in agriculture 
"As a rural woman who relies on agriculture, and landowner, there are several challenges that we face. In addition to being a woman, I am an elderly woman (of 75 years). Climate change is a reality that we can't deny. We see it with the unusually heavy rains and extreme weather. Traditional farming methods rely on a hoe, but this tool requires strength. Without your activities in this area to empower small scale Malawian farmers on conservation agriculture – as well as providing us with drought-tolerant seeds – I would not be able to continue to work and feed my family," says Georgina Nkhanu, a small scale farmer from Nkhotakota district, Malawi, who has been involved with climate-smart projects led by  CIMMYT team since 2012 and now being supported by the Ukama/Ustawi Innitiative– and has since passed on these modern farming techniques to her sons Mc Fonic and Jairosi Nkhanu. 
According to Dr Christian Thierfelder, Ukama Ustawi Work Package 1 Lead which focuses on diversifying and sustainably intensifying maize-based farming systems – conservation agriculture needs to empower all small-scale farmers, including marginalized groups such as women, disabled and youth. Furthermore, in his expertise from working with Malawian farmers for over 18 years, and according to Malawian statistics, more than 75% of the farming area in Malawi is dedicated to maize. The conservation agricultural practices done by the team includes training on no-tillage practices, crop residue retention and improved diversification strategies with legumes in doubled-up legume system and associated climate smart practices. 
"Women in agriculture are important stakeholders in Malawi – and Africa at large – as they help the continent to feed herself. As it stands, more than US$45 billion in agricultural production is at risk from higher temperatures, shorter growing seasons and more extreme droughts and floods in East and Southern Africa. Conservation agriculture cannot and should not be separated from women, and perhaps the first step comes with empowering women and giving them a voice," says Dr Thierfelder, Principal Cropping Systems Agronomist with CIMMYT.  
 In this work package, the implementation approach has been through so-called "mother and baby trials" in communities of 100-200 households in which the mothers trials show a menu of options to farmers and baby trials will take a subset of these options to a larger number of smallholders to increase the coverage.  
Farming communities were involved in establishing the technologies, evaluating them across a series of awareness activities and to truly co-create technology options and increase uptake in the longer terms. A preliminary study conducted in the Nkhotakota Area found that over 57% of smallholder farmers had adopted full conservation agriculture systems as opposed to 7% in the control group.  
Echoes of the collective 
It was encouraging to observe several Malawian women farmer groups who are committed to conservation agriculture, and actively involved as baby trial and innovation farmers. Salome Kenedy is one such woman who spoke up on the challenges of farming in Malawi, especially as a woman. These challenges, included but were not limited to, land ownership, being taken seriously, being empowered, and educated on how to mitigate climate change effects and societal limitations standing in the path of scaling and growing as a business owner. 
Among those who formed part of the baby trial and innovation farmer groups for women was Delia Chunga. "I am an innovation trial farmer. Being part of a women group who stand up and dare to farm differently  to contribute to our households, is empowering. Women in agriculture need to be heard and  given a chance in this seemingly male dominated industry," added Chunga. Her sentiments resounded those of Memory Banton from a village in Chaola, Central Region, Malawi – who has been part of the program for nine years. 
It takes a village… 
The role of women in agriculture cannot be over-emphasized and to this end, a network of local, private and international players are working together. Grace Malaitcha, a female farmer who has been involved with the initiative since 2006 and has since been trained as a farmer trainer for Total LandCare. It is worth mentioning that this once "shy" woman who used to watch how her neighbors were helped, has now trained over 10,000 farmers – many of whom are women! 
Women provide more than 50 per cent of the agricultural labor force and play a key role in ensuring family nutrition and food security in Africa. Moreover, around 100 million young people will be entering the workforce in Africa over the next 10 years, and they will need to find work in agriculture.  As such empowering women, youth, and the marginalized cannot be an afterthought. There is a call to proactively advocate for gender and social inclusion at all levels. It is to this end that Dr Karen Nortje, Senior Researcher at IWMI and Work Package 5 lead for Ukama Ustawi on Gender and Social Inclusion advocates for the inclusion of gender in every phase, stage, and level of agriculture in Africa and the world at large. 
"Not only do women grow food in most of Africa's subsistence farms, they also own one-third of all small and medium-sized enterprises (SMEs) and are economically more active as farmers and entrepreneurs than women in any other region of the world. Yet, significant gender gaps in productivity, wages, and entrepreneurial growth opportunities makes agriculture, ironically – a key driver of gender inequality in Africa." says Dr Nortje.  
Furthermore, Dr Nortje asserts that without attention to gender equality and social inclusion, agricultural innovations and agribusiness interventions will not transform current experiences of food insecurity and malnutrition, which impacts most women and youth from marginalized and vulnerable communities.   
Overall commitment to inclusivity 
"Women's empowerment in farming in Malawi has been gaining momentum over the years as more and more women take on leadership roles in agricultural activities. Despite this progress, women farmers in Malawi continue to face challenges that hinder their full participation in the sector. The Malawi government has been working to empower women farmers through various initiatives, such as the National Gender Policy, which aims to promote gender equality and women's empowerment in all sectors, including agriculture. The policy recognizes the crucial role that women play in agricultural production and calls for the elimination of gender disparities in access to land, credit, and other agricultural resources," says Mphatso Gama, Principal Agricultural Officer (Crops) and Conservation Agriculture Expert at the Malawian Ministry of Agriculture. 
Gama further asserts that one of the significant challenges that women farmers in Malawi face is access to land. Women often do not have secure land rights and are unable to access credit and other resources to invest in their farms. The Malawi government, in partnership with various organizations, has been working to address this challenge by providing land tenure security and promoting land rights for women. In addition to land rights, women farmers in Malawi also lack access to financial resources, including credit, savings, and insurance. Financial exclusion hinders women's ability to invest in their farms and increases their vulnerability to shocks such as crop failure, natural disasters, and illness. To achieve this, most women farmers are engaged in small and medium loans through micro-finance institutions through "Mtukula Pakhomo and Banki Mkhonde" initiatives where women get cash to support small scale businesses. 
"Women's empowerment in farming in Malawi is through access to education and training. Women farmers often lack the necessary skills and knowledge to improve their agricultural productivity, diversify their crops, and adopt new technologies. The government, in collaboration with various organizations, has been providing training and education programs to women farmers to enhance their skills and knowledge in agriculture," concludes Gama. 
Authors:   
Dr Christian Thierfelder, 

Diversification in East and Southern Africa (Ukama Ustawi)

 Work Package 1 Lead: Diversify and Sustainably Intensify Maize-Based Farming Systems 

 

Phindiwe Nkosi, Communications and Knowledge Management Expert, International Water Management Institute (IWMI) & AICCRA-Zambia 
Consent: 
Verbal/written consent given by everyone mentioned in the document.