Mainstreaming climate-smart agricultural innovations in the Mekong River Delta
From

CGIAR Initiative on Asian Mega-Deltas

Published on

31.03.23

Impact Area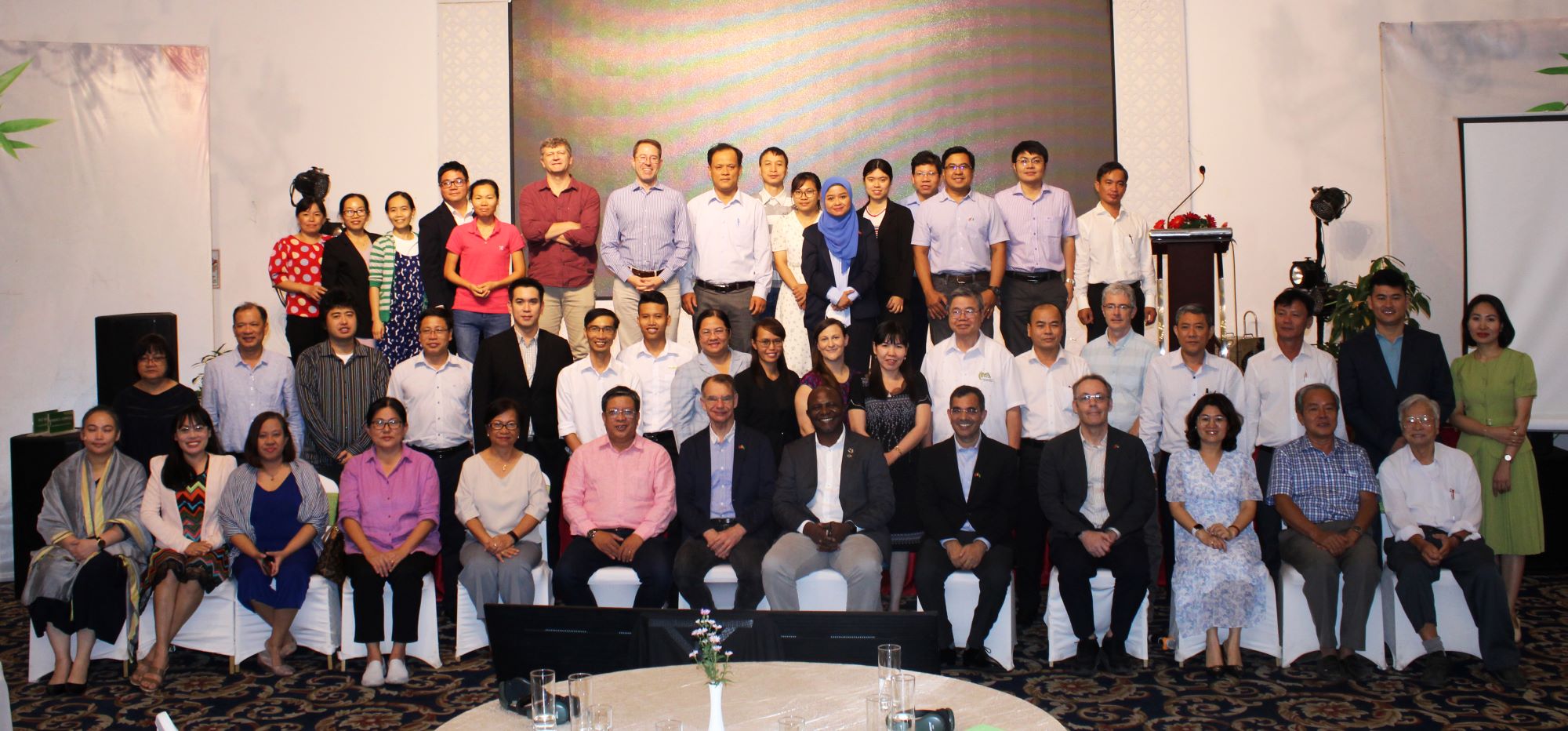 The CGIAR Initiatives on Excellence in Agronomy (EIA) and Asian Mega-Deltas (AMD), together with the Department of Crop Protection (DCP) led by its Deputy Director for the South, Mr. Le Thanh Tung, conducted a joint workshop in Can Tho City, Vietnam to introduce innovations supporting climate change adaptation and mitigation in the Mekong River Delta (MRD).
EIA and AMD are two of the 34 One CGIAR global and regional initiatives, which aim to integrate a systems transformation approach in tackling the food, land, and water crises while ensuring improved livelihoods and social equity. Under the AMD Initiative, experts from CGIAR Centers share climate-smart agricultural innovations.
During the joint workshop, participants identified the challenges and priorities in the different agroecological regions of MRD and see workable solutions where EIA and AMD can work together with the partners.

Among the identified problems in the MRD regarding climate change are salinity intrusion, unpredicted weather changes, soil degradation, pests and diseases, low awareness of farmers, higher costs of inputs and technologies, and sea level rise leading to reduced agriculture areas. In the area of sustainable intensification of rice-based systems, the participants pointed out herbicide use, land/field reformation, rice straw, market and production linkages, and yield gaps.
To address the impact of climate change, the group proposed changing crop structure, sustainable land use planning, planting short-term crops, infrastructure development, and applying climate advisories for planning. Some proposed solutions to ensure the sustainability of rice production in the MRD were rice straw business models, use of GIS and drone technologies, laser land leveling, mechanized direct-seeded rice, rice standardization (i.e., Sustainable Rice Platform), "1 Must-do, 5 Reductions", and water management.

"The joint workshop aims to introduce the interventions under the two initiatives to relevant stakeholders and wider audiences," said Virender Kumar, lead of the Adaptive Agronomy and Pest Ecology Cluster of the Sustainable Impact Platform at the International Rice Research Institute (IRRI). Dr. Kumar stressed that the joint effort will not only result in a stronger synergy between EIA and AMD but also provide better opportunities for the integration of climate-smart agricultural innovations in national and local policies and programs in Vietnam.

Bjoern Ole Sander, lead of AMD, provided an overview of the initiative, focusing on how creating resilient, inclusive, and productive deltas.
After a year of implementation, Dr. Sander presented how AMD has been a platform for the integration of CGIAR innovations, including rice straw, composting and mushroom farming, alternate wetting and drying, learning alliances, rice straw-based circular economy, RiceMo crop monitoring application, agro-climatic bulletins, and climate-smart mapping and adaptation planning in Vietnam, specifically in the MRD Region.
EIA Chief Growth Officer Mandlenkosi Nkomo said that their initiative aims to deliver an increase in productivity and quality for smallholder farming households with an emphasis on food and nutrition security, income, resource use, soil health, climate resilience, and climate change mitigation.  Dr. Nkomo emphasized the importance of collaboration among multiple actors to achieve "better delivery of agronomy solutions". EIA presented its activities on mechanized direct-seeded rice with tailored agronomy in Cambodia and Vietnam.

These AMD and EIA innovations will be very integral in meeting Vietnam's target of 1 million hectares of low-emission high-quality rice as part of its pledge to reduce global methane emissions by at least 30% by 2030, according to Le Thanh Tung, the deputy director of the Department of Crop Production.
Given the work that has been done by IRRI and other CGIAR centers, Mr. Tung highly appreciated the attention given to MRD and hoped that the innovations will be harnessed to improve rice production systems, and eventually, increase the income of smallholder farmers.
The event was attended by more than 120 participants representing the Ministry of Agriculture and Rural Development and its attached agencies, IRRI, and other CGIAR centers, the private sector, academic and research institutes, cooperatives, farmers groups, and the media.