Lessons learned from the Livestock Master Plan and future investment priorities for animal resources development
From

CGIAR Initiative on National Policies and Strategies

Published on

29.03.23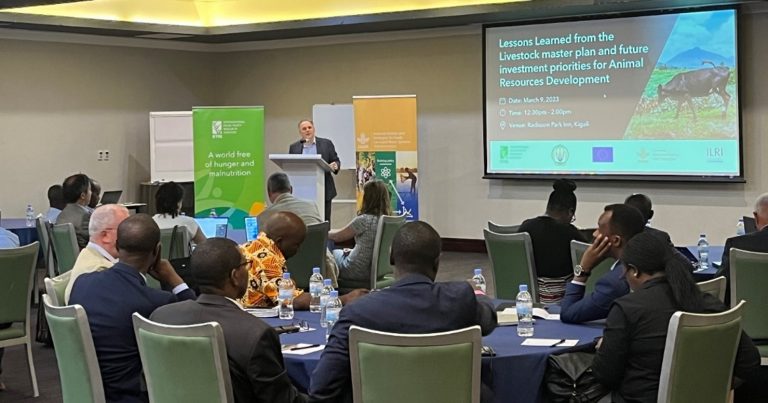 Rwanda's 4th Strategic Plan for Agricultural Transformation (PSTA4) recognizes the importance of the livestock sector for the country's economic growth and development. As a result, significant support is provided to the sector and to the development of the country's animal resources.
Under PSTA4, the Rwandan government has set several growth targets for the sector, including increasing milk production from 785 million liters in 2018 to 1.5 billion liters by 2024, and increasing the national herd size from 1.5 million to 2.5 million by 2024. To achieve these targets, the government developed the 15-year livestock sector strategy that identified promising interventions and policies, and a five-year Livestock Master Plan (LMP, FY 2017/2018 to 2021/2022) that set out an investment roadmap to modernize the sector in line with the National Transformation Strategy and PSTA4. The LMP sought to inform the full range of stakeholders—investors, entrepreneurs, development partners, and government agencies—of investment opportunities and development interventions that could transform the sector.
With the end of the LMP last year, it was high time to assess its outcomes. This event sought to do just that: to take stock of the LMP and livestock sector development more generally, and to explore future sector priorities. The event was co-organized by the International Food Policy Research Institute (IFPRI) and the International Livestock Institute (ILRI), as part of the CGIAR initiative on National Policies and Strategies (NPS) initiative and the IFPRI Rwanda Strategy Support Program, and in collaboration with the Ministry of Agriculture and Animal Resources (MINAGRI).
David Spielman, the outgoing head of IFPRI's Rwanda Strategy Support Program, opened the event with a short welcome that highlighted the critical importance of livestock to Rwanda—not only as a commodity for production and consumption purposes, but also for national heritage. Jean Claude Ndorimana, the Director General, for Animal Resources Development at MINAGRI then provided keynote remarks emphasizing the importance of all animal resources—livestock, poultry, and fisheries—to Rwanda, the role of planning and analysis in informing national transformation strategies, and the need for a Animal Resources Strategy to inform the design of PSTA5 (2024-2030). He highlighted key issues for the new Animal Resources Strategy and PSTA5 to include, most notably the need to urgently address the contribution of R&D, climate change adaptation, expansion of livestock trade, improvement of food safety, and a focus on gender and inclusion. He closed with an encouragement for all sector stakeholders to partner around animal resources development, urging them to collaborate on data-driven and evidence-based innovations to transform the animal resources sector in Rwanda.
Read the entire post on IFPRI Rwanda site:  https://rwanda.ifpri.info/2023/03/29/lessons-learned-from-the-livestock-master-plan-and-future-investment-pan-ifpri-ilri-research-event-march-92023/
---
Authors
Gilberthe Uwera Benimana– Research Analyst, IFPRI, Rwanda Strategy Support Program
Cynthia Mugo– Policy and Stakeholder Engagement Advisor, ILRI
---
This work is part of the CGIAR Research Initiatives on National Policies and Strategies (NPS). CGIAR launched NPS with national and international partners to build policy coherence, respond to policy demands and crises, and integrate policy tools at national and subnational levels in countries in Africa, Asia, and Latin America. CGIAR centers participating in NPS are The Alliance of Bioversity International and the International Center for Tropical Agriculture (Alliance Bioversity-CIAT), International Food Policy Research Institute (IFPRI), International Livestock Research Institute (ILRI), International Water Management Institute (IWMI), International Potato Center (CIP), International Institute of Tropical Agriculture (IITA), and WorldFish. We would like to thank all funders who supported this research through their contributions to the CGIAR Trust Fund.