Le Conseil du Système CGIAR nomme Dr. Claudia Sadoff à la tête de l'Équipe de direction pluridisciplinaire
From
Published on

27.07.22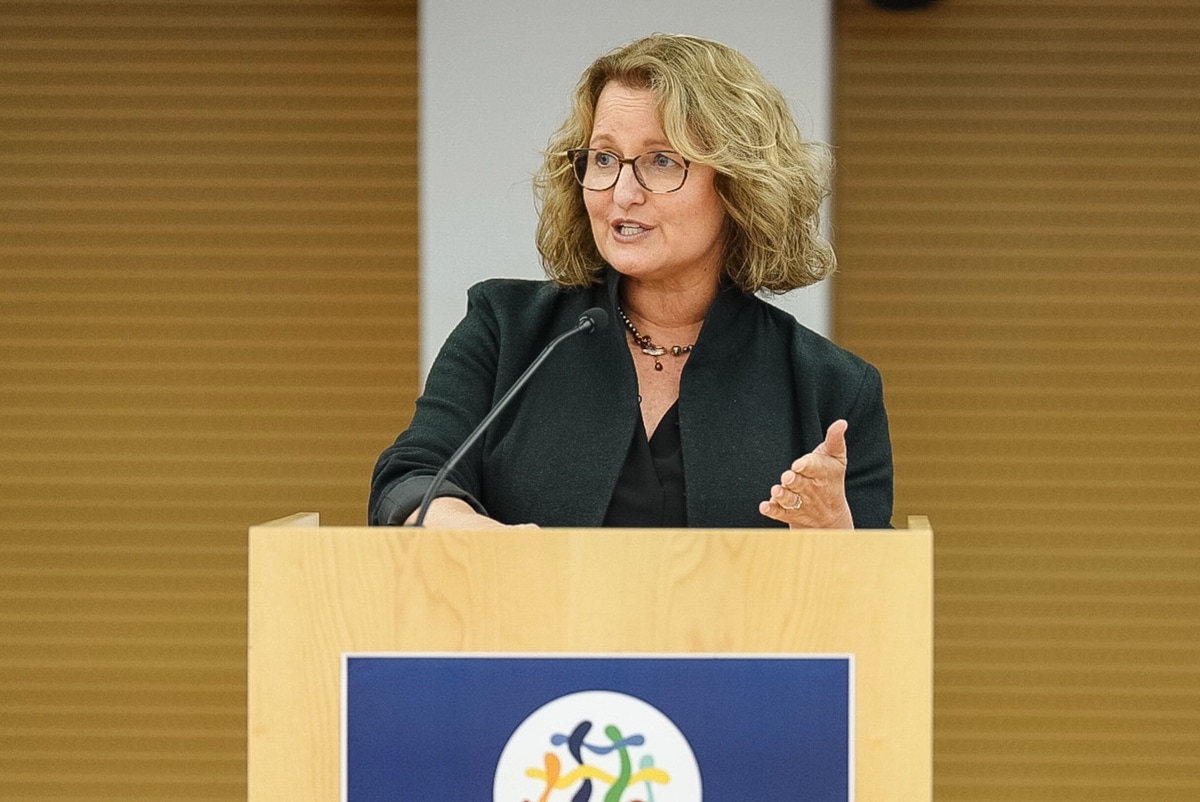 Les changements visent à renforcer l'impact du CGIAR en se concentrant sur la science et l'innovation, le partenariat et les appels fondés sur des données probantes pour la transformation des systèmes alimentaires, terrestres et aquatiques.
27 Juillet 2022 – Le Conseil du Système CGIAR a nommé Dr. Claudia Sadoff, l'Organisatrice actuelle de l'Équipe de direction (EMT) inaugurale du CGIAR, établie en août 2020 pour un mandat de deux ans, et la Directrice générale chargée de la réalisation et de l'impact de la recherche, comme unique dirigeante exécutive du CGIAR. 
En tant que Directrice générale exécutive (EMD) du CGIAR, Dr. Sadoff dirigera une équipe de direction pluridisciplinaire, composée de six Directeurs Exécutifs subordonnés directs de la Directrice générale exécutive, dans le cadre de l'Équipe de direction du CGIAR (SLT), qui conservera son rôle central de gestionnaire et de leader d'un personnel dispersé dans le monde entier avec des affectations locales.
Dr. Sadoff relèvera directement du Conseil du Système CGIAR pour un mandat d'un an. Son successeur sera sélectionné par un processus de recherche complet et compétitif mené par le Conseil du système – qui sera lancé en septembre 2022. Le passage d'une EMT composée d'un certain nombre de Directeurs généraux à une structure faîtière a été décidé par le Conseil du Système CGIAR après un examen approfondi et une consultation qui a intégré l'avis des membres du SLT.
"Le modèle de Directeur général exécutif unique est l'évolution naturelle de la structure inaugurale de gestion exécutive limitée à deux ans – qui devrait prendre fin en août 2022 – d'une manière qui répond au besoin critique du CGIAR de relier la science mondiale aux partenaires régionaux et locaux d'une manière efficace et innovante", a déclaré Marco Ferroni, Président du Conseil du Système CGIAR.
"L'expertise et les compétences de leadership éprouvées et exemplaires de Claudia font d'elle la personne idéale pour diriger les réformes qui font entrer le CGIAR dans une nouvelle ère de recherche interconnectée et fondée sur le partenariat", a ajouté M. Ferroni.
Les six rôles de Directeur général qui relèvent directement de Dr. Sadoff sont ceux des trois dirigeants scientifiques globaux du CGIAR: la Directrice générale, Innovation génétique (Sonja Vermeulen), le Directeur général, Systèmes agroalimentaires résilients (Martin Kropff), le Directeur général, Transformation des systèmes (Johan Swinnen); ainsi que le Directeur général, Stratégie institutionnelle et systèmes (Elwyn Grainger-Jones), un nouveau Directeur général, Régions et partenariat (Harold Roy-Macauley), et la Directrice générale, Communications et sensibilisation (Lotte Pang).
Le Professeur Garba Hamidu Sharubutu, Secrétaire exécutif de l'Agricultural Research Council of Nigeria, représentant du groupe de l'Afrique subsaharienne au Conseil de décision stratégique du Système CGIAR et co-président de la 16ème réunion du Conseil qui s'est tenue le 20 juillet, s'est félicité de ces changements.
"Nous voyons déjà comment la transition vers 'Un CGIAR' permet à l'organisation de fournir une réponse plus efficace, coordonnée et systémique aux multiples chocs auxquels sont confrontés nos systèmes alimentaires mondiaux." a-t-il déclaré. "Je salue l'évolution de la structure de gestion vers une structure qui soutient la prise de décision, met le CGIAR en phase avec les autres grandes organisations internationales et permet la poursuite du travail essentiel au sein du CGIAR."
Selon Dr Sadoff, "il est vital d'exploiter pleinement le potentiel du CGIAR dans le contexte actuel de la crise alimentaire mondiale, de l'accélération du changement climatique et de la pandémie de COVID-19. En travaillant comme 'One CGIAR', nous sommes en mesure de fournir la science et l'innovation qui permettent aux agriculteurs et à leurs communautés dans le monde entier de relever ces défis. C'est un privilège de diriger cette organisation extraordinaire dont la mission est si fondamentale, et de travailler aux côtés de tant de collègues exceptionnels dans le monde entier."
Équipe de direction du CGIAR
Aly Abousabaa
Regional Director, Central and West Asia and North Africa, and Director General, ICARDA

Jean Balié
Regional Director, South-East Asia and Pacific, and Director General, IRRI

Marion Barriskell
Global Director, Business Operations and Finance

Karmen Bennett
Global Director, Governance and Assurance (a.i.)

Fiona Bourdin-Farrell
Global Director, People and Culture

Bram Govaerts
Director General (a.i.), CIMMYT

Elwyn Grainger-Jones
Managing Director, Institutional Strategy and Systems

Martin Kropff
Managing Director, Resilient Agri-Food Systems

Temina Lalani-Shariff
Regional Director, South Asia

Joaquin Lozano
Regional Director, Latin America and the Caribbean

Essam Yassin Mohammed
Senior Director, Aquatic Food Systems, and Director General (a.i.), WorldFish

Khuloud Odeh
Global Director, Digital and Data, and Executive Director (a.i.), CGIAR System Organization

Oscar Ortiz
Director General (a.i.), CIP

Lotte Pang
Managing Director, Communications and Outreach

Juan Lucas Restrepo
Global Director, Partnerships and Advocacy, and Director General, The Alliance of Bioversity International and CIAT

Harold Roy-Macauley
Managing Director, Regions and Partnership, Regional Director, East and Southern Africa, and Director General, AfricaRice

Claudia Sadoff
CGIAR Executive Managing Director

Nteranya Sanginga
Regional Director, West and Central Africa, and Director General, IITA

Jimmy Smith
Senior Director, Livestock-Based Systems, and Director General, ILRI

Mark Smith
Senior Director, Water Systems, and Director General, IWMI

Johan Swinnen
Managing Director, Systems Transformation, and Director General, IFPRI

Sonja Vermeulen
Managing Director, Genetic Innovation (a.i.)

André Zandstra
Global Director, Innovative Finance and Resource Mobilization
Dr. Claudia Sadoff est une leader mondialement reconnue dans la gestion des ressources en eau pour le développement international. Depuis Août 2020, elle est Directrice générale de la recherche et de l'impact du CGIAR et Responsable du EMT inaugural du CGIAR. Auparavant, elle a été Directrice générale du International Water Management Institute (IWMI), un centre du CGIAR dont le siège est au Sri Lanka et qui travaille à l'échelle mondiale pour trouver des solutions d'eau pour un développement durable et résilient au changement climatique. Elle a également été membre du Conseil du Système CGIAR, agissant en tant que championne du genre du CGIAR.
Avant de rejoindre l'IWMI, elle a passé plus de 20 ans à la Banque mondiale où elle a travaillé en Afrique, au Moyen-Orient et en Afrique du Nord, en Asie du Sud et en Asie du Sud-Est, occupant plusieurs postes, dont celui d'Économiste principal et de responsable mondial de la sécurité de l'eau et de la gestion intégrée des ressources en eau. Elle a été membre du groupe scientifique du Sommet des systèmes alimentaires des Nations Unies de 2021 et a récemment été nommée membre honoraire de l'Association internationale des ressources en eau. Elle a reçu des nominations d'une grande variété d'autres organisations, notamment: Chercheur Invité Émérite à l'Université d'Oxford ; Présidente du groupe de travail sur la sécurité de l'eau et la croissance durable du Partenariat mondial pour l'eau/Organisation de Coopération et de Développement économiques (OCDE); Conseillère économique auprès de l'Union Internationale pour la conservation de la nature (UICN); Membre du Conseil de l'agenda mondial sur la sécurité de l'eau du Forum économique mondial ; Membre du comité technique du Partenariat mondial de l'eau ; et boursière de Fulbright. Elle est titulaire d'un doctorat en économie.